If you want to know whether you can use Mi TVs, specifically the new models, the Mi TV 4X, as PC Monitors? Since they are 4K TVs, meaning they have a resolution of 3840×2160 pixels.
You should also read this article to know a few things before buying a TV to use it as a Monitor
We find that out in this article
Before addressing whether the Mi TV 4X can be used as a PC monitor, you should be aware that you should look for a few things on the TV to use smart TV as a monitor.
Chroma 444 Support
Response Time
Refresh Rate 
Size and Resolution
Chroma 444 support
Using Mi TV 4X as the PC monitor can be tricky because the text wouldn't be as straightforward as it would be on a monitor specially designed to render web pages and other computer-related tasks.
This is because of the lack of support of Chroma 444 in Mi TVs, which won't allow it to render text. It is more complicated than that, but in Plain English, if a TV does not have Chroma 444 support, you won't be able to view text clearly on it, making it unusable as a monitor.
For example, when I tried using an old Samsung Smart TV, which is full HD, the text wasn't clear enough because it does not support Chroma 444.
But since it was a 32-inch smart TV with a full HD resolution of 1920×1080, the text was big enough to be readable.
But there is no point in using a 32-inch or a giant smart TV with full HD resolution because the amount of space (1920×1080 pixels) will be the same as on a 22-inch for a 24-inch monitor.
To truly benefit from a larger-inch screen, the smart TV needs to be a 4k TV, with a resolution of 3840×2160 pixels, four times the pixels of a standard full HD monitor.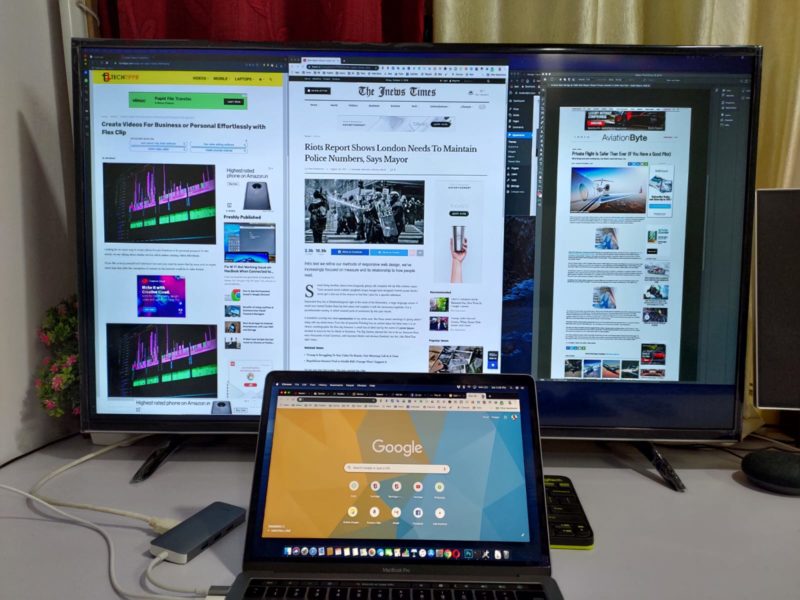 But when I tried using 43-inch 4k TV from Xiaomi as a monitor, with both Windows 10 and MacBook Pro, the text was pretty blurry in 3840×2160 pixels resolution.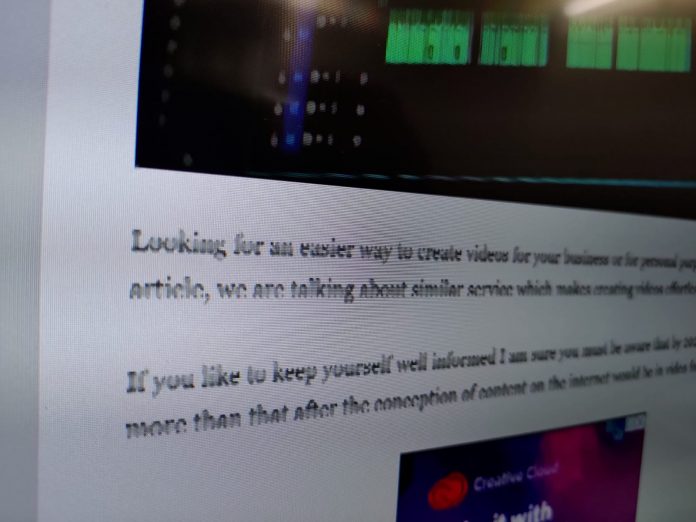 Because the Mi TV 4X series from Xiaomi does not support Chroma 444.
I confirmed this with the customer support from your made self, as mentioned in the screenshot below.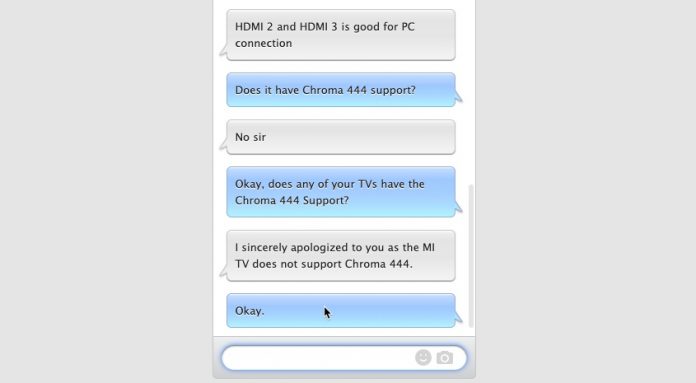 But the good thing is, there are Smart TVs available in the market that support Chrome 444. The popular one among them is Samsung.
A handful of Smart TVs from Samsung have a dedicated feature of using TVs as monitors.
Response time
They are also things like responsive time, which doesn't matter a lot when it is higher in number on TVs, but it has to be as small as possible for monitors.
You can find monitors in the market that come with a response time of 1ms to 5ms, TVs have a response time of 5ms, and some TVs even have 25ms.
You must know the response time of a TV if you are planning to use it as a monitor because the 25ms will give you a terrible experience when you are using it as a monitor.
It will show you a considerable lag when you input something on your computer, and it displays on the monitor 25ms later, so the less response time, the better.
Size of Smart TV for Monitor
The question for you is, what size would you prefer to use as a monitor? Mainly the 4K TVs coming on the market are in the size of 40-inch, 43inch, 50-inch, and so on.
For me, the 43-inch was also pretty huge, and I don't think it would be humanly possible to use a monitor more significant than that if you plan to put it on a desk 2 to 3 feet away from you.
Also, going for a 4K TV, which is smaller than 32-inch, wouldn't be ideal to use as a monitor since the text would be too small to be readable.
For comparison, the text on web pages on a 43-inch 4K resolution looks similar to the size of text on web pages on a 22-inch monitor.
So I think if you can handle 43-inch, it would be the sweet spot for choosing a smart TV to use as a monitor, but if it's too big for you, you can go for a 32-inch smart TV, but again finding a 4K 32-inch smart TV would be a little tricky.
And if you are in the market for buying any monitor for your PC, there are 32-inch 4K monitors available that do not cost a bomb.
A Smart TV is not ideal as a Monitor in the following use cases
As we mentioned, the things you should consider looking for when buying a smart TV to use as a monitor, there are still a few use cases where it is not recommended to use a Smart TV as Monitor.
If you are a graphic designer
You should probably invest in a good monitor that has been calibrated for color correction so that you get to see the actual colors you would want in your graphic design.
TVs are not made for that and are pretty bad at rendering colors, even after color calibration.
If you are a gamer
Buying a smart TV to use as a monitor for gaming is also not recommended, mainly because of the response time and the refresh rate.
Response time of 5ms to 8ms doesn't matter if you have to do browsing or want to create content, but it is still a lot if you are into gaming.
Even budget monitors are not recommended for gaming, and you should always go for monitors with low response time and high refresh rate.
Mostly all the TV is have got a 60Hz refresh rate. Still, dedicated monitors are available for gaming with a refresh rate of as much as 120Hz, which makes a considerable difference
So, Smart TV or Monitor?
There is a reason why monitors are a little more expensive than smart TVs, but if your use case is not similar to what is mentioned above, you will be ok with a smart TV as a monitor if you look for the things mentioned in the article above.
While researching for myself, I found many people are already using Smart TVs as monitors and are happy about it.
Using a smart TV as a monitor has benefits.
The speakers on TVs are usually better than the speakers on a monitor (if there are any on the monitor)
Smart TVs have dedicated remotes, which easily control the volume, switching off or on the monitor.
Smart TVs also come with their OS, mostly Android TV, so you can also use them for entertainment purposes for watching TV shows and movies on YouTube, Prime Video, Netflix, or whatever you feel like. You won't have to turn on your PC to watch a video on a big screen.
So, while Mi TV 4X is a great TV (We have reviewed the 43-inch Mi Tv 4X), the bad news is, they are not as great for PC Monitor.
You can look for these TVs from Samsung as they are PC Ready, but again, they cost 50% more than the 43-inch Mi TV 4X, but are still way cheaper than any 43-inch 4K Monitor available on the market.