If you are looking to use a smart TV as a PC monitor you must read this first. I have been using a smart TV as a monitor for my MacBook Pro for the last few years and I can tell you about a few things that can help you decide whether this is suitable for your type of work or not.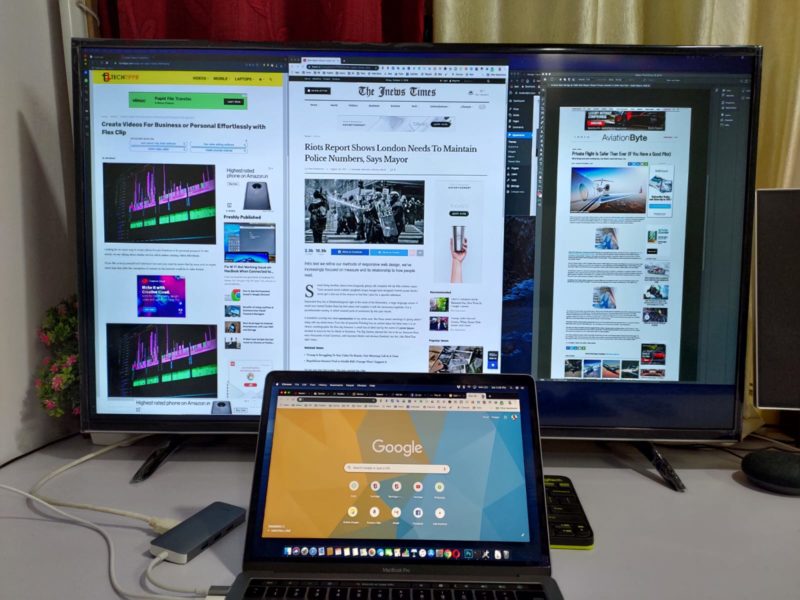 There are two reasons why you would want to use a Smart TV as a PC monitor.
If you currently don't have a monitor and already have got a smart TV, which has got an HDMI, even sure really use it, the smart TV will work as a monitor.
If it is in old Smart TV, it's my problem to be only Full HD (1920×1080). So it doesn't matter how big it is, the screen resolution you are going to get is 1920×1080. So if your TV is 32 inches in size or smaller, it would be an ideal monitor but if it is bigger than that then it is going to be a little bigger for your eyes.
If you have 4K Smart TV, Look for
Input Lag 
It is crucial for Gaming, Video Editing of Fast Sequences.
HDMI Mode/Picture Mode – PC/Monitor/Sports-
This mode would ideally have the best setting to use your TV as a monitor. If No, maybe the text would not be crispy enough. You won't be able to use it for a longer period. Might give you eye strain.
Refresh Rate
Generally, All smart TVs will have a refresh rate of 60Hz at Full HD, but if it's a 4k TV, you might have difficulty having a 60Hz refresh rate. Here is what you need.
a) The Smart TV must have HDMI 2.0 support, older TVs had HDMI 1.4, which only supports 4K at 30Hz.
b) Your Computer (Laptop/Desktop) must support UHD/4K (3840×2160) at 60Hz. Many modern computers would support that, my Windows desktop from 2015 supports, UHD at 60Hz.
c) HDMI cable you are using must also support UHD at 60Hz. If you are buying it online, you can check this out in the listing itself. Just look for 4K at 60Hz support. If you have a MacBook and you used a dongle to connect HDMI then the dongle also needs to have the HDMI that supports 4K at 60Hz.
If you already have a 4K TV, try it out yourself. If it works for you, you are good.
If you are looking to buy a 4K TV to use as a monitor.
Here's my experience of using 43inch 4K TV as a Monitor.
Big size is not for everyone.
It's Big, tough to move the mouse cursor from one end to another
Neck pain issues,
I feel 32inch for 4K is good, it would mean, 4 16-inch monitors, stacked together. IF you have a 14-inch laptop with full HD resolution, it would be like having 4 laptop screens stacked together.
If you are comfortable looking at text on full HD on a laptop screen, you won't have problems with a 32inch Smart TV. But beyond that size or below that size, it would be no ideal.