So, I finally gave in after resisting the temptation of buying an iPad for months. But I am thankful that I went for the iPad Air instead of the iPad Pro 11, my initial plan. I am saying this because the iPad Air is amazing.
I did not feel that I needed a more powerful tablet PC for the things I do on my iPad Air. It is almost Rs 20000 Cheaper than the iPad Pro 11. 
What's in the box

 
The box is pretty minimal as usual, as it's from Apple. There's the iPad covered with a plastic sheet. User guide, and, fortunately, Apple still packs in a charging adapter into the iPad boxes.
It's a 20watt type C charger. Only type C to type C cable can be used. There's one in the box as well.
iPad
Type C to Type C cable

 

20-watt charging adapter
iPad Air 4 vs iPad Pro 11
The chipset is the only key thing that is different between the iPad Air and the iPad Pro 11 the built quality of the iPad Air is absolutely amazing I mean it's a joy to hold it in your hands and use it for reading or watching videos.
Surely, if we have to go technical, then the iPad Pro 11 is better on the spec sheet with the quality of its Display. All that 600nit brightness 120Hz refresh rate, HDR10, Dolby Vision.  
Then there are features like Face ID, which is absent in iPad Air 4, it only has a top-mounted fingerprint lock. All of this difference will cost you Rs 20000 more. But many people can live without these features.
If we talk about the iPad experience it is not only about the hardware it is also about the software that is iPadOS which is exactly the same on all the iPads. You are going to have the same iPadOS experience on the iPads in the budget segment as well but if you want to Quality tablet experience then the iPad Air is the most suitable for the majority of the users.
Camera
Spec-wise you get the 12-megapixel Main camera and a 7-megapixel selfie camera and since it's a tablet PC, the selfie camera is going to be used a lot in video calls. 
The 12-megapixel main camera although is decent enough to take photographs it's mainly there for scanning documents because that's what you do with a large slate in your hands. You don't go out and take photographs pointing that huge thing in someone's face.
Like the Cameras on Apple laptops in different segments don't have a huge difference, same for different iPads as well. No difference.
Is 64GB enough?
The bummer in iPad Air is its 64GB internal storage in the base variant while the iPad Pro 11 has 128GB internal storage. Apple does not have the 128GB variant in iPad Air and the 256GB iPad Air variant is priced closely to the base variant of the iPad Pro 11 where it makes sense to go for the iPad Pro 11.
Having said that, even 64GB is sufficient. iPad Air has Type C connections, like the iPad Pro 11 or other iPads in the Pro Series. This means you can get an SSD if you want more storage.
IPad Air as a media consumption device
iPad Air as a media consumption device is absolutely amazing because of its form factor. I use it for reading purposes as well as for watching videos on YouTube and Netflix. 
The inbuilt stereo speakers are loud enough to have an immersive video-watching experience. The two speakers are located behind the bottom grill. 
Its rectangular form factor has a screen size that is pretty similar to an A4 size paper making it a great device for viewing documents and even signing them using the Apple Pencil. 
iPad as a Video Editing Device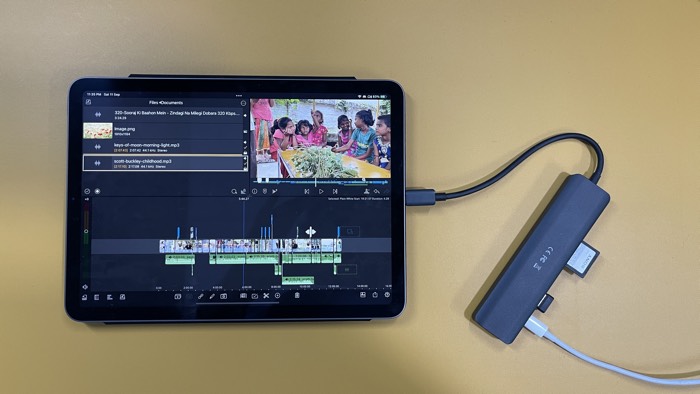 The requirement of huge storage would only be required for a certain use case, just like video editors, who would want to use their iPad as a video editing device.
In that case, Lumafusion, which is the best video editing app for iPad, now supports files from external storage without having to import the files into the internal storage. 
If you are curious to know if you can use your iPad to replace a computer for editing videos. I'm afraid I am not in favor of that. I Find editing on my MacBook Pro way faster than editing a video on my iPad Air. i
The iPad Air's hardware is not limiting, it's the iPadOS, which is limiting. This means, my thoughts would still be the same for the iPad Pro 11 because of certain limitations of the iPadOS.
Battery Performance
Apple products are Super optimized when it comes to performance. The battery performance of the Apple iPad Air 4 is phenomenal, Apple seems an hour of media usage on the iPad Air 4. 
Even if you're not measuring how much the battery of the iPad will last you can feel it yourself but since I have to do a review I have noted down the time it took to drain the battery.
Battery Drain 
| | | |
| --- | --- | --- |
| 90% | 10: 45 am | While setting up  |
| 85% | 11:15 am | Casual surfing  |
| 80% | 11:50 am | Setting up apps  |
| 75% | 12:15 am | Installing apps  |
| 70% | 1:00 pm | Casual use |
| 65% | 1:30 pm | Browsing  |
| 63% | 3:30 pm | Standby / Idle |
| 60% | 4:00 pm | YouTube  |
| 55% | 5:00 pm | Emails & Docs |
| 52% | 9:00 pm | Standby/Idle |
| 43% | 10:55 pm | YouTube |
| 41% | 5:00 am | Idle |
| 39% | 10:50 am | Idle/ Airplane Mode |
| 30% | 4:00 pm | Browsing  |
| 28% | 5:45 pm | Idle |
| 19% | 7:00 pm | Sketching |
| 17% | 9:45 pm | Idle |
| 10% | 10:50 pm | YouTube  |
| 7% | 9:40 am | Idle |
| 0% | 10:35 am | Browsing |
On Charge 10:43 am (Using Provided Charger)
0% to 50% – 55 munites
0% to 80% – 99 minutes

 

0% to 100% – 150 minutes

 
On Charge at 3% Using MacBook Pro Charger at 12:22 pm. Reached to 50% at 1:12pm. Reached 80% at 2:00pm
iPad Air as a Primary Computer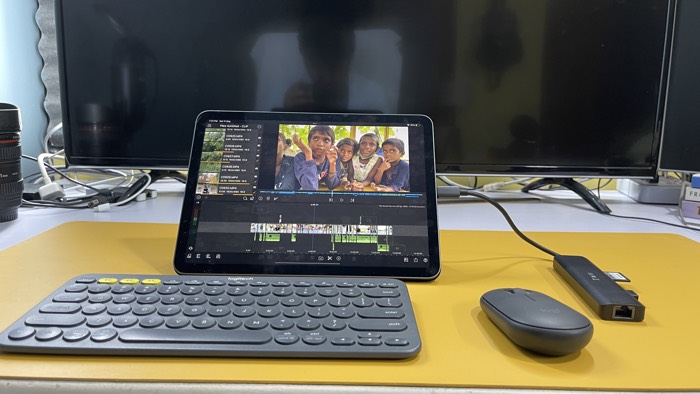 I have watched many YouTube videos that promise to boost productivity when you start using your iPad as a primary computer because it is portable. You can carry it everywhere and get your job done faster.
Although it may sound interesting, I did try it out myself and found it is not the case, at least for me. The YouTube videos also promise that if you get Apple Pencil and the magic keyboard, you will be able to utilize the iPad to its full potential. 
So I bought a third-party Apple pencil like the Apple Pencil by Apple. Apart from the absence of wireless charging and some gimmicky features, the third-party Apple Pencil works perfectly. Features like scribbling on the iPad automatically turn into written text. It's pretty cool, but it does not match the speed at which I can do things on my computer.
It definitely brings some improvements over iOS giving you multitasking features, but it's a learning curve, so Steve I find myself going back to my laptop. What iPad does better is it can be agreed to me for writing long documents because writing does not require multitasking all you need is a physical keyboard.
Use my Logitech keyboard which can be paired up with three devices it is already paired with my MacBook Pro but I hardly use it with my laptop. I find it pretty convenient to use it with my iPad Air and I have written long documents using this combination. So I can say that if you go for a magic keyboard or any third-party iPad case with a keyboard, you will be able to utilize it for long writing sessions. From that, if you are into multitasking computing and the iPad is not there yet.