We got this 5200mAh Mi Power Bank a few weeks ago from Flipkart for the price of Rs 599/-, and have been using it since then. Does it perform well? We find this out in this review.  You may watch the video review above and read our text review below.
Updated in October 2021
This was many years ago when Shammi had recently entered the Indian market. It had an exclusive partnership with Flipkart to sell its products. But now, in 2021, they have a vast catalogue of products offerings in the Indian market.
And they are selling across Flipkart, Amazon, their own Mi India Store.
After purchasing the 5200mAh battery power bank in 2014, I bought several other more extensive offerings from Xiaomi.
A 20000mAh, and a slim 10000mAh battery as well.
I was not fond of the 20000mAh battery power bank much because it took several hours to charge fully, and it would also charge smartphones and accessories slower than usual.
The 10000mAh Power Bank is a lot slimmer, has fast charging so that it charges within 3 hours, and charges smartphones and other accessories significantly faster than the previous generation power banks.
20000mAh vs 10000mAh
I have used both versions and, I can say that the 10,000mAh Power Bank is more versatile and is for a larger group of people. It is slimmer, lighter, which makes it easy to carry. It charges faster in comparison to the 20000mAh Power Bank and lets you charge your smartphone several times.
Smartphone batteries have improved quite a lot in the last few years, so a power bank is not helpful for many people, but if you have several devices you want to charge on the go, the 10,000mAh power battery will be charged bank does the job. \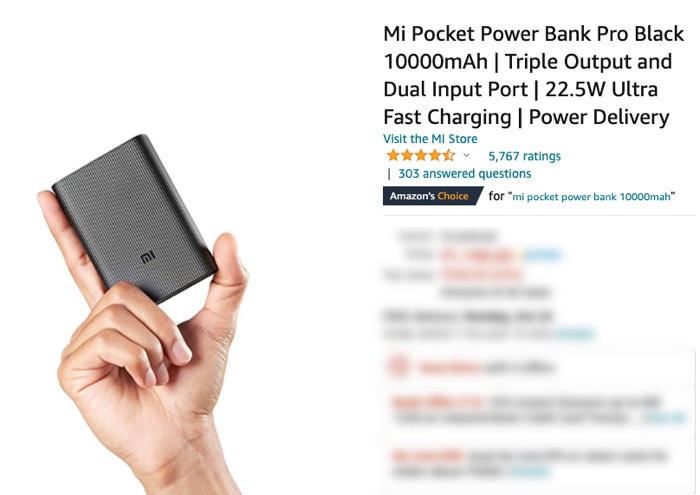 Xiaomi has recently introduced a more pocket-friendly, 10000mAh power bank with fast charging support. Which, I think should be the best choice for a lot of people as it can be carried easily.
Older content beyond this line.
---
Let's see what's in the Package.
Mi Power Bank is available on Flipkart at Rs 599 and Rs999 for 5200mAh and 10400mAh Power batteries respectively.
The Box itself is quite compact and contains Power Bank, Micro USB cable, and a User Manual. To charge this Power bank, you will have to use your phone's charger or connect the Micro USB cable directly to the PC.
Charging time and Number of Full Charges it can give
It gets charged in around 2 hours and gives 2 Full Charges to a Phone with a 2000mAh battery. We were able to fully charge two different phones, in somewhat the same time it usually takes to charge via a Phone Charger.
The Build Quality of Xiaomi Mi Power Bank
The build quality of this power bank is nice. The Aluminium casing houses two high mAh rechargeable batteries in this unit, the bigger version, which is of 10400mAh, has four batteries inside.
Charging Slots
There is one USB, and one micro USB slot, which means you can charge only one device at a time. There is also a power button on-site the USB and MicroUSB slot. This power bank automatically shuts itself down and is turned on when a phone is connected to it
Battery Power Indicator
When you press the power button, it shows how much charge is left, which is indicated by 6 LED lights. When the 6 LED lights are blinking, it means the Mi Power Bank is fully charged.
Overall, it's quite the right product and something you should own if you struggle to keep your phone alive till you get back home. Choose this unit (5200mAh) as it's easy to carry around.
Beware of the Fake Xiaomi Products
Too many fake Xiaomi Mi Power banks are being sold online, so make sure you only buy from Flipkart, which is the official partner of Xiaomi to sell their products online in India.
Update: Xiaomi has launched new, improved Power Banks in India. Get the link below.
Xiaomi Power Bank 10000mAh with 18w fast charging support.