Being a guy who loves efficiency, I am always in search of tools that can help me achieve the ultimate productivity. Over the years I have created a system that involves a set of tools that lets me achieve what I want to do, in the best efficient manner.
I have also learned that there is no line that distinguishes the people who are more productive than the people who are less productive. It is more of a graph, and your aim as a productivity freak is to level up your game and improve your time.
This is why I am in a constant search for better tools and techniques, which can help me even further. Fortunately, being a tech blogger who writes a lot about productivity, I am often being contacted by the creators of such tools and sometimes I get emails from people who are passionate about such tools.
I recently came across a such tool when someone from their team emailed me about it. And I am using it for the past week.
Apart from reviewing this tool, I will also be talking about how I am utilizing it to get better at my productivity.
Milanote, a visual board for your ideas to dump and execute
If we weren't already clear, we are talking about a virtual board where you can do a brain dump so that everything that in your head can be put on a surface and you can make sense of it.
For a lot of people, a visual representation of things is pretty helpful. Especially if it's the ideas that float in your head.
What do I like about Milanote?
The best thing about Milanote is that it offers features that are actually a set of tools you can use to organize things and tackle them step by step.
At the start of this article, I talked about that I have a system in place to find my goal of ultimate productivity. This system is a combination of tools that are used on a regular basis.
To my surprise, Milanote offers these tools as features all in one place, so that I don't have to switch between different tools.
I have a separate app for collecting ideas, I have a separate app for my to-do list and I have separate tools for mind mapping. And it was amazing to see all these tools just inside one package.
So, it instantly saves my time and energy, which goes to waste while trying to decide the follow up of an idea to execution, even if it is just a fraction of it.
Apart from functionalists, what I like about Milanote is its customizability. You can add a custom image to boards you create or pick the interface to have small or big fonts or to have a dark scheme or light scheme.
How to use Milanote?
Here is how my Milanote Dashboard looks like.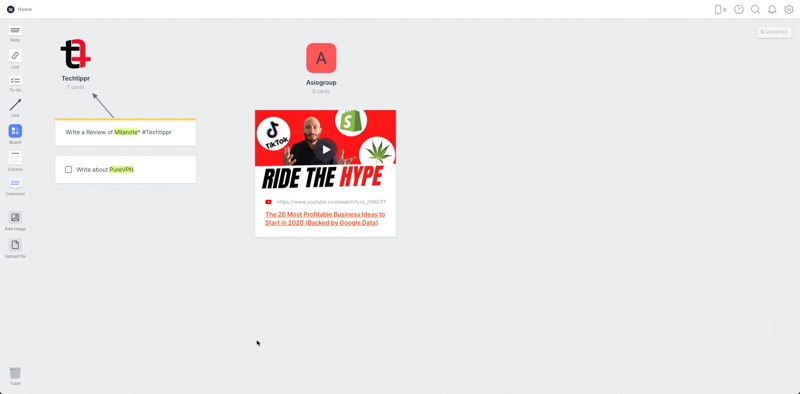 You can add notes to it for a quick reference or add a link of anything, a small visual card appears giving you a preview of what it is. Youtube videos play inside the dashboard, pretty cool.  Then you have features like adding a to-do list, add an image, or even a file to it.
And for organizing things for a particular project, you can add Boards to the dashboard, where you can either start with an empty page or import a template.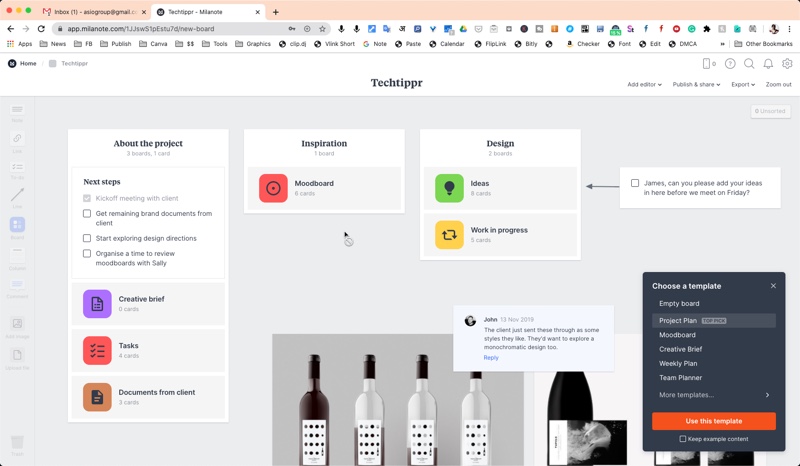 The board has several use cases. You can work on a collaborative project by inviting other people to it, or you can simply keep for yourself.
You can create boards and put the progress of a project and then share it with clients with a private link. Freelancers can share their work on a board instead of trying to look for email threads. Allow them to comment on board and get feedback on the board itself.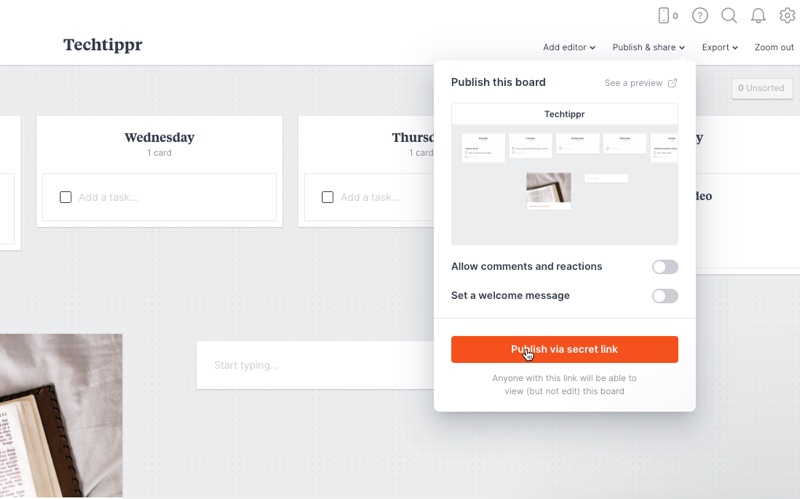 Arrows can help you or your team move to the next step or you can utilize it for creating mind maps. Considering you can create unlimited boards even in the free version of Milanote, you can make the best use of it in several use cases.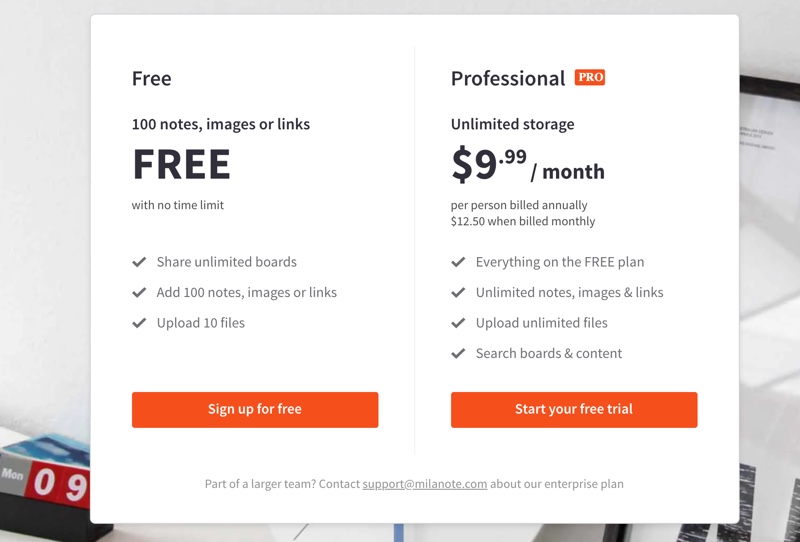 How I am using Milnanote
Although I still haven't completely shifted to Milnanote, I have started writing down the things I need to do and scheduling things for the upcoming week.
I have a dedicated board that shows me my weekly task, which is static and does not change every week. Although I can go to do that board and add new tasks or remove, or move it between different days.
Currently, I have Milanote opened in my Chrome tab, although there is a desktop as well as a mobile app available, and I Khushi add things that I have to do on that day or the next day.
Milan note works in a hierarchical way, which means you can do all the things on the dashboard as well as create a board on your dashboard to do all the things on that particular board.
So you can create separate boards for different projects and then use notes, links, to-do, add image or upload files on the board itself.
For me, the Boards on Milanote are a piece of paper, where can where I can put anything, it is not predesigned by default.
What I do not like about Milanote?
Although from the usability point of you I find it perfect, it is not restrictive in any manner but, there are still a few things that I did not like, such as.
You can create unlimited boards on Milanote, but you can only add a hundred items (notes, images, files). Although there is no time limit on it if you are going to use for a longer period of time and you decide to add more projects to 8 without deleting or reusing the previous boards then it can be a little restrictive for the people who do not use it on a regular basis.
Although it is a good business strategy to push free users into upgrading tour paid plans which unlocks everything, the free plan could have been more generous.
The other thing that I am still figuring out to put reminders, or due dates on notes. I know it is good for them to give us a tool just like paper where you can do anything, but I am hoping that in future they would be rolling out something that can help people like me who often forget about things.
Maybe, use other apps for things where you would like to be notified. But for other things, Milanote is pretty awesome.
You can try Milanote yourself by signing up on their official website.
You can read more articles related to productivity here.