As of 2019, Android has a market share of 76.08%, according to Statcounter.
And part of the reason for Android's immense success is, all the major smartphone OEMs Use Android OS to power devices.
The other mobile OS that has got a 22% market share is iOS, which is used only on iPhones.
So, apart from competing with the iPhones, all the other Android Smartphones OEMs with each other.
And to make the smartphones unique, they do customizations to the Android OS so that they can offer An experience which is unique for their smartphones.
There is a constant debate about whether the Stock Android is better or the custom ROMs of Android Created by OEMs.
Pure Google
When we talk about Stock Android, we talk about the Android OS in its original form, which gives a Pure Google Experience since all the services are from Google itself.
There is no kind of customization done on the top of it, so you get no bloatware at all.
When you buy a smartphone from Samsung, LG, Asus, or Sony, they have customized the Android OS heavily, to bring their User Interface (UI), along with their services.
So the users end up having two kinds of apps for the same service. Such as, in a Samsung smartphone, there would be a calendar app from Samsung as well as from Google.
Apart from Google Assistant, Samsung mobile phones also have got Bixby. They also have Samsung password manager and have disabled the Google password manager.
Apart from that, the Smartphone manufacturers also have got deal with other third-party apps so they free install apps from these companies.
But when you use a smartphone with stock Android, you do not get any of the third-party services pre-installed. In my opinion, it is a cleaner experience, and I like the way it is.
Make it your own
One benefit of having custom ROMs over Android is that it looks different and unique from the Stock Android, which resembles the same on every phone, be it a flagship or a mid-range.
But, Android is all about customizations, and there are plenty of third-party apps available in the Play Store that will allow you to personalize your Android smartphone completely.
From the lock screen to the app launcher, to the app icons, almost every aspect of Android can be personalized. Once you start doing so so, you won't be going back.
And in some cases even if you buy a smartphone which has got their UI for the top of Android, you will end up Personalizing your Android smartphone.
Faster Updates
The Other great thing about using a smartphone with stock Android is that you get updates faster. So when Google announces the next version of Android, your smartphone would most likely be among the first ones to get the update.
Because, only Google controls the Android OS, and there are minimal customizations required by smartphone OEMs. It is one of the biggest reasons why smartphones get delayed updates, and the updates stop in a year or two.
Stock Android is Also Available in Mid Range Smartphones
It is a common misconception that only the pics of Smartphones from Google have got stock Android running, and the smartphones cost a lot.
Nobody is willing to spend $1000 on a smartphone to have a stock Android experience, and Google knows that, and it is why they have also introduced a mid-range segment.
They recently launched Pixel 3A and Pixel 3A XL, although these smartphones are available for around $400 price range in the international market, it still is pretty costly in India at around Rs 40000.
And this is where smartphones under Android One comes in the picture.
Google knows about the Android fragmentation, only 22.6% of the users are using Android 9.0, and over 14.5% of users are lost in the world of 5-year-old Android OS.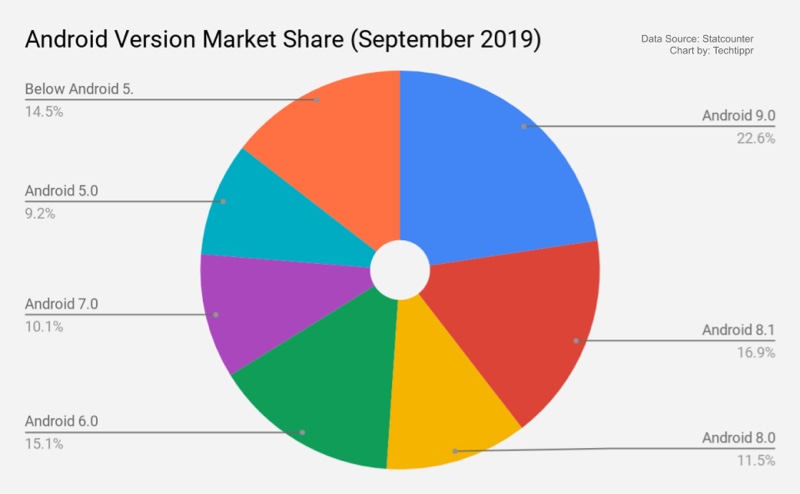 Google is doing everything is can from dropping the Dessert names from Android version to launching programs like Android One, which promises frequent updates for Android version for at least next three years.
Xiaomi Mi A3 is the most affordable smartphone ar just under $250 that launched this year.
There are many other smartphones in the Mid Range segment that offers Stock Android experience.
So, do you have a preference? Stock Android or Custom ROMs?