Want to know how you can download the MX Player apk for Android mobile? Check out this article.
The MX Player is a fantastic media player for Android with tons of features.
These days the Android manufacturers have improved the stock media players on their mobile phones, but a few years ago, it was essential for anyone using Android mobiles to install the MX Player, since it was able to play more formats that were not supported by the stock video player.
But the MX Player is still used by many people because of its unique features such as gesture-based controls. Sweating up from left side control, the volume swiping up from the right-hand side controls the brightness of the screen.
Other features include support for subtitles, dual audio, and even the ability to play videos in the background.
How to download MX Player on your mobile phone
The best way to download and install MX Player on your mobile phone is from the Google Play Store.
Since it does not break any terms and conditions of the Play Store, it is listed there, and you can use the link below to install it on your mobile phone.
Install MX Player from Play Store
The benefit of installing MX Player from the Play Store is that you get notified every time you there is an update for the app. It is just easier to maintain.
Download the apk file of MX Player
If for some reason you want to get the apk file of the MX Player, maybe to share it with someone, you can get the apk from the Play Store itself.
Use the link above to install it on your mobile phone, and then go ahead and install APK saver from the Play Store.
The APK saver will allow you to get the APK file for all the apps installed on your mobile phone.
You can get the APK file for the MX Player you have installed on your mobile and share it with other people.
If for any reason you are not able to install the MX Player from the Play Store. You can still download the APK of MX Player from a third-party source.
Since installing apk file downloaded from an untrusted source is quite dangerous, we would suggest you download the APK files only from APKMirror.com, which is a trusted resource for downloading APK files of Android apps, even for the ones that are not available in the Play Store.
Ok, you can open APKMirror.com and then search for the MX Player app, or click this link.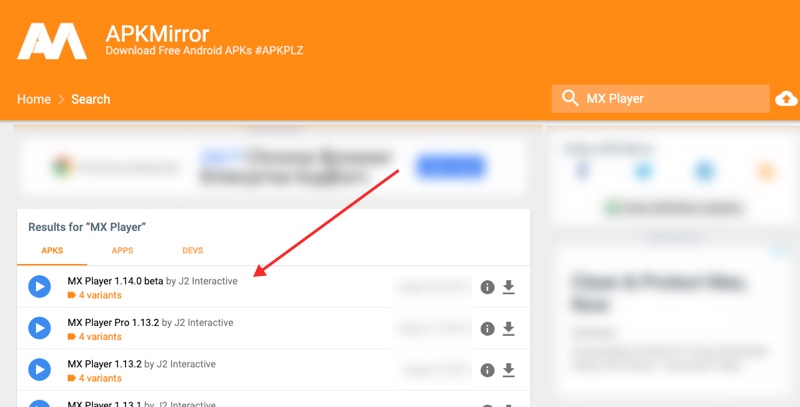 On the same page, check out the latest APK available on the website and take on it to go to the download page.
On the download page of MX Player, you will be able to download the APK file.