As we have discussed several times that the beauty of the Android smartphone is that you can choose any app as default.
And you can install any app from the Play Store. It is also true for camera apps. So, in this article, we are listing some of the best Smartphone cameras that can be useful in different use cases.
Check out some best camera apps for Android phones
1. Open Camera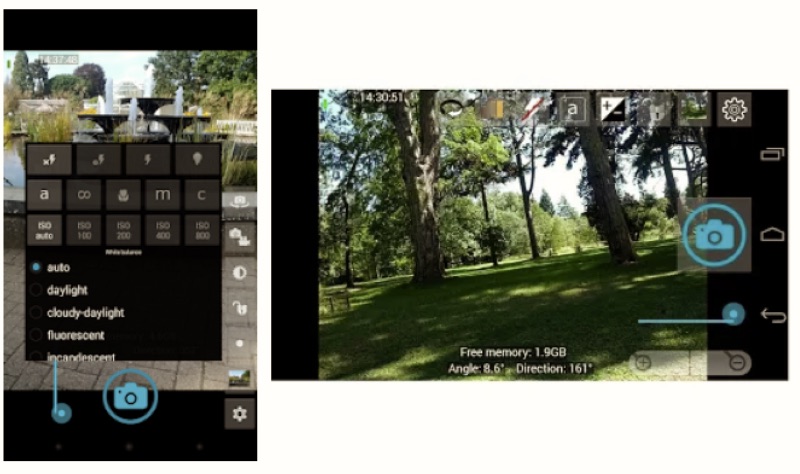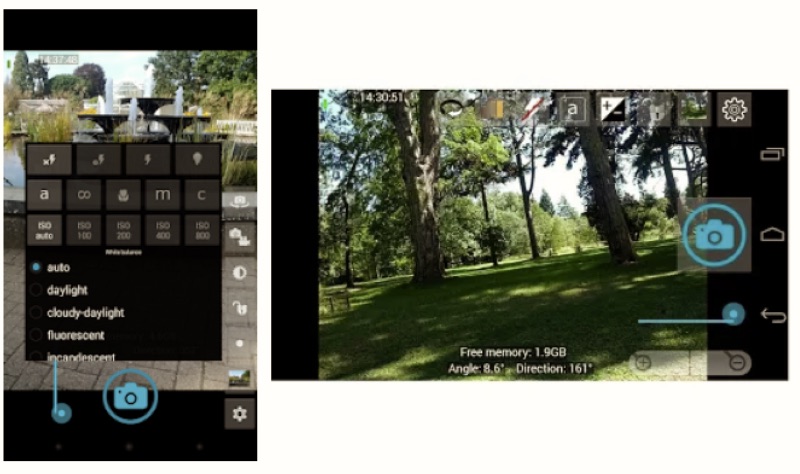 The Open camera is a lightweight and fully featured open source camera app for Android smartphones. It is free with no in-app purchases or any ads.
You would be amazed at the number of options in this camera app offers it has got too many features to offer.
You can do manual focus by tapping on a particular area; you can select different scene modes, you can turn on the stabilizer, you can choose to keep the camera screen turned on for the whole time, you can also use an external microphone.
There are tonnes of options for both photos and videos.
If the stock camera app does not give you a lot of features you can try for the open camera app. I have used it a lot and it is currently my primary camera app on my Oppo Realme 1 smartphone.
In short, Open Camera is one of the best third part android camera app available. You should keep it on your android phone if you take a lot of videos.
Google Camera vs Open camera | A Comparison with Best Features of Both the Camera Apps
2. Camera MX
The Camera MX offers live filters so you can select any filter and start taking pictures. It gives complete control over different aspects of the photo or video.
If you are someone who takes a lot of photos to share on social media platform then this can be quite a helpful app as it offers different filters effects and frames for the photos all in just one app.
There is also one cool feature that lets you select a particular frame short video as a picture.
3. HD Camera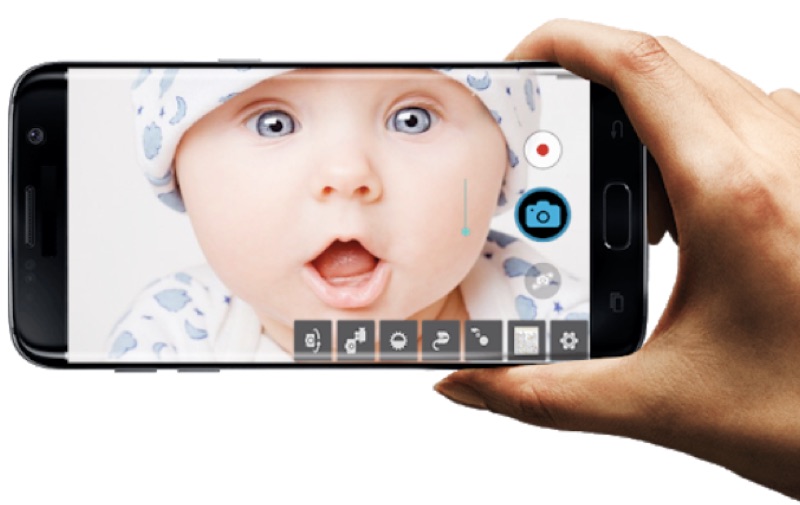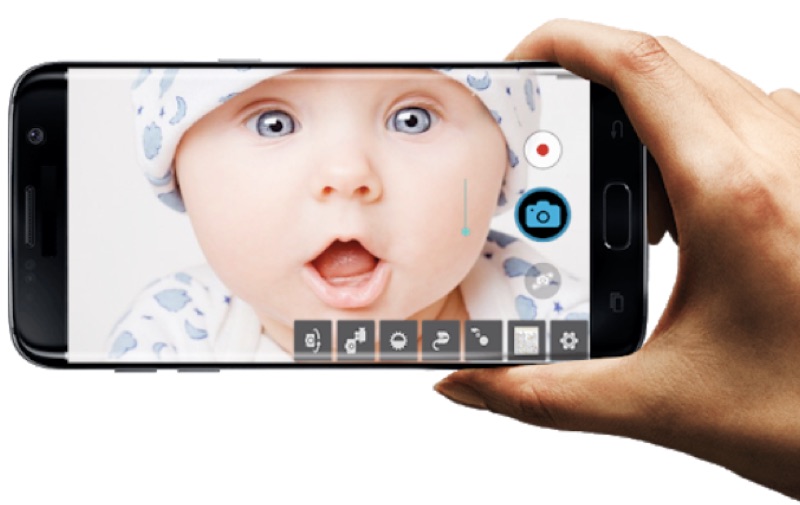 The HD camera lets you take photos and videos in the highest quality possible.
The app not only offers great quality but a handful of useful features to make taking photos and videos easy.
Some key features include ⟶
Capture photos and videos in high-resolution HD quality with the superb camcorder.
Face Detection Alternative.
Front / rear camera selection.
Select scene modes, color effects, white balance, and exposure compensation.
Select camera and video quality and resolution JPEG.
Video recording time (with optional audio).
Adjustable volume keys.
Location targeting feature
Multi-touch gesture and one-touch remote control.
To lock the portrait or landscape orientation for the desired photo or video.
Photo effects
4. Camera FV – 5
This camera app offers manual photography controls to your Android mobile phone.
It is mainly created for photography enthusiasts and professionals. You can control different aspects of an image such as ISO, white balance, shutter speed etc.
The user interface of this app is quite intuitive with different features easily accessible.
The app offers the 'Lite version' as well as 'Pro version', and even the free version gives you the same to you nice features that can improve your mobile photography.
5. B612 – Beauty & Filter Camera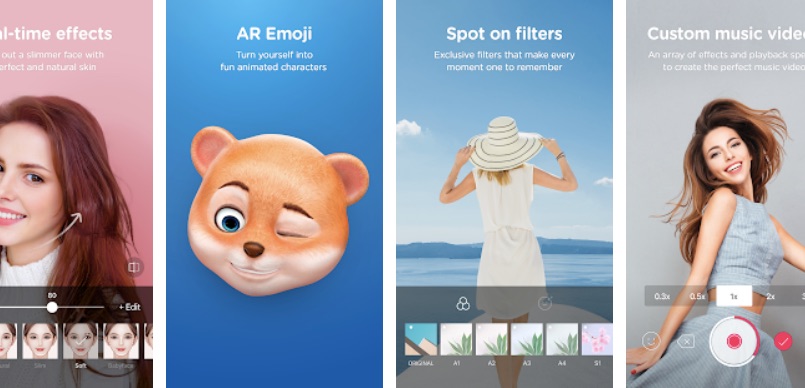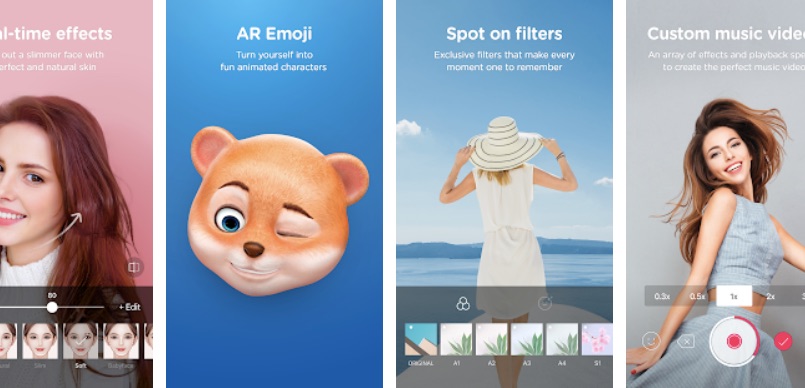 It's quite a popular camera app among the Social Media stars of today.
The app has exciting features like Real-time effects on the camera screen, Live filters, AR Emojis to turn yourself into an animated character.
You also turn your photos into moving slides with custom music in the background.
I've used for from last few years, and the app has improved so much in this time.
6. Cymera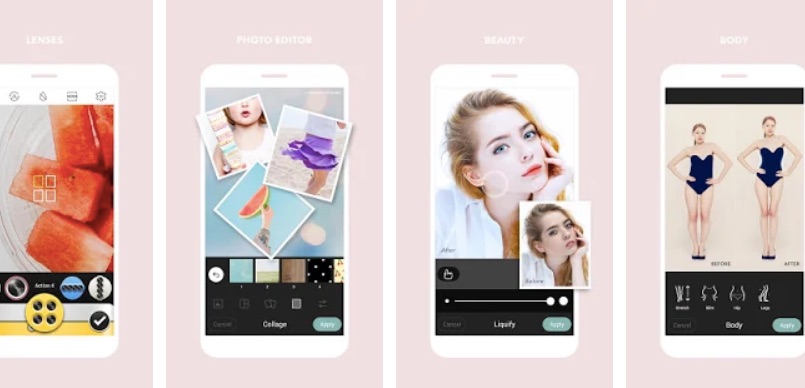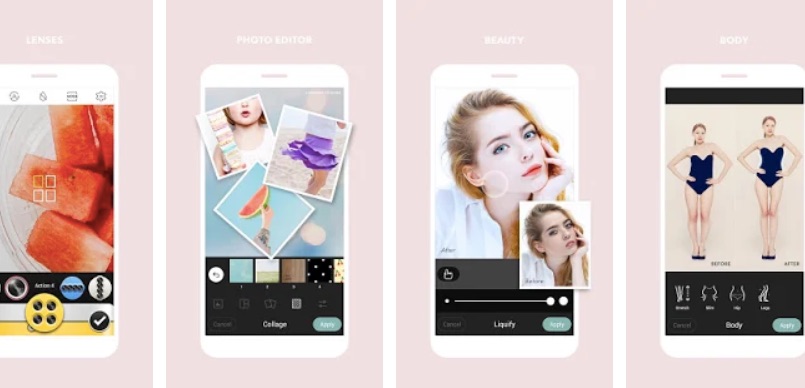 Cymera is another free excellent camera app for Android mobile. The app offers a different type of camera lenses, camera stabilizer, timer etc.
That not only allows you to take photographs but you can also make some quiz added to the photos right inside the app.
7. Z Camera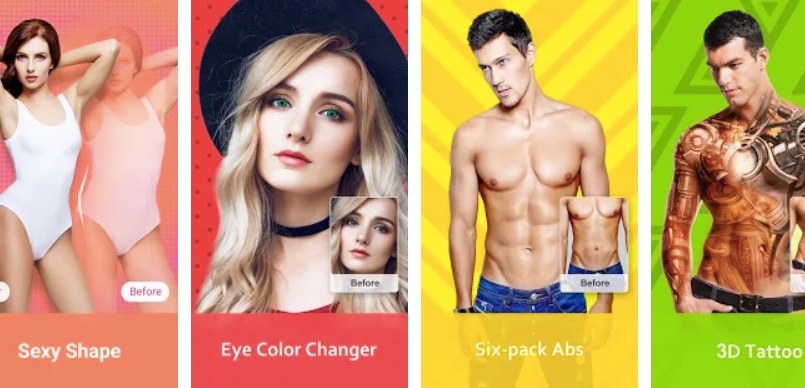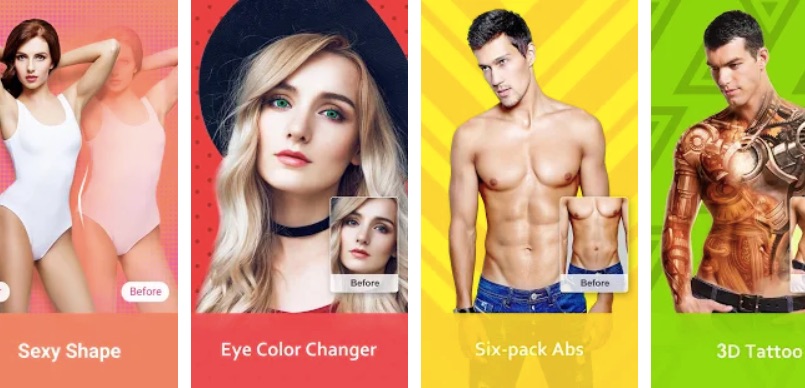 Z Camera has also got quite a simple user interface, which is easy to understand, and all the features are easily accessible.
It offers different filters and editing tools for editing photos even better for sharing on social networks.
This app also offers live filters, so that you can check how the photo will turn out to be. The app also has a lot of unique and high-quality effects which are available inside the app as in-app purchases.
8. A Better Camera
A better camera app offers all advanced camera functions such as HDR, HD panorama, multi-shot, night mode, all in just one app.
You can take a series of photos with this app and select the best shot to save, and this feature is quite helpful in getting a blur-free shot of a quick action scene.
9. Camera 360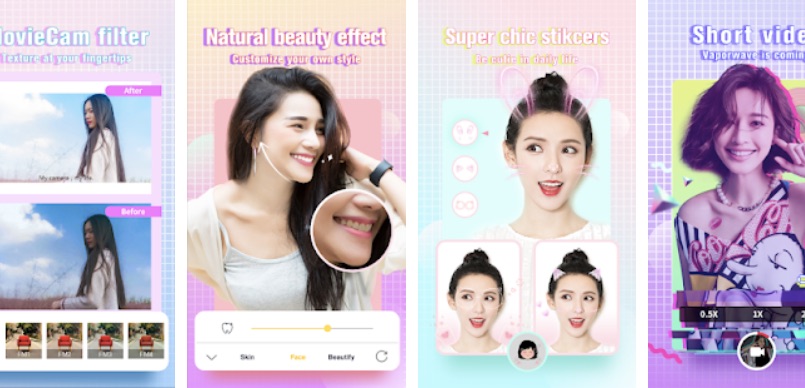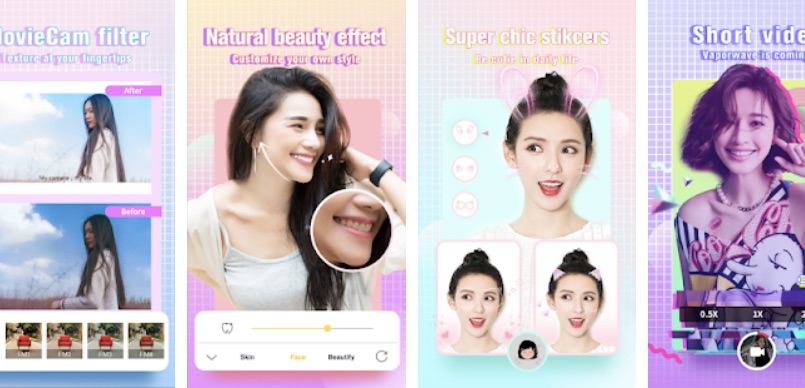 Looking at the current taste and demands of the millennials who share their every moment on social media, this app offers a lot of different an exciting features, such as filters and effects on the photos to make them interesting.
The app also offers an inbuilt photo editor to make with edits to the photos, so that you can turn your ordinary photos into great looking ones.
10. Footej Camera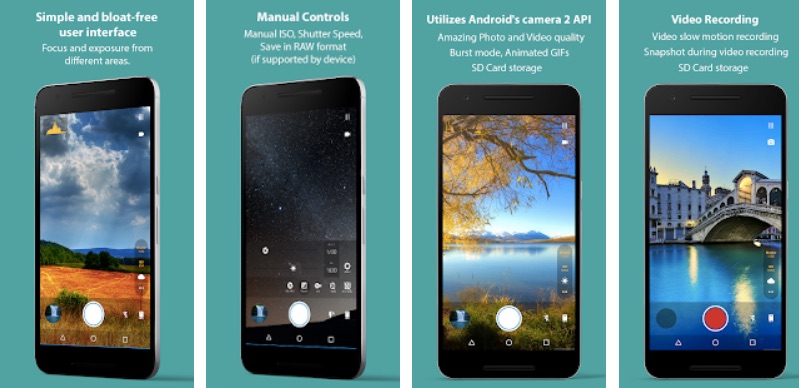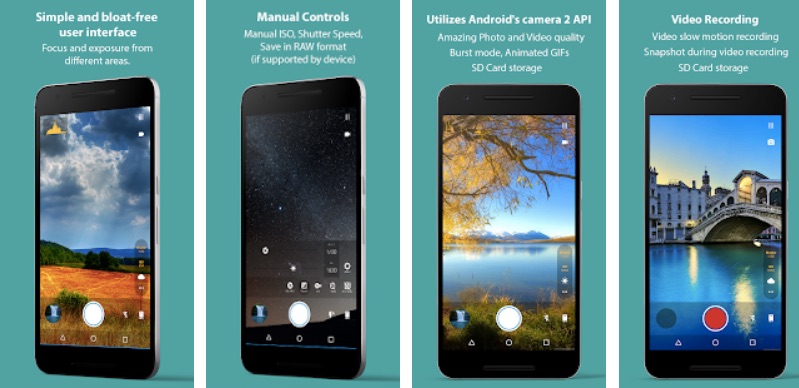 The Footej camera offers clean and bloat-free user interface so that users can easily access features to use.
It also offers manual controls that as selecting ISO shutter speed save photos in Raw format (if the device supports it).
The app can utilize Android camera 2 API along with features like HDR+ (for Pixel Devices).
So, these are some of the best free camera apps for Android mobile. All these apps offer features that might not be present in the stock camera. So you can have one of these, or maybe a couple of these to use in different use cases.
All are free, so you can use them all one by one and keep the ones you liked.
11. Gcam Mod (for selected smartphones)
Though it's an amazing camera app to install on a smartphone, I am putting it in the last because it is not available for too many smartphones, only selected smartphones have got the Moded version of the Google Camera, the one that's on Google Pixel cameras.
Google Camera requires camera2 api to be enabled on a smartphone, the camera app also offers auto stabilization for video recording, some smartphones would also support slow motion video via this app.
Though it's mainly used in camera mode for taking awesome low light photos, which is among its top camera features.
The Google Camera is like magic, you can take super amazing photos using your smartphone, I've used the Gcam mod on my phones like the Redmi Note 5, Redmi 4 and Xiaomi Poco F1, it's worth trying if it's available for your smartphone.
You can check out this article to know if the Gcam Mod is available for your smartphone or not.
How to take Better Videos with Your Smartphone (Detailed Guide)