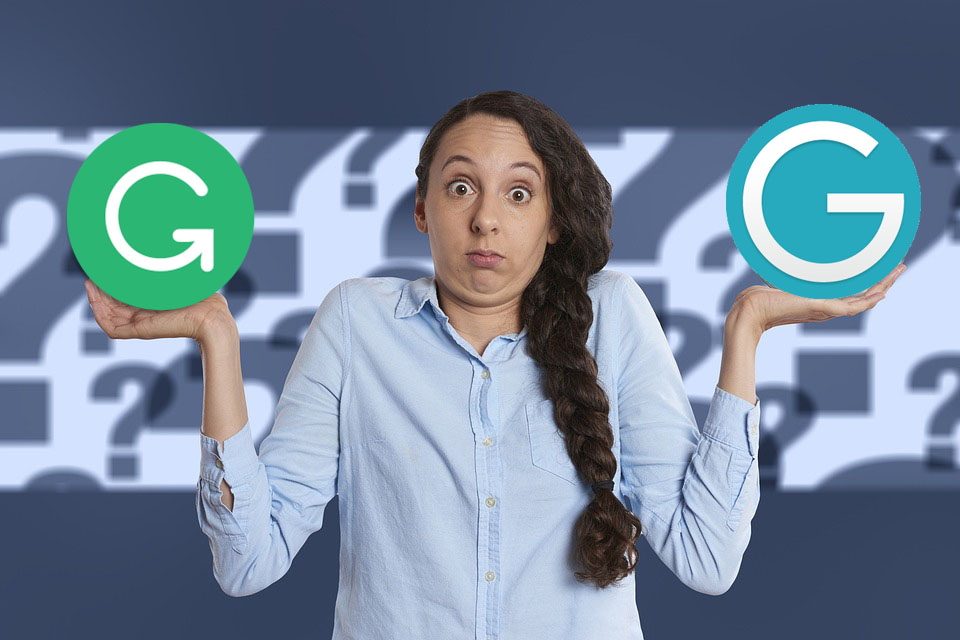 If writing is a large part of your daily workflow, then you might need a grammar correction tool that can help you fix typos and grammatical errors and make you more productive.
It is a fact that after working on a piece of content, it creates a blind spot, and you often fail to catch the mistakes. A fresh pair of eyes will help find more typos and errors in a piece of content, but it is not always that we have someone to proofread our content.
This is where grammar correction tools like Grammarly and Ginger come into play, and they are pretty amazing with their corrections and suggestions to make your writing more fluid.
Even if you are not writing articles, these grammar correction tools can help you write an error-free post on social media sites or send emails, the quick fixes from these tools can save you from a lot of embarrassment.
We tried both the tools and in this post, we are going to compare both of them to help you pick the best one according to your needs.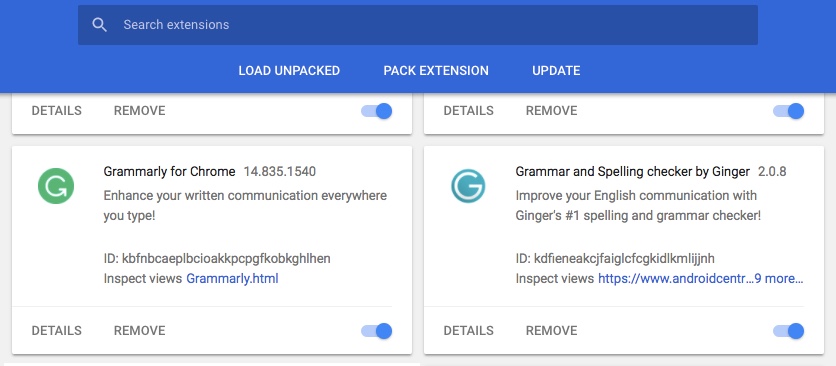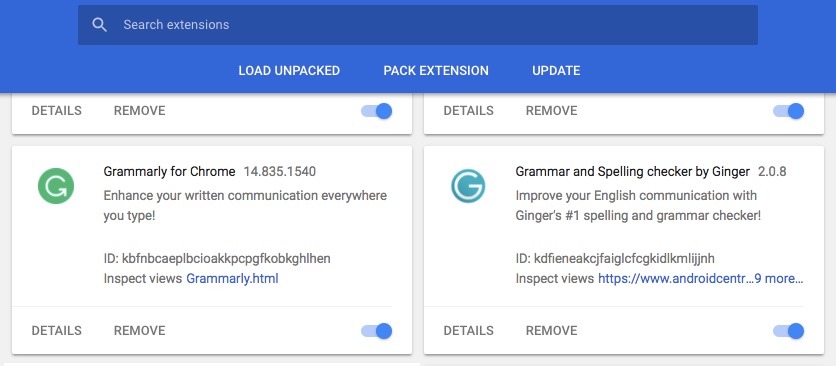 The two services offer dedicated apps for the computer so that you can launch them and start writing, but the best use case I have found is by using their Chrome extensions (also available for Safari).
Talking about cross-platform support, Grammarly offers dedicated apps for the following
For Mac & Windows
Add-on for Microsoft Office (Windows),
Extension for Chrome & Safari
Keyboard for iOS & Android
And about Ginger, it is available
For Windows,
Extension for Chrome a& Safari
Ginger Page for iOS
Ginger Keyboard for Android
It is good that both the services offer dedicated native apps for different platforms, I found that most people prefer writing inside a browser, be it writing inside Google docs, bloggers using WordPress post editor for writing articles, or writing anywhere from Facebook, Twitter or other social network sites.
Browser extensions for both the services work in a similar manner and help you fix your writings.
While Grammarly only offers to correct spelling errors, placement of commas, or suggesting the use of better words for more refined sentences.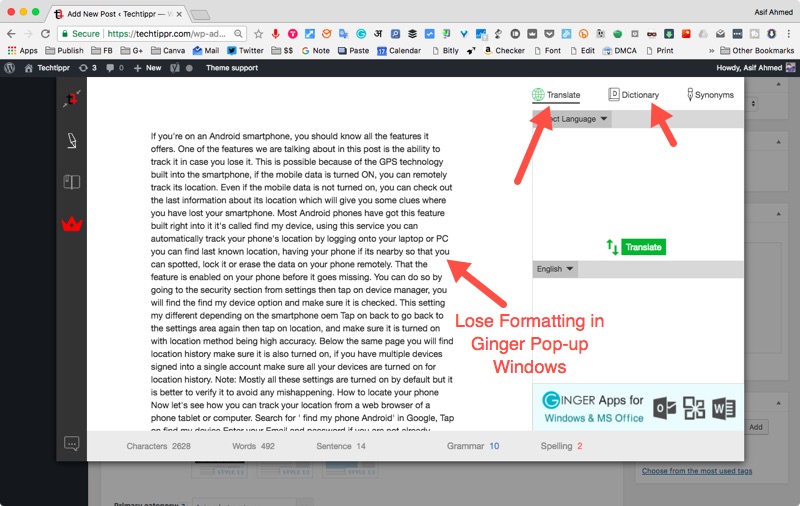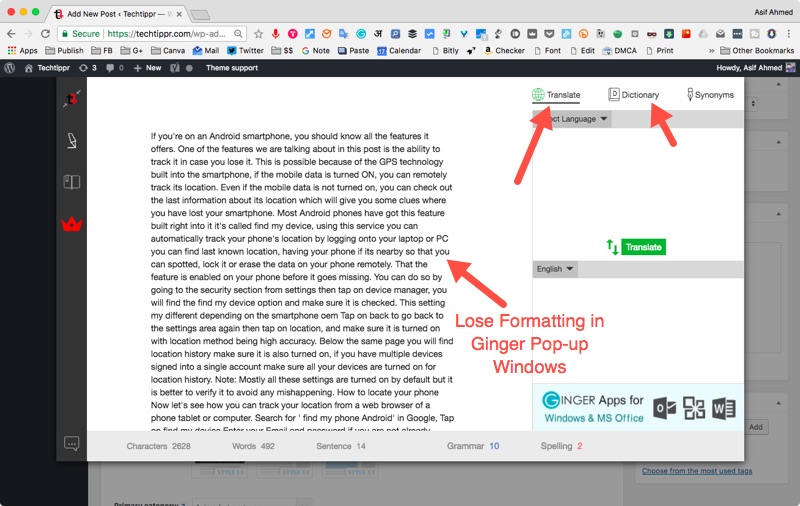 Ginger also offers Definitions, Translation in 40 languages, apart from fixing spelling errors and better sentence formation. But it presents all the text in the popup editor in a jumbled form.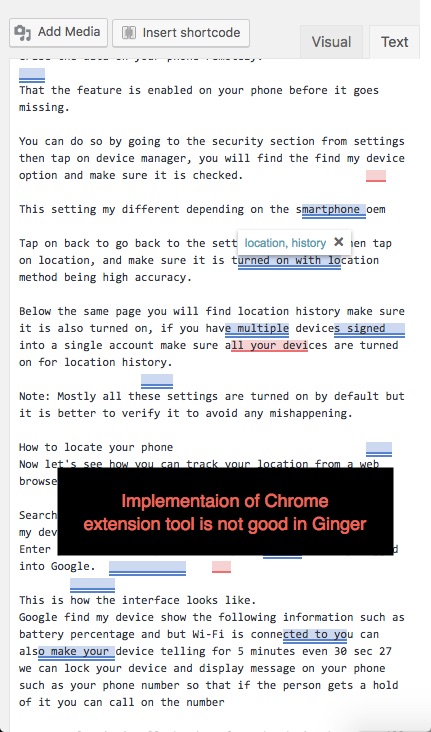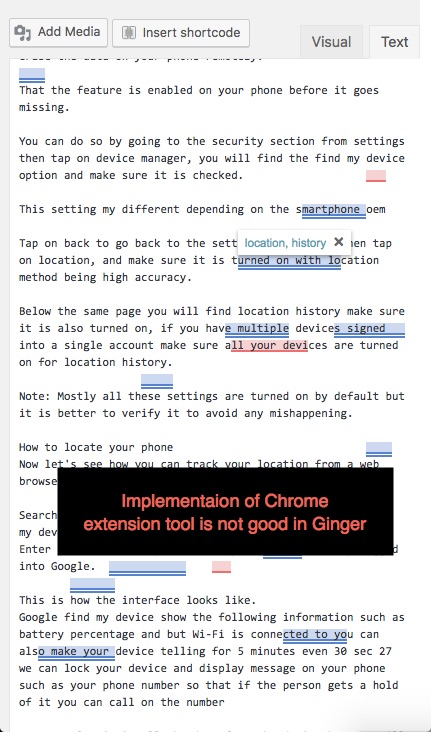 I have found the implementation of Grammarly better and less cluttered since it does not try to offer everything in the same window.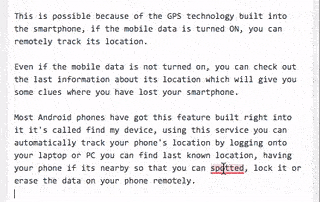 I also found that Grammarly offers more suggestions for synonyms of words when you click on a particular word.
The good thing about Grammarly and Ginger is that both offer a free version of their services, which is good enough for regular users for simple spelling fixes and better sentence formation.
Talking about the paid version, both have a similar kind of pricing model, you can pay a monthly fee of somewhere around $12 on both the services per month if you pay annually, or else $29 per month, paid monthly.
The premium version in Grammarly unlocks 400+ fixes and features that let users correct twice as many mistakes as free users, on an average. The new version also gives Plagiarism checker, which can be helpful when writing long academic essays.
And the premium version of Ginger unlocks the Sentence Rephraser, text reader for knowing how to pronounce words, and also gives you analysis of errors you make while writing.
For a normal user, the free version of any of these services will work.
Which one to pick from?
I have used both the services, especially the Chrome extension since I write mostly in inside the browser, I found the implementation of Grammarly better than Ginger, and the fact that I don't use dictionary and translation tools for my writing, Grammarly, kind of wins over Ginger for me.
But since it's free, you can use both of them for a particular period and decide it for yourself, if you are still confused about which one to go with.
I hope that this article will help you save your time in choosing the best one for your needs.