True multitaskers and productivity enthusiasts know how useful it is to have some extra screen real estate. Especially in the laptops like MacBook Air or MacBook Pro which is 13.3 inch is in size.
The Mac OS on these laptops offers Dock, where you can put your favorite apps so that he will launch in a single click.
But having the Dock at the bottom of this screen also means that all the app Windows, including your browser, will miss as much as 1 inch of horizontal space on your laptop when the Dock is visible.
Majority of the Mac users working on their laptops lose that precious screen real estate by showing that Dock all the time and then juggling to their workflow in an even more tiny space.
Thankfully Apple offers a rather smart way to Boost Your productivity by getting the extra screen real estate for actual productivity work.
You can hide or even resize the Dock that appears at the bottom of the screen, Heck, you can even change its position and make it appear on either side of your laptop screen.
Although most of us would prefer having the Dock at the bottom, I would advise you to hide it automatically, you can only make it appear whenever you hover your mouse cursor over it.
This can be done easily from the System Preferences, by searching for Dock, and then looking at its Settings.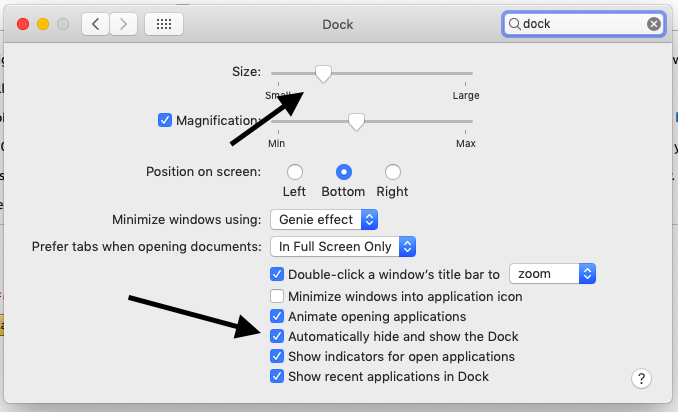 I find this setting pretty useful, especially when I use Google Chrome, the browser uses three rows on the top to show tabs, then address bar, and then bookmarks bar.
And if you have the Dock appear at the bottom all the time you have very less space to work.
I also find it useful to make the Dock size a little smaller so that it can house more of my favorite apps.
How to Keep Favourite Apps in the Dock?
Apart from your favorite apps in the Docks, it also shows all the apps you have opened, which means you can right click on the icon of that particular app which will give you a couple of options. You can go to Options, where you would find, 'Keep in Dock'.
Clicking on 'Keep in Dock' will Keep the App in the Dock.
You can follow the same process if you want to remove it from the Dock.