If you are using an iPhone, there is an easy solution to get perfect transcriptions of your audio.
Typing long text on a small keyboard as the iPhone's keyboard takes time. Using the dictation feature of the iPhone can help you type much faster.
However, the problem with the native dictation feature on iPhone is that it is not accurate for non-Native American speakers.
Watch the Video
But artificial intelligence can help solve this issue. AI is smart enough to figure out what's being talked about and can predict the words accordingly so that it can make sense.
The ChatGPT app for iOS provides a solution to this. It has an input for voice, allowing you to use your voice to input the prompts. ChatGPT uses its own product for speech-to-text known as Whisper, which is quite good at transcribing. The app is free to download and use, and currently, there are no restrictions.
Here's the Easier Solution
How to convert your voice into text with ChatGPT App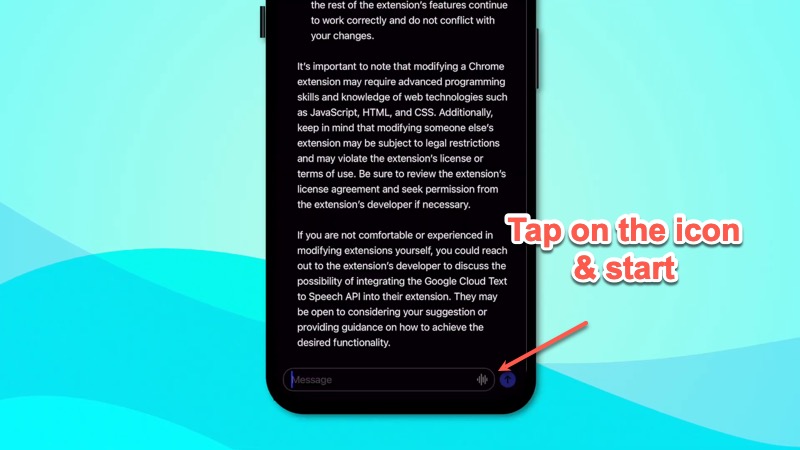 To use ChatGPT app to transcribe audio on your iPhone, open the app, then tap on the waveform icon, and start speaking into the microphone. Once you're done, stop the recording and it will immediately convert it into text and highlight it in the input field.
You can either copy the entire text and paste it, or you can utilize ChatGPT to format it and give you a cleaner version.
How to get perfect transcription with ChatGPT App
Use voice command to make formatting even easier. Add a prompt such as "fix grammar and typos and clean this text" and then start recording your audio. Once finished, it will transcribe the entire audio and put it in the input field.
You can tap send, which will send it to ChatGPT. The app will clean it up, fix any typos and grammatical errors, and give you a cleaner version that can be copied by long pressing and pasted anywhere.
There are several use cases for ChatGPT app. For instance, you can use it when writing an email or capturing ideas when you don't want to type long text. The app will provide you with a piece of text that makes sense, which you can copy and paste into your notes app or any other application.
Here's the perfect solution
So I created this shortcut for iphone I have named it dictation pro because it is pro in all the sense.
It uses Whisper to transcribe the text, and then use his charge gpt to fix grammar and typo. The shortcut also saves the output to Notes. So it's all done automatically. You just have to tap on the icon and speak into the microphone.
Here's how it works
I have added this iPhone shortcut to my home screen, and the fact that you can change icon colour of the Shortcut it feels like its an app.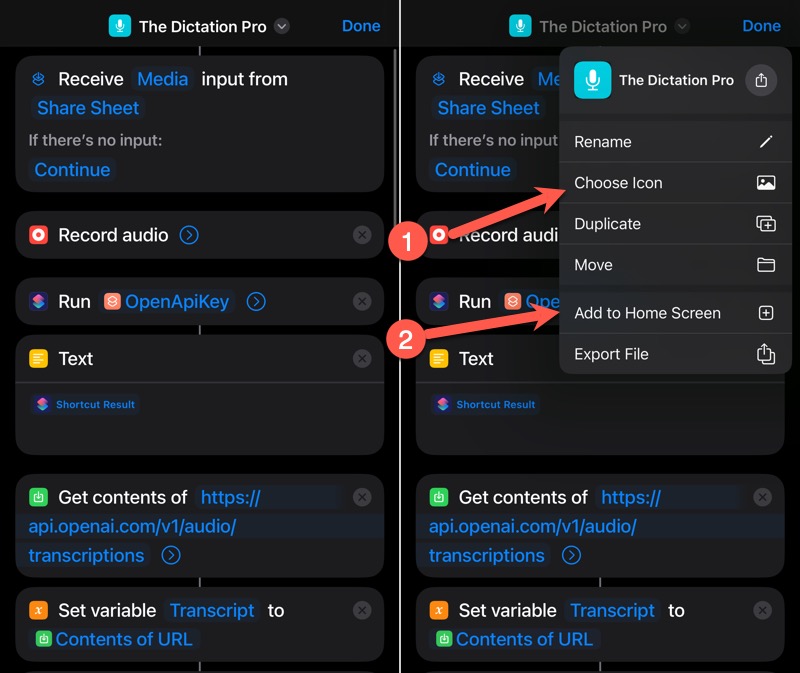 When you tap on the icon the Shortcut gets triggered, first action of the shortcut is to ask for your audio, so it pops up a the recorder app.
Tap to start the recorder and start talking whatever you want to know down, don't worry about being perfect you can speak like you normally do, take pauses between sentences, even repeat a word twice, it will be perfectly transcribed when Whisper sends the transcription to ChatGT in next action.
ChatGPT fixes typos and grammar and saves it to the Notes app.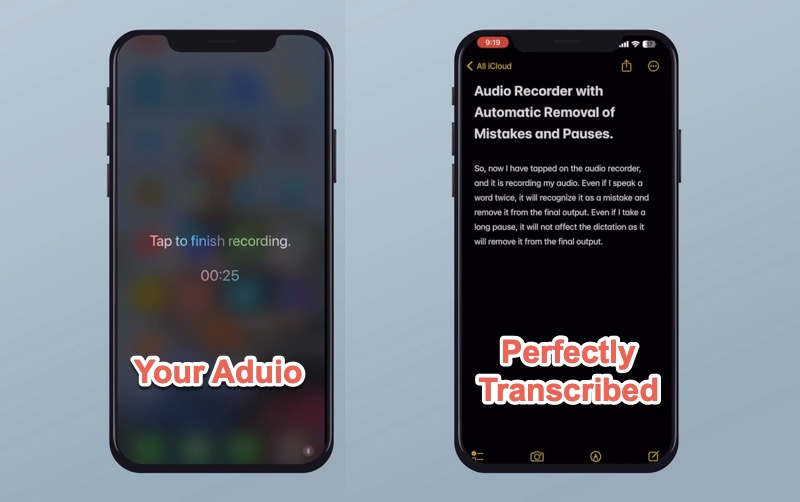 The good thing about shortcuts is you can make it do anything you can even make it copy the output to clipboard so that you can directly paste it anywhere. But since my use case is to have my thoughts saved in notes app which is also available on my macbook.
I have been using it a lot lately to note down ideas when I am away from my computer. Dictation pro make it easy to note it down no matter how long i speak into the microphone.
The solution requires you to grab your own OpenAI API Key, which is free to try. You get $18 worth of credits which can last for two months. After you finish you credits, it still too cheap to use it. More details at the end of this article.
Check the demo of this shortcut in the video embedded above. It's truly magical that you get perfect transcription every time and you don't have to do a lot of steps to save it.
You can download this Shortcut and get your OpenAI API key to configure it.
Create a new shortcut, name it OpenApiKey or something descriptive. Then add Text action and save your API key in it. Then in the Dictation Pro shortcut, configure the second action, Run Shortcut.
And you are done. Dictation Pro is ready to use.