We all have been reading reports about leaks and rumors about Xioami's second generation of their camera-centric smartphone, the Mi A2, putting all the rumors and leaks to rest.
Along with the Mi A2, Xioami has also launched a Lite version of the smartphone and named it Mi A2 Lite, quite obviously.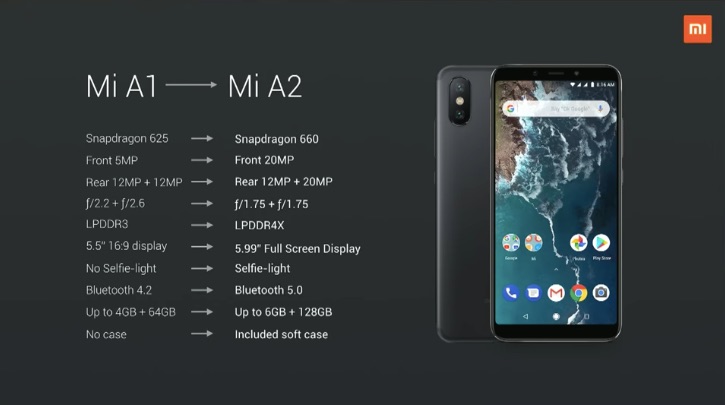 Both the smartphones have been launched with the latest version of Android the Android Oreo 8.1.
Here are the key specifications of Mi A2
There is no denying that the Mi A series is a camera-centric, with the Xiaomi Mi A1 being the first smartphone from Xioami with dual camera setup.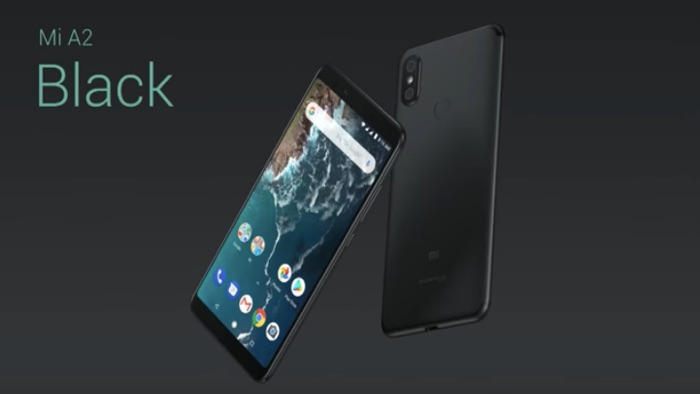 Xiaomi is looking more focused when it comes to having a specialized camera-centric mobile phone because all of the improvement that Xiaomi praised in their launch event is for the camera performance.
From lower light performance to Shallow Depth of Feild or Boke effect on both Front and Back Cameras, Xioami really wants to sell this camera as a Mid Range Google Pixel.
The Xioami Mi A2 has got a Dual camera setup with a 20-megapixel camera and the 12-megapixel camera both having an aperture of f/1.75 which is quite large to make it efficient for low light photography.
The selfie camera is also a 20 Megapixel with flash.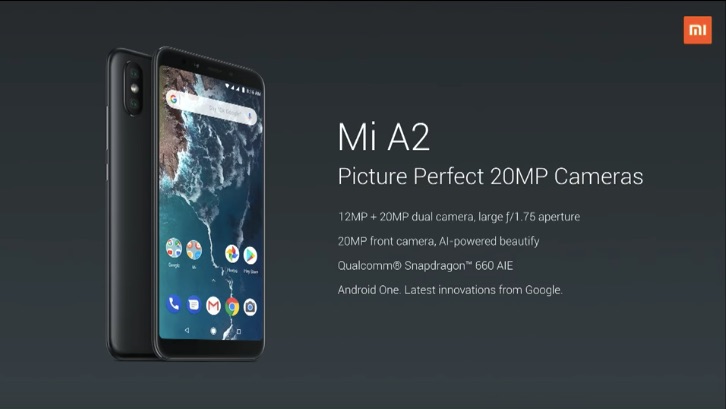 Xiaomi also puts emphasis on 1.25 pixel that is the larger pixel to get more light for better low light photography.
Xiaomi Mi A2 is powered by Snapdragon 660 processor which is newest and is almost 80% faster than Snapdragon 625 and 20% faster than the Snapdragon 636.
It is a 6-inch smartphone with 18:9 ratio with a 1080p resolution of LCD Screen.
The phone has got a battery of 3000mAh and there is a USB C type slot for charging and media transfer.
Xiaomi has also start with their usual design prior to the notch era by keeping it clean and simple without a notch.
Pricing is also aggressive, looking at what the competition has to offer.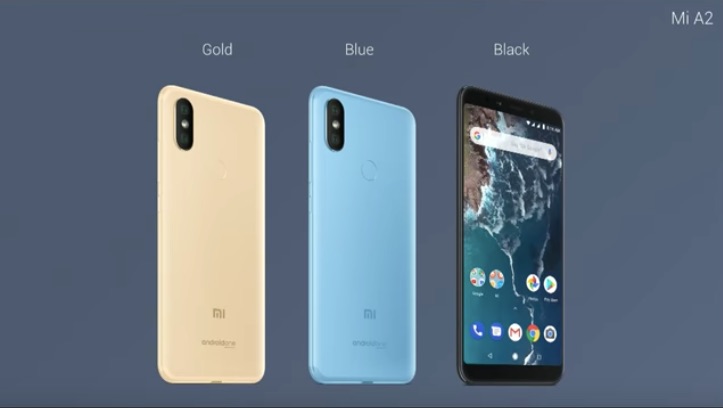 The base variant, which is 4 GB RAM and 32 GB of internal storage, is priced at €249, while 4GB Ram and 64GB internal storage variant is priced at €379, and there a higher variant with 6GB of RAM and 128 GB of internal storage will be priced at €349.
Here are the specifications for Mi A2 Lite
Along with the Xiaomi Mi A2, the Mi A2 Lite has also been launched as an entry-level device focused on photography.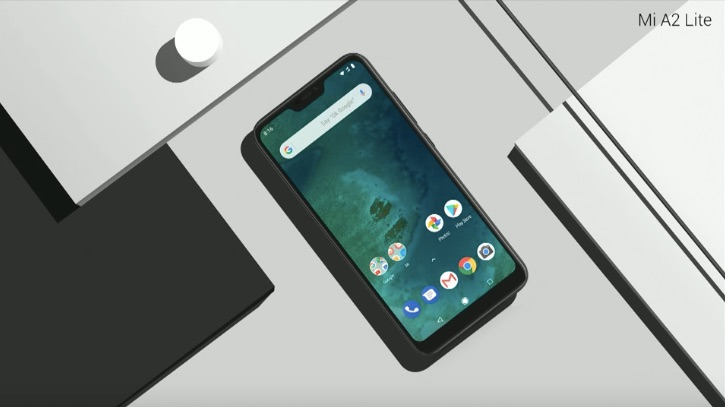 The Mi A2 Lite is a 5.84 inch, 19:9 aspect ratio (with Notch design) smartphone with 1080p of resolution on an LCD screen.
Unsurprisingly, this cheaper variant of the photo-centric smartphone has got a Dual camera setup with 12 megapixel and 5-megapixel cameras along with a 5 megapixel of selfie camera.
Xioami has also been generous with battery by putting a 4000mAh battery into the smartphone, yes it makes it a little thicker than the Xiaomi MI A2 which is 7.3 mm while the light version is 8.75 mm thick.
The smartphone is powered by Snapdragon 625, which make it the first smartphone from Xiaomi in the entry-level to have a Snapdragon series 600 processor, in fact, it is also the entry-level smartphone to have a dual camera setup.
If we look closely there are few things which are even better than the Mi A2, especially 1000mAh extra battery, and the 19:9 aspect ratio, thanks to the notch design.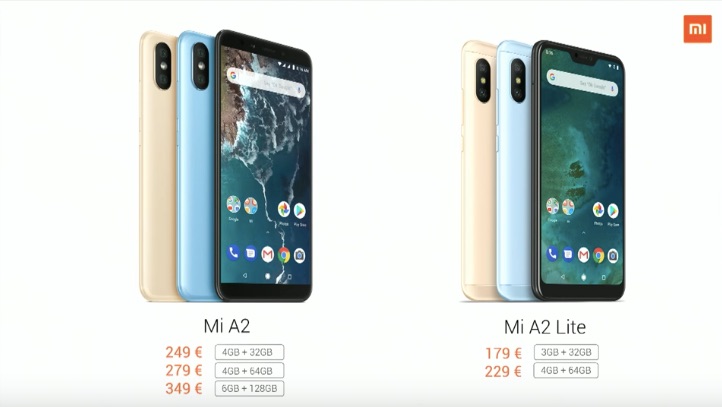 The 3GB Ram and 32GB internal storage variant would be available for sale at €179, And the 4GB RAM with 64GB internal storage variant would be available at €229.
Both the smartphones come under the Android One program, which ensures timely software update.
The benefit of being in the Android One program is that both the smartphones offer unlimited Storage for high-quality photos on Google photos.
All these pricing for Spain, where all the smartphones will be available within a month from now.
Xiaomi will be announcing the launch of the phone in as much as 40 countries. India is likely to be among. The first since xiaomi as quite a hot market here in India.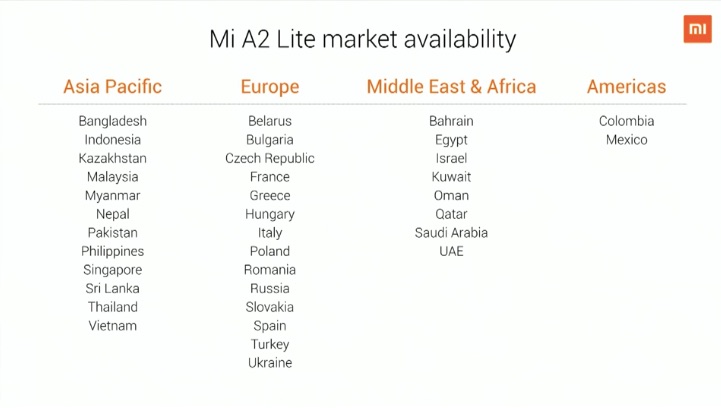 It is also worth noting that the Mi A2 night won't be launched in India as it was not in the list of countries where the phone will be launched.