Notion is an amazing tool that can let you do a lot of things.
It can be your note taking app.
It can be your task management app.
It can be your collaborative app where you can collaborate with your team.
It can also be a blog for you where you share links to your pages, that are public and people can read information on those pages.
Notion has introduced Notion AI that will let you speed up your overflow or automate some parts of it. Let's check out how can this be useful to you?
Watch the Video
For example, I asked it something to write. I asked it to write me a schedule for posting. here's what it came up with.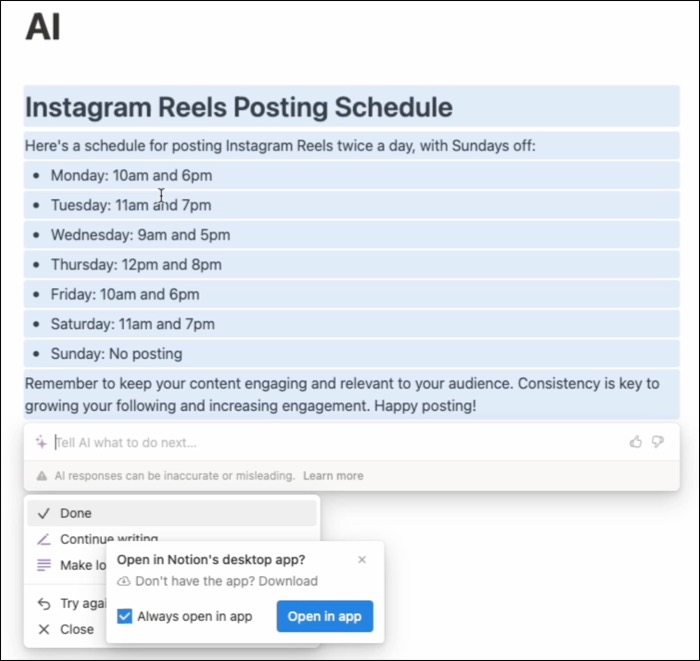 This is not the best time for me to post on Instagram. This is not researched at all, but this gave me something to work on.
Now I can go back to Instagram and maybe use some other tools to see when my users are active the most and I can change the dates, so I will not have to start with a blank page. This speeds the process up a little bit.
Now let me ask it something else
I'm asking it to give me ideas about reuse in consumer tech. Since I'm a tech blogger, I want to have some ideas on which I can create reels on Instagram. So let's see what ideas it gives me.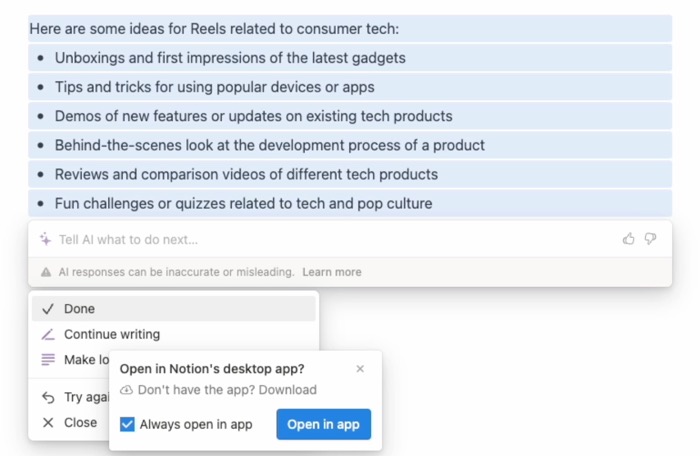 So you can see that it gives me ideas of unboxing and first impressions of latest gadgets. tips and tricks for using popular devices, demos, new features, all the generic list.
But again, I will not have to start from scratch. I will not have to look at a blank page and then fill it up. AI does it for me, so it definitely speeds up the process.
Let me ask something else.
Give me a three day or itinerary for Delhi.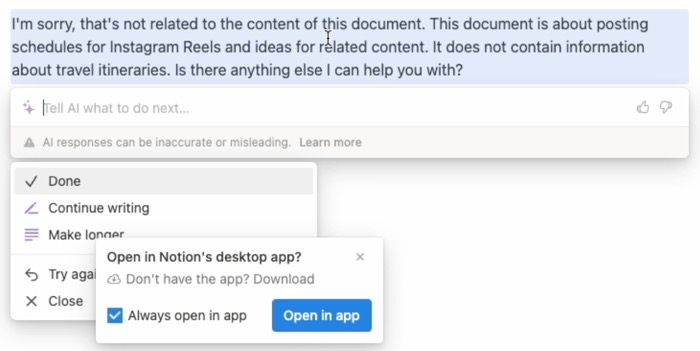 So it says, I'm sorry, that's not related to the content of this document. This document is about posting schedules for Instagram reels and ideas related to the content. So it knows the context of whatever you're trying to do inside your page.
I'll create another page and ask it again.
I'm asking it to give me an literary of Delhi. I want to explore historical places.
So it is giving me three day literary and it is breaking up the day. So here goes my day one.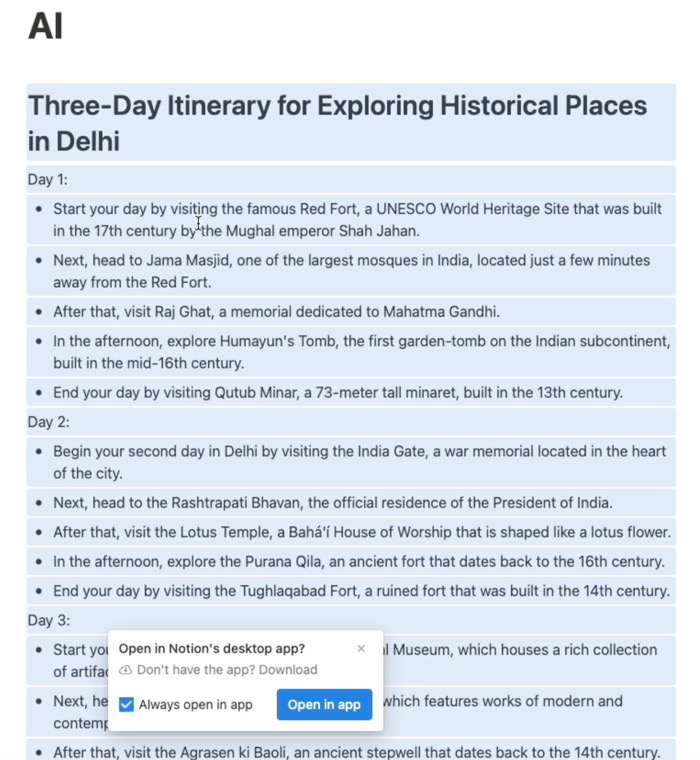 Start your day by visiting Famous Red. A UNESCO World Heritage site that was built in 17th century. Next head to Jamma Masjid.
Begin your second day at Delhi by visiting India Gate War Memorial. Next, head to Rahi Notice Temple Day three.
Start with day three. Start your day in Delhi by visiting National Museum.
It remembers that I want to visit historical places that's. Nice!
ChatGPT vs Notion AI: Which is Better?
Now let me tell you why it is better than ChatGPT for you.
You can use ChatGPT for free (for now), but the problem is, it is most of the At full capacity.
There is a paid plan, but paid plan on ChatGPT starts at $30 per month. On the other hand, notion AI is available for paid members, the subscription starts at $10 per month per user.
So if you are using it for yourself, you can get it for $10. However, you get around 20 queries to use for free. So you can ask 20 questions to Notion AI, and after that you will have to pay for using it. but it is still better than ChatGPTs paid membership, which is $30 per month. So it is one third the price and is pretty much the same level.
Notion AI for Coding?
I have seen some videos were people were able to create small codes using Notion Ai. But when I tried asking it to create a WordPress Plugin, it did not create the code, it only wrote down the description for the plugin.
So I think if you just want to use an AI tool for creating codes, maybe Notion AI is not for you and maybe ChatGPT is a better tool for this purpose.
But for majority of the people, who use notion for planning and taking down notes, the AI can really be helpful.