Are you looking for a headset with mic? If so, then I am sure you need to read this article.
I was in the same situation a few days ago and I did a bit of research before buying the particular product I had shortlisted.
So, I am listening to them out in this article so that you can save yourself from a few hours of research work before getting the perfect one.
I was trying to find it online because I don't want to take a day off and go to the market just for but $20-$30 dollar headset but when I looked online and there were hardly any options for me to go with.
So, I looked up and spend some good amount of time in front of the computer o find out a few nice ones.
Mpow Jaws V4.1 Bluetooth Headphones Wireless Neckband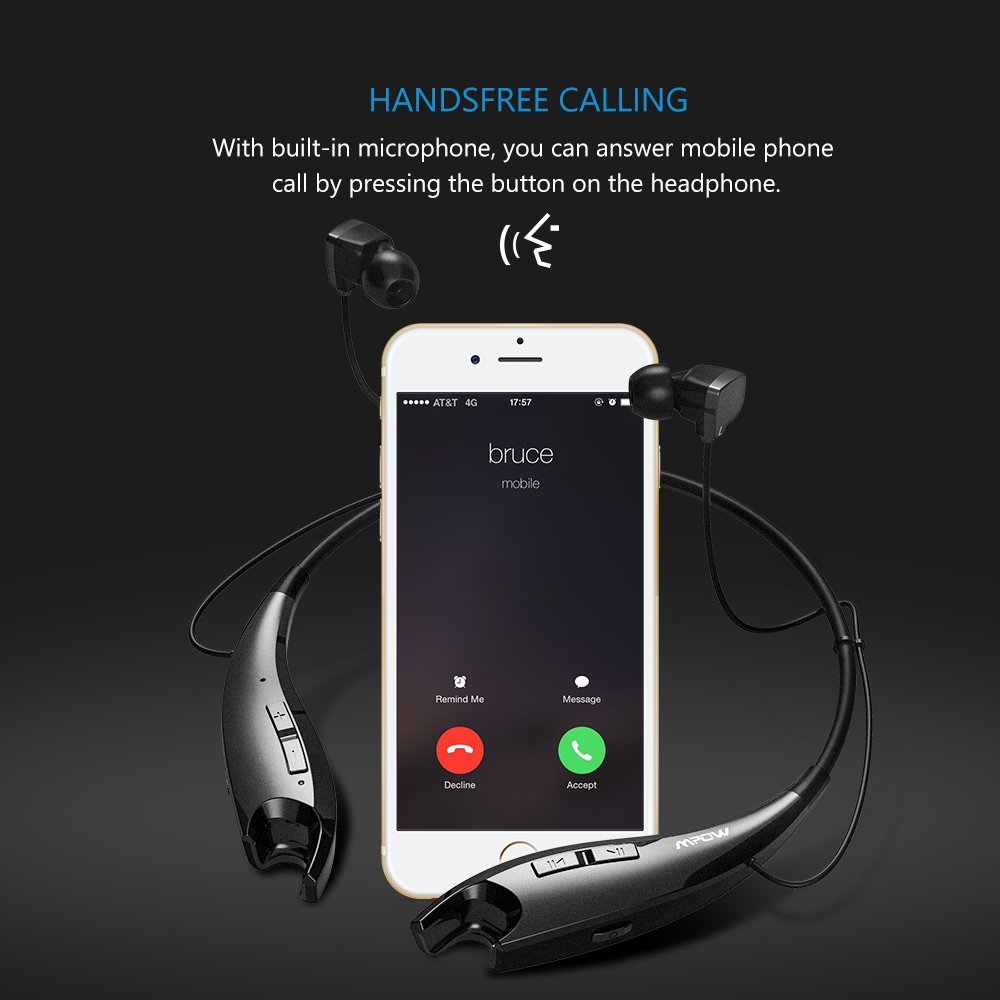 This neckband style Bluetooth headphone is quite convenient with a magnetic retractor, which can attract the earplugs when you don't need them so that he can still wear it in your neck without having to worry about the protection of the earbuds.
It's a Bluetooth 4.1 version with noise cancellation Technology which will filter the background noise so that you can get high-quality sound any clearer voice for calls.
This neckband style makes it possible for the manufacturers to put in more battery so that this can provide up to 13 hours of continuous music play and more than 300 hours of standby time on a single charge.
Mpow Flame Bluetooth Headphones Waterproof IPX7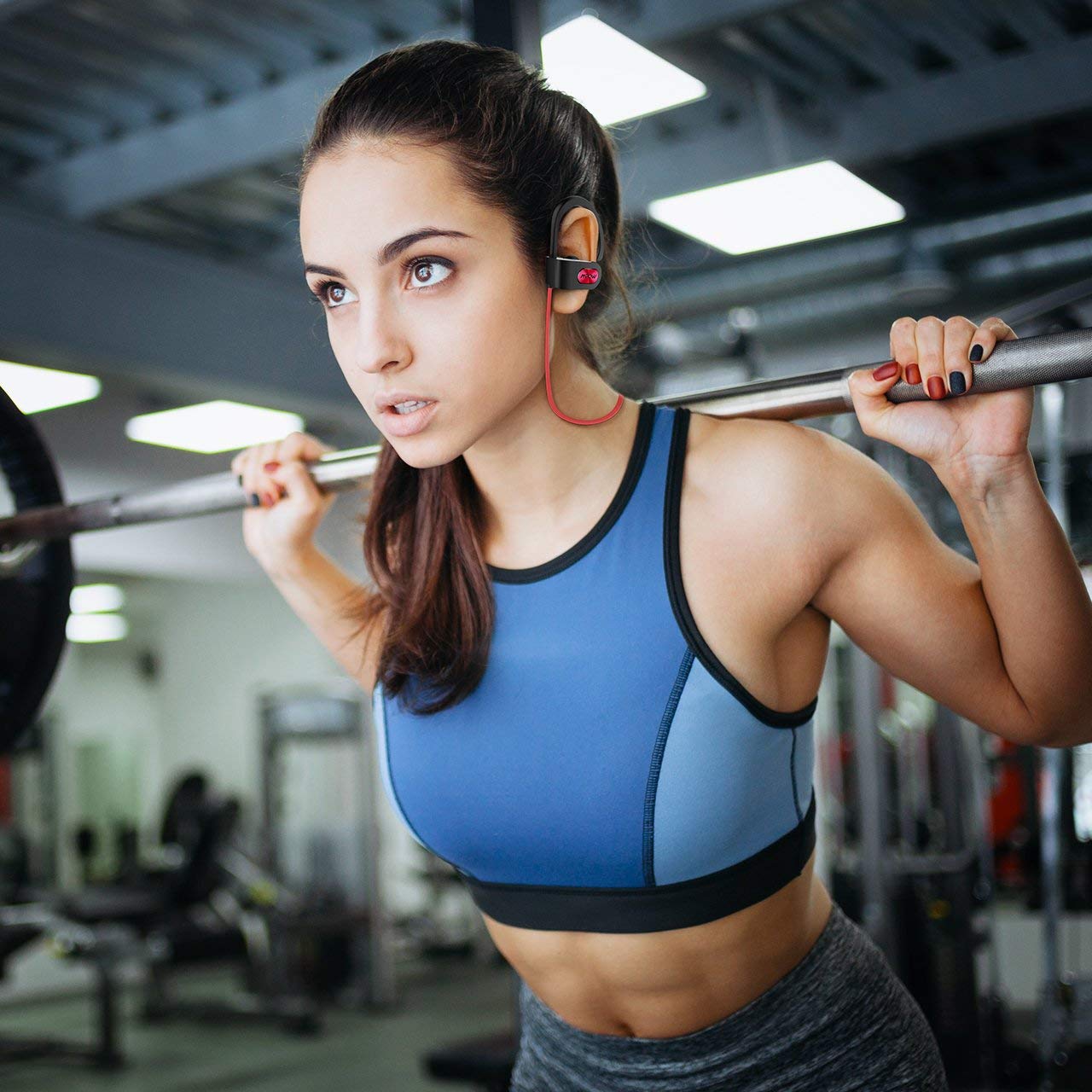 This one is also from the same company as the neckband style Bluetooth headset.
This one is a bit sporty with a waterproof IPX7 rating.
It offers 7 to 8 hours of continuous place back with charging time of around 4.5 hours and has got noise cancellation features for clear audio.
At $19.99, it is quite a decent bluetooth earphone for day to day usage.


Neckband Style Bluetooth Headset by LBell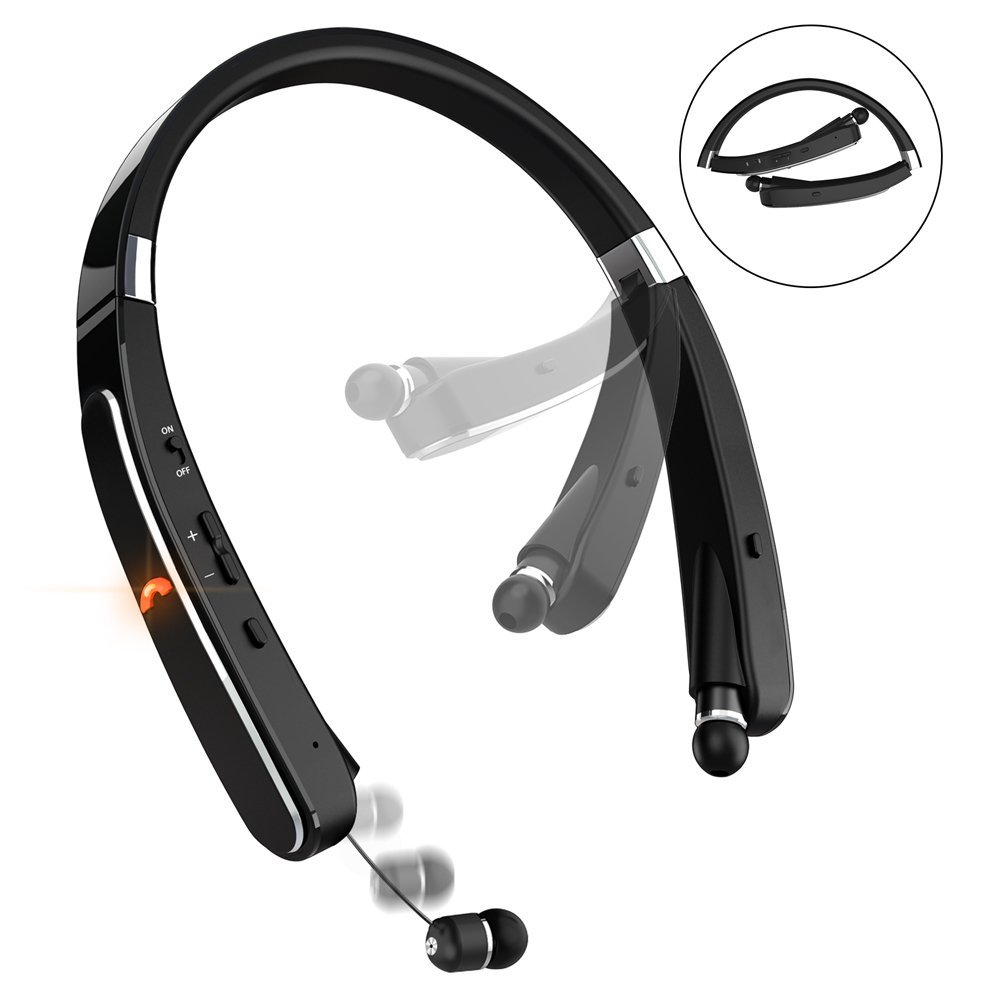 This neckband style Bluetooth headset Gates about 30 hours of the playback down which is quite impressive considering it is priced at just around $28.
It has got a foldable design and retractable a Birds so that it can be safely worn around the neck. It has a standby time of over 600 hours which is around the month. It takes around 3.5 hours to fully charged.
It is probably one very few Bluetooth headphones at this price that can give such long payback time.
The reviews on Amazon highlight its connectivity issues when you try to connect it with your phone, but, apart from that, mostly all the reviews happy about its battery life and the quality of the sound.


SoundPEATS Magnetic Wireless Earbuds Bluetooth Headphones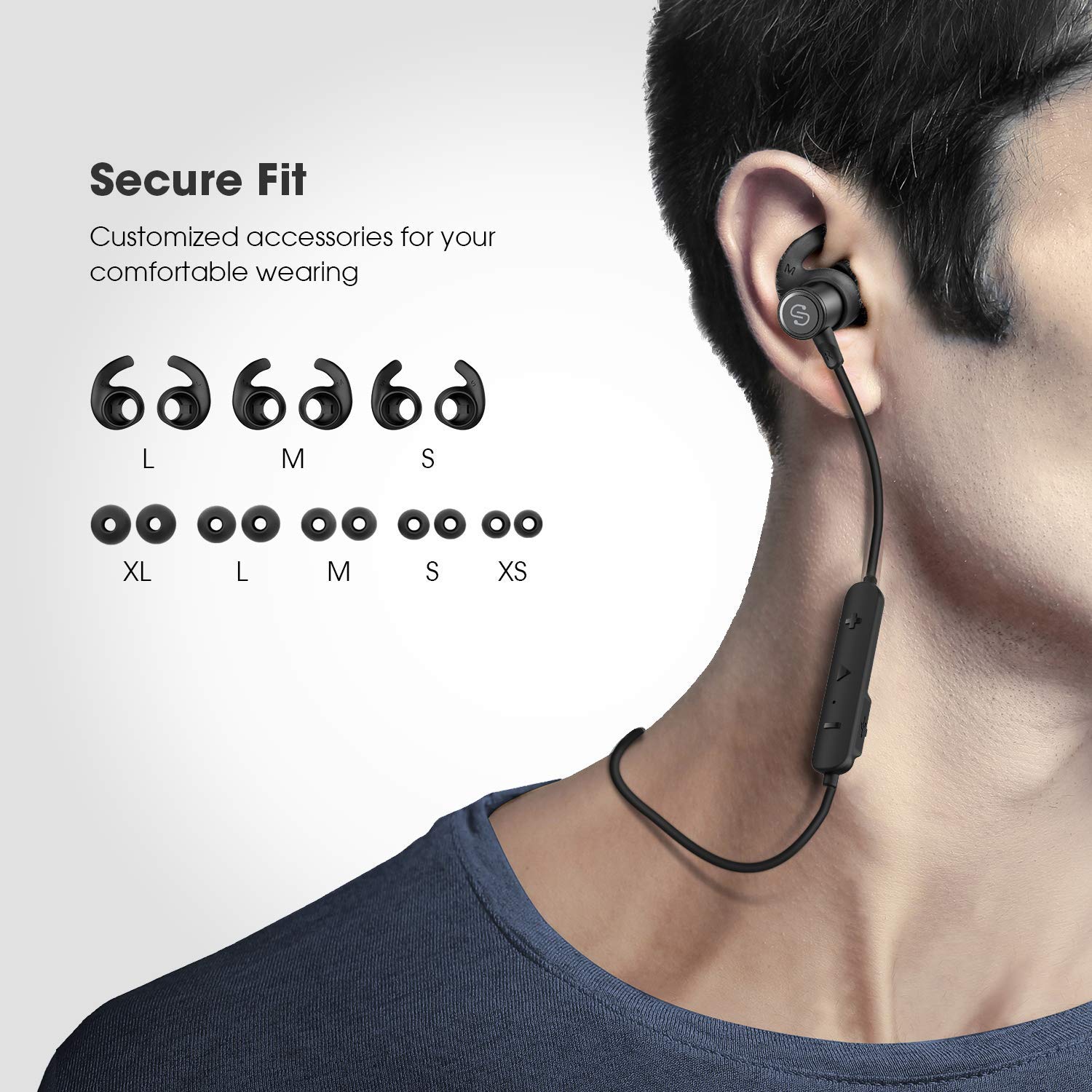 This one is quite a fit for workouts and all other sports activities since these are sweatproof Bluetooth headphones.
It gives around 8 hours of playback which is not that impressive considering we have Bluetooth headsets with longer battery life in this list, but it is also minimal and lightweight.
Soundcore Spirit X Wireless Headset by Anker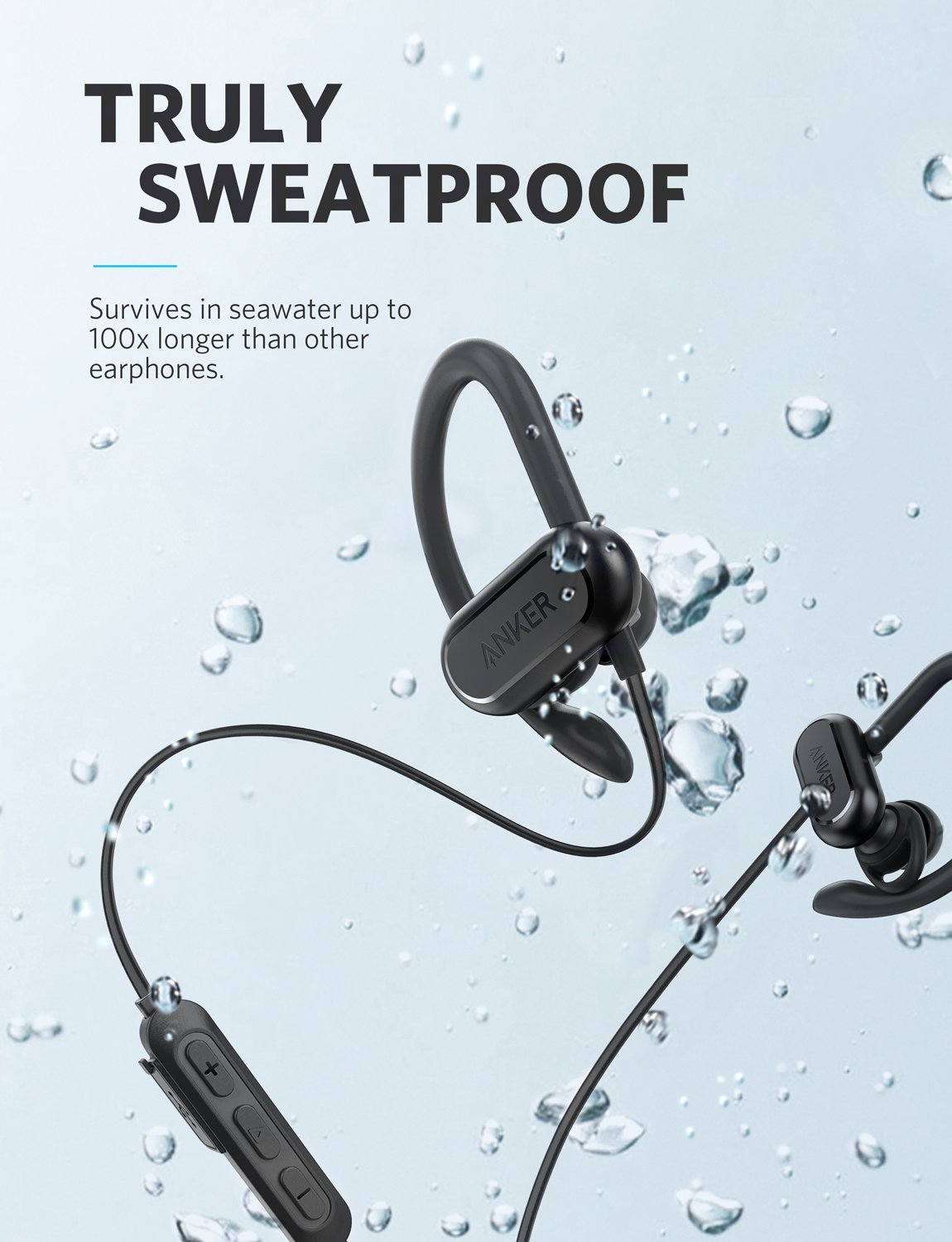 These Bluetooth headphones are advertised by anchors as truly sweatproof, which makes it quite a nice Bluetooth headphone to own and use during workout sessions.
Or maybe at other sessions where you sweat a lot.
This Bluetooth earphones cost $40 which is quite a little on the highest side but it also provides 12 hours of battery and has got a Bluetooth version 5.0 Technology.
So, specification wise also, it is better than most of the Bluetooth headphones mentioned in this list.
I looked at a few reviews on Amazon in mostly all of them seem to have a good experience with these Bluetooth headphones. Some of the annoyance that review was faced was its design but it is also an individual preference.
And if you did not like the design of it there are other Bluetooth headphones to choose from in this list.


Here's a cheaper version with Bluetooth v4.1.
True Wireless Earbuds from 8Beat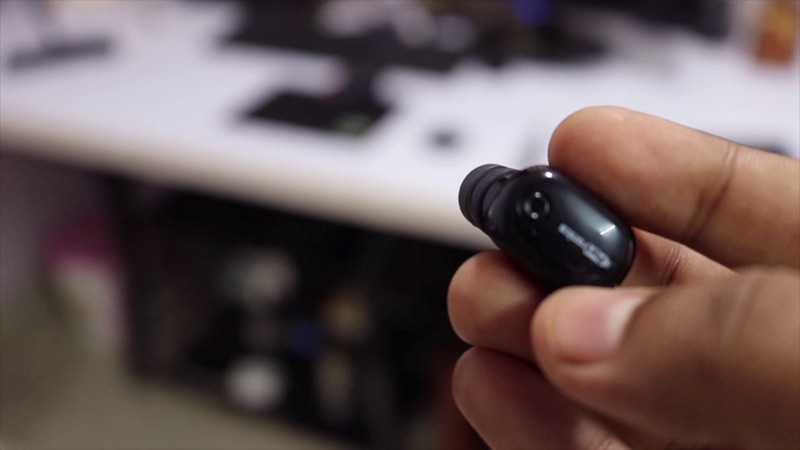 These Bluetooth earbuds are considered as it true wireless headsets. Ever since Apple launched the AirPods, the market got faded with these Bluetooth earbuds.
Thankfully the price is not as high as the AirPods, which means you can experience truly wireless experience.
It costs $50 and has got everything other Bluetooth headsets in this list offer. Such as more than 15 hours of playback time, microphone, noise cancellation, and Bluetooth v5.0 Technology.


Here is a little cheaper Bluetooth earbuds you can buy at $36, with almost similar specifications and features.
If you're looking for rather affordable Bluetooth earbuds check out this list of best Bluetooth earbuds available.