Are you not able to record the voice of the person, who is on the other side of the call?
When you listen to the conversation, it's only you who is talking, and the call recorder did not capture another person's voice.
This is a unique problem that I came across twice in the last few weeks. Being the Tech guy to the friends and family, I keep getting requests from them to solve their queries, and one search query that came from different people was that they were not able to record calls of the other person.
So they were asking whether the other person is using any Call Blocker so that their calls are not recorded, which is not possible. The issue is with your smartphone or the tab that you are using.
How does call recording work?
If you have installed a third-party app from Play Store to record calls, what it does is, it records everything the microphone of your smartphone hears which is you talking into it.
The person who is on the other side of the phone has his voice coming out from the speakers of your smartphone, which is sound coming from your device.
Google has evolved their Android OS over the years and refined it after a lot of people has started exploiting the loopholes, so now there are permissions everywhere.
The app needs to have permission to access it, and in this case, if the app does not have access to the sound coming from your device, it won't be able to record it.
So in this case, the call recording apps you might be using only has permission to access the microphone, and it records your voice, but it does not have the permission to access system sounds so it is not able to record the other person's voice.
What's the solution?
The easiest solution would be to use the native call recorder built into your mobile phone. Almost every smartphone comes with a built-in call recorder, even the Smartphones under Rs 10000.
You can find the option of going to the settings area of your smartphone. Usually, the option is inside the call section which is under Network and internet.
Under the call section, you can go to advanced where you will find the option of call recording. You have to enable auto call recording so that the call gets recorded automatically when you answer a call.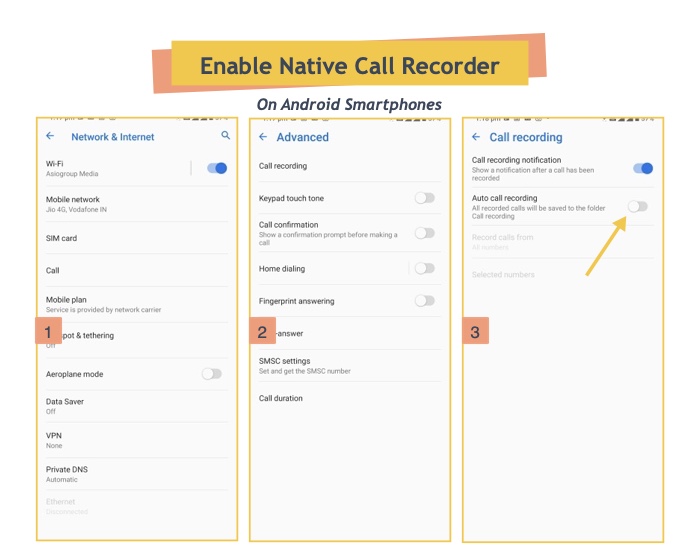 At this point, I have tested a dozen call recording apps from the Play Store in none of them work, because of Android's new limitation. So the only option you have right now is to use an older version of Android which is not recommended, aur use the native call recording feature.
If you are smartphone does not have call recording feature natively, then maybe you will have to buy a new one if you need to record your calls.