Apple's new feature of the Mac Operating System will make your iPhone more usable as it allows you to use it as a webcam. Learn how to use the continuity camera feature on my face 13 Ventura.
Apple is known for banking features made available by third-party solutions for other manufacturers. But it's true that when it brings dose features to their devices, it is near perfect, without many technicalities for the end-user.
And this is true for a new feature for the 2019 camera where users can use their iPhone camera as a webcam on their Mac.
The recent Mac computer releases from Apple have got decent cameras built-in, but it is nowhere near the quality of iPhone cameras. So, you can use your best cameras for video conferencing is a great move.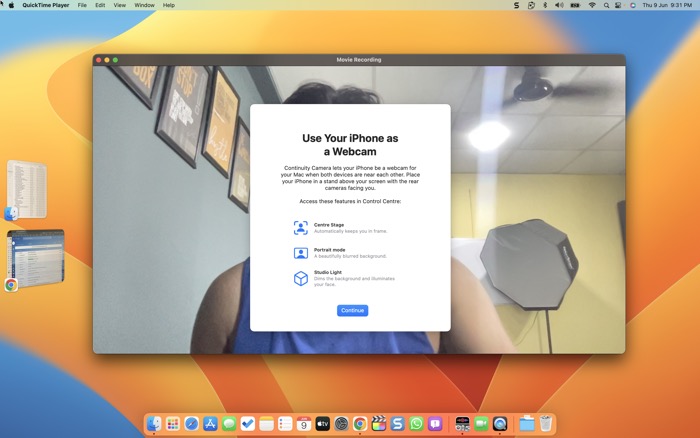 How to use the continuity camera feature?
This is exclusively available on Macs that are upgraded to macOS 13. If your computer is upgraded to make a search and both your iPhone and Mac are on the same wi-fi, you will be able to choose your iPhone camera in all the supported applications where the built-in webcam is available.
It's all done wirelessly, and no cable is required. Although you can do it using a cable also. It would also charge your iPhone, which is recommended if you are planning to have longer video sessions.
I tried it with Google Meet, Zoom, WhatsApp, and Quick Time Player, and it was flawlessly. I did not notice any latency in the video, even though it was a wireless connection. The wireless connection also means you have the flexibility of keeping the camera at a much better angle without just a laptop.
While showcasing the Continuity Camera features, Apple also showed that it would support Center Stage. It is a feature available in newer iPads and MacBooks, which keeps the subjects in the center even if they are using them.
Another feature,  which is kind of mind-blowing, is that users will also be able to use the wide-angle camera on iPhone to show a top-down view of their desk.
This one was unavailable for me to test as I am using the beta version of macOS 13. It will be coming to the stable version when it releases.
Check the Continuity Camera in action in this video