I have been using the Insta 360 One X camera from the last few weeks and have, in fact, also posted an article talking about my experience of using the camera.
In that particular article, I tried to cover a lot of things, including battery life, how to transfer footage, and how to utilize the camera in the best way possible. You can check it out here.
But they are still so many things that need to be covered about the camera, thus will be making more articles regarding that, which you can find under 360 videos tag.
In this article, we are going to talk about the fastest way to edit Insta 360 One X footage.
Before we start, I am assuming that you already have got a 360 camera, I am not going to talk in detail about the two ways you can use 360 cameras. I'll give a brief to make my explanation later in the article easier to understand.
You can use Insta 360 One X camera to create 360 videos, which you can put on YouTube for Facebook, and people can enjoy the emergency experience by moving their phone around and looking at the footage in every direction.
It is less popular, but there are still many use cases where people want to create 360 videos. One example is virtual tours of cities and popular tourist places.
The other way is to capture 360 ° footage and then reframe the footage to make a standard video. This gives you a lot of flexibility since you can frame your shots in post-production while you are on the editing table.
You don't constantly have to move your camera and frame things that you want to capture and show to your viewers.
So we will talk about editing both types of videos from Insta 360 One X camera.
The fastest way to edit 360 videos from Insta 360 One X camera
The Insta 360 One X camera uses a proprietary video format, which is .insv, and sadly it is not supported by any major video editing app, be it on mobile for PC.
Fortunately, Insta 360 provides apps for both PC and mobile. The mobile apps will only allow you to every frame 360 videos to create standard videos, so using your mobile phone for editing 360 videos is out of the question.
Before we talk further about editing 360 videos on a COmputer, I would like to mention that you need a powerful PC with at least 8 GB of RAM, Core i5 Processor, that is capable of handling 4K editing since we will be working with 5.3 ke footage, which is more significant than 4K.
When you download the Insta 360 studio app for your Mac or Windows PC, it also downloads the plugin for Adobe Premiere Pro, which allows you to import .insv files into the Adobe Premiere Pro.
Since we are looking for the fastest way to edit 360 videos, I wouldn't recommend using that process. I tried editing 360 videos in Adobe Premiere Pro, but it is a lengthy process, especially if you have to make a lot of edits like framing the video.
If you have got a Mac computer, you can use Final Cut Pro to edit the footage from Insta 360 One X, since it supports 360 video edits. The only issue is, it does not help .insv files format.
You need to convert all your Insta 360 One X footage from .insv to .mp4. Unfortunately, the insta 360 studio app for Mac and Windows allows you to batch process files and convert them into .mp4
You can download and install the Insta 360 studio app on your Windows or Mac,  and use it for making minor edits to your 360 video footage.
If you want to make your work faster, all I would suggest you edit your 360 videos in the Insta 360 app as much as you can.
Instead of batch processing all the files and converting them into MP4, so that you can edit them later in Adobe Premiere Pro or Final Cut Pro, I would suggest you edit your 360 videos in the Insta 360 Studio app, especially the framing part.
Insta 360 studio app allows you to select the camera frames easily, you can also lock direction, which is pretty helpful when you are walking with the camera and taking turns, you won't have to do do it manually using keyframes letter in other video editors.
Since it is a 360 video, there isn't much you should worry about for editing apart from selecting the direction of the video and starting and ending point. Once you take care of all these things, process the videos and turn them into mp4, you so that you can combine them in one big video that can be uploaded to either Facebook or YouTube.
One thing to make sure before processing the 360 footage in the Insta 360 Studio app, you need to select Equirectangular, which appears somewhere on the top in the middle (Simple click on the 'View' not 'Freecapture').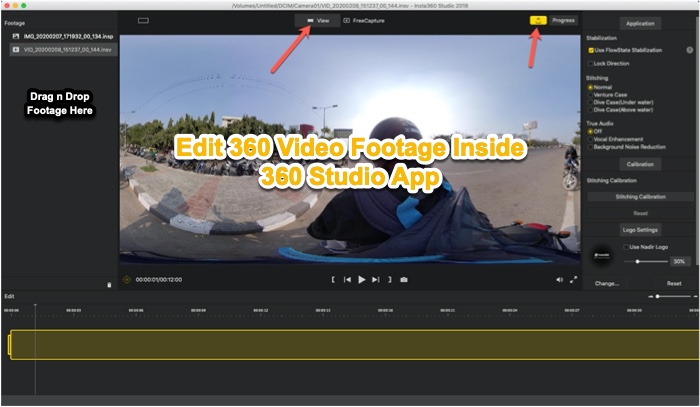 The footage will look a little weird since you will be viewing the entire 360 view in a flat-frame, but don't worry, your editing software will recognize it as a 360 footage when you select the option.
Both Adobe Premiere Pro and Final Cut Pro have the option to edit 360 videos, we will talk about both in further in the article.
To make the process even faster, I would recommend you connect your smartphone directly to your PC or take out the micro SD card from the Insta 360 One X camera and use a micro SD card reader to connect it to your computer.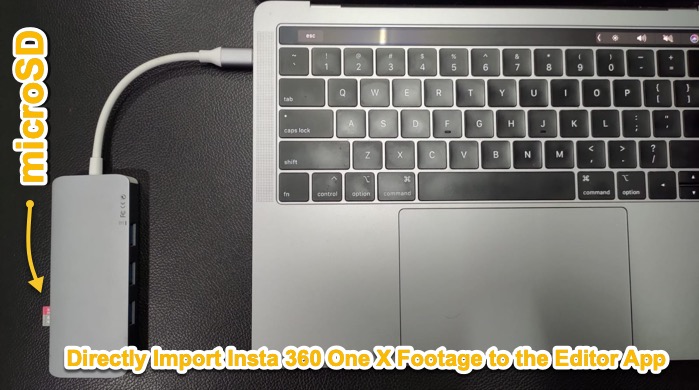 Import the video footage into the 360 apps without copying the video to your computer, which is going to takes extra time. The card used by Insta 360 One X is fast enough to let you edit video footage smoothly.
The fastest way to edit flat videos from Insta 360 One X
Now coming to editing flat videos from the Insta 360 One X footage, the fastest way would be to use your mobile phone. Also, you will require a powerful smartphone with the premium chipset, such as the Snapdragon 800 series. Pretty much every flagship smartphone from Android has got Snapdragon 800 series. For the year 2019, it was a Snapdragon 855; for 2020, it is going to be Snapdragon 865.
The desktop app does give you the option to edit flat videos by reframing 360 footage, but it takes a bit of effort to do that.
So, I suggest using a mobile phone app for editing flat was used out of Insta 360 One X footage. The Insta 360 One X app has not been updated in a while, so I would suggest you use Insta 360 One X app, which has got more features and so it is also easier to edit videos.
Sadly, you cannot directly connect your Insta 360 One X camera to the Insta 360 One R app. You will first have to connect your camera to the Insta 360 One X app, then download all the footage to your phone and then and go to the Insta 360 One X folder move the files. To the Insta 360 One R folder.
Instead of doing that I would suggest you take out the micro SD from the camera using OTG cable to connect a Micro SD card reader and move all the Insta 360 One X footage to the Insta 360 One R folder using the file manager on your mobile phone (you can install 3rd party File Manager from Play Store).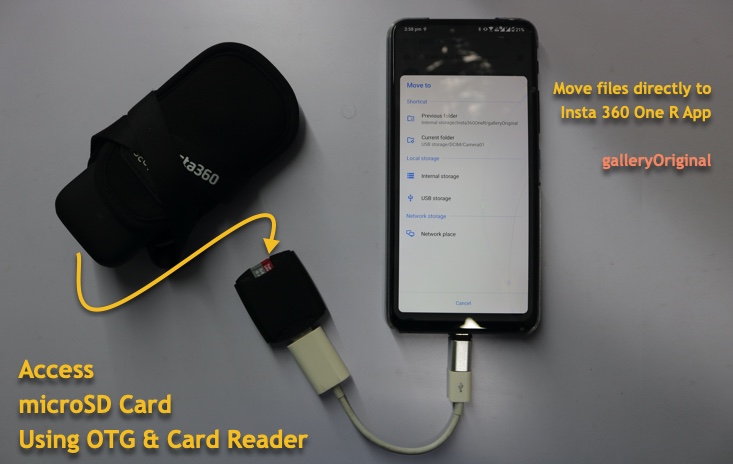 It is faster to move files using in the microSD card reader in comparison to downloading files to your phone via Wi-Fi.
Once you have all the footage moved to the galleryOriginal folder of Insta 360 One R the app, you can open the Insta 360 One R app and start editing your videos.
The mobile Apps do not have a batch processing feature so you will have to export all the footage individually after making edits, since the limitations of mobile phones, you need to keep the app in the foreground while the video is being exported otherwise it will be killed by your smartphone to conserve battery and processing power.
Pro Tip: If you want to save time, record your videos in one go, so that you have one big footage instead of multiple smaller clips, which you will have to export individually.
This way, you might have to work longer on editing that one footage, but you won't have to spend time exporting the video, which sucks because you cannot use your smartphone while the video is being exported. So, the less the export, the more the free time you have.
After you get your exported flat video, you can put it into any mobile video editing apps such as Kinemaster or PowerDirector and then refine it by cutting the portions that you do not want in the video. You can also apply background music to your videos.
---
These are the fastest workflows for editing video footage from Insta 360 One X. For 360 videos, use your desktop, and for creating flat videos, you can use your mobile phone app.
Even if you are creating a mixed video where you have footage from other cameras and you are editing them on your computer, editing your insta 360 footage on your mobile phone and then transferring it to your computer to add it into your final video is faster.
And if you want to put it on social media, you can surely edit it further on your mobile phone, using the apps I mentioned above.