Google has launched Google Music in India, bringing a catalog of millions of songs to purchase in a single tap.
Google Music was launched in the US in 2011, so it took five years for Google to bring local content for purchase in India. At a time when there are already a bunch of services that offer Music.
Update: Google has retired Google Music and has launched YouTube Music, which is available on a monthly subscription and comes bundled with YouTube Premium.
The users can buy individual songs at Rs 15, and the Prices of the Music Albums vary like Freaky Ali music album is available for Rs 40, while the Music Album of Sultan is priced at Rs 190.
Before the availability of Google Music, there were many Online Music streaming services available such as Gaana.com, Hungama Music app, Saavn etc.
Mostly all the subscription-based, you pay monthly fees and enjoy the ad-free streaming service with offline music support. Google Music lets you buy individual songs, more like iTunes.
I find the Google Music model useful as I am not always listening to Music, and I am more interested in buying individual songs every once in a while.
So will it stop the music piracy anytime soon?
Music Piracy has always been there, especially in India, where there was no actual way to buy Music in Digital Format. Most people find it easy to download the songs rather than going to the market and buy a Music CD.
To offer DRM Free MP3 Downloads online, Flipkart had started one such service called Flyte, but it had to shut down in just a year of its launch.
The reason was not enough traction, but I had accessed the service, and its collection was not huge, not even big by normal standards.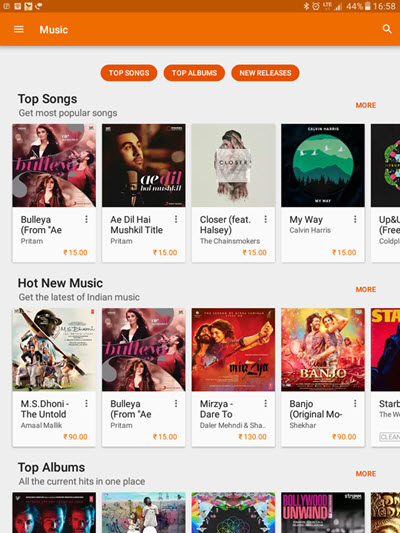 On the other hand, Google Music is an addition to Google Play, which already offers Movies and Books to buy. Music is an addition to it, meaning people who have got their Credit Cards saved in Google Wallet would be able to buy songs just like they buy Movies, Books or Paid Android apps from Play Store.
Currently, Jio is offering free internet, bringing more people online for the first time, but again, people are coming in because it's free.