This article is for those who are looking for stock audio from music sites that offer royalty-free music or different kinds, be it classical music, hip-hop, or any other genre. The Creators are going to benefit from this list so make sure you share this with someone who might find this useful.
I have many regrets in life, and one of the recent ones is not putting enough effort into finding copyright-free music.
A result, I've been getting copyright claims on my videos every other day. Here is what happened.
I am well aware of the YoutTube guidelines regarding copyright music, I know I'll get a claim on my video if I use a music file without the permission of the original creator.
But somehow I thought If I am not getting a copyright claim on one of my videos for using particular music, even a few days after Publishing the video, that music is Okay to use in further videos.
And that's what I did, I used the song in several of my videos, we are talking about more than 50.
And I am not getting the copyright claim for the song all at once for all my videos, It happens just every alternate day, and it really makes me hate more.
If Only I had sources for Copyright-Free Music Earlier.
Well, now that I've got a list of the best places to get copyright-free music, let me share the list with you so that you don't have to go through all that I have been to.
So, let's start.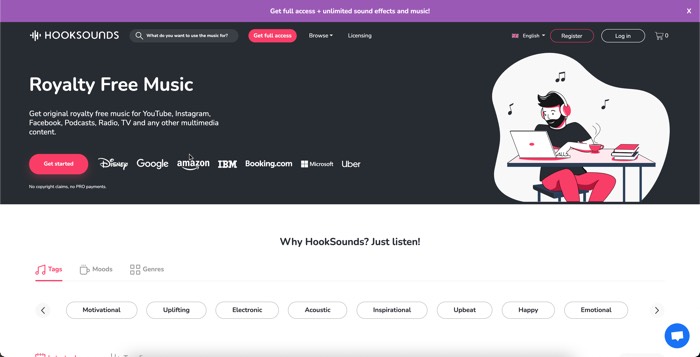 Hooksounds really cool writer free music website which has got pretty cool music.
All the sources mentioned in this article provide free music for your project. But, since it is free, it is available to all, which means it is not unique. And if you are making money from your projects, it makes sense to invest in a premium service like Hooksounds, which offers handpicked high-quality royalty music which is also unique.
You can full access to their music library for $29/month if you pay annually. Hooksounds lets you listen to all their music and sound effects even before spending money. Check out Hooksounds to listen to the music.
Some of you might already know about this, but I thought if it was so cool, why would anyone look at other places for copyright-free music.
But when I finally sat down to check, I found a few tracks that were really nice and I am now using them in my Videos.
On this channel, you will find tonnes of music loops for your creative project, you can find the links for music downloads in the description of each video.
This is actually the second channel of the YouTube Music Library channel. It has got over 100 videos on its channel and some tunes are really worth taking a look at.
The royalty-free music tracks on the video fall under simple licenses so that you can use them for your video games or any kind of online video production.
It's a YouTube Channel that posts Copyright Free Sound on its channel it has more than 300 videos (sounds) that can be downloaded and used in your own video projects.
It's one of the popular channels where YouTubers get their music, the channel has over 11 million Subscribers, which tells us how popular the channel is for the Non-Copyright Sounds.
This channel is useful in finding the film scores for your multimedia projects, you won't have to hire any shit expensive music production company if you are looking for sounds that are easy listening
ByeByeCopyright is another nice channel on YouTube that has some really nice tunes that are Copyright free. Though it doe does not have a huge subscriber base but has got more than 600 videos the sounds are really nice, and you are surely going to get a few tunes for your project.
If you worry about getting the stock music or royalty free music then ByByeCopyright channel has songs that are already in the public domain as they have been used by many YouTubers in their own multimedia projects.
The Frequency YouTube channel has got more than 250 Videos so far, which is tons of options to choose from.
So this is it, these 5 sources offer more than 1000 copyright free music combined that fall under creative commons license and will be enough for that perfect music you were looking for.
1000 Copyright free tunes are more than enough for your projects. You can select a few and repeat them for your videos if you are a regular YouTuber.
Also, these Royalty Free music are suitable for commercial background music, your online video on YouTube.
If you still can't find the perfect tune for your video, I've got a tip for you to look for the best tune on YouTube itself.
Many YouTubers use tunes that are required to give credits too, if you too find their music interesting on an Existing video, you can reach them and ask for the permission to use their music in your Video with due credits in the description.
Many creators would gladly agree since they already have given permissions to other YouTubers to use their music.
No matter if it's the hip-hop song or the sound effects this music archive of more than 1000 songs for your videos are ready without any license certificate ot musical licensing needed. You can save a lot of money on production music.
Now, all you have to do is, to create awesome videos that you always wanted to create and get the copyright free music and royalty free music from these free sources.
So, this is it, I hope you find this useful and will save you from a lot of regrets that I had for using copyright music in my videos.
Watch the Video