Had it ever occurred to you that we do our bests when we have a deadline?
Yes, the secret to getting work done faster is to know that you are running out of time, tik tok tik tok.
I've shared a lot of tips and tricks and tools that I use to get my work done faster, you can read all of them under the Productivity tag.
My current favorite (or say new addition) is a Chrome extension called Prioritab. I'll talk about it in detail in a while, but first, let me preach you some psychology.
When we have things to do ( both long term & short term) in a day, week, month or year, we don;t really act on them unless we become aware that there is a good part of the day, week, month or year has passed.
Once we know that, our brain automatically starts giving priority to the work that is actually important.
Whether we actually do the stuff or not is a totally different game altogether, but it would still be nice to be made aware of the time we have passed.
And this is exactly what Prioritab does.
Add Prioritab chrome extension in your browser and the next time you open a new tab, it shows you exactly how much time has passed in a day, week, month and year.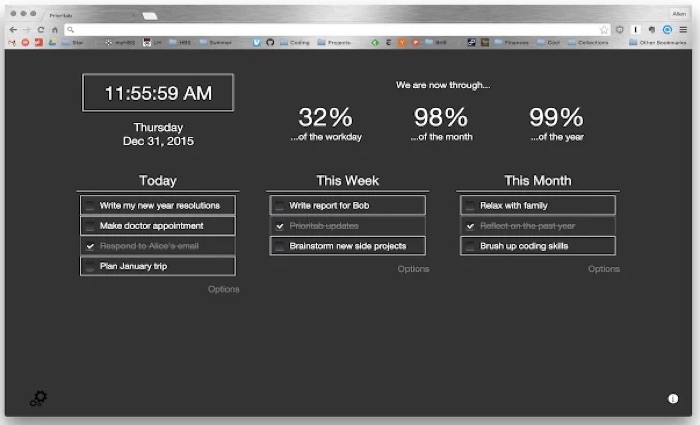 So the next time when you want to open Facebook for some casual browsing, this tab will remind you to set your priorities.