A few days ago, I wrote a comparison article, talking about differences between Microsoft to do and Any.Do, both of which are useful To-Do list apps.
You can go read that article for better clarity about why the update Microsoft To-Do App.
For the people who do not want to spend more time reading another article, here is a tl;dr version of it.
Andy.Do is a great app, but Microsoft To-Do lets you do more. If you are not looking for an app to manage your work, and it's just personal stuff you want an app for, then Any.Do is a perfect fit.
I picked up Microsoft To-Do over it, and now let's see how to compares with another great To-Do app called Todoist.
I remember I used the Todoist app several years ago, but then I moved to Wunderlist. Wunderlist for perfect for me. Later Microsoft acquired it, and they decided to shut it down.
But I was still using it until several weeks ago when I finally decided to get myself familiar with Microsoft Do-To, which a lot of its elements borrowed from Wunderlist.
It was a challenge to use Microsoft to do at the beginning, but now I feel I have figured out how to use it in the best way possible.
Key Features of Microsoft Do-To
Things like cross platform support clean user interface and the ability to access it from mobile phones are available in both the apps via comparing today, so I will not be talking about them.
Instead, what I will talk about is how easy it is to create tasks in Microsoft to do and then put reminders on them.
And not just a reminder, you can also put repetitive reminders. Which means Microsoft to do is also useful in helping you take actions on recurring tasks such as paying bills, and other monthly or bi-weekly affairs.
On the organization part, it lets you create different lists under which you can add various tasks so you can have a listing for a particular project and then have all the tasks appear inside that list.
I have a list for all my websites that I operate and other projects as well as a list for miscellaneous stuff, where personal tasks go.
The tasks can add steps to it, along with putting Notes on it.
You can also add a file, which is useful if you have a piece of paper where you have written down something, you can add it to the task. There are different use cases for this.
There is also a collaborative feature, which means you can assign a task to someone else. In the collaborative part, there are other amazing apps you can consider, such as Trello or slack, but it's a nice touch to have such features in a to-do list app.
Maybe you can use this feature to share a list with your spouse or other people when you are working on a collaborative project once in a while.
While getting started the user interface might look a bit complex. There are 5 tabs, and 3 of them are a little confusing to understand.
My Day
Important
Planned
Assigned to you
Tasks
Assigned to you and Tasks are self-explanatory, but the other three are a little confusing.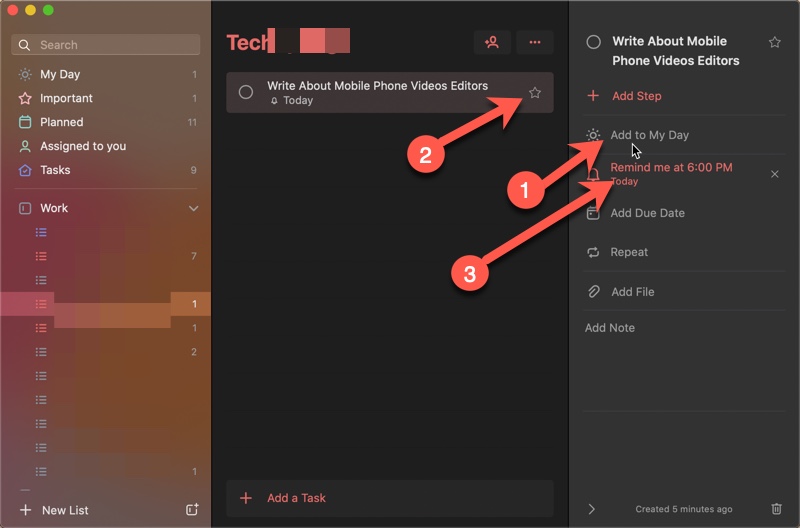 'My Day' took a while for me to understand how to use it. 
You can add tasks to it directly (#1 in the image above), or you can add other add from the other lists as there is an option to add a task to 'My Day.'
Tasks do not show when the reminder date or due date is of today, which seems unusual. It would make sense to see all the tasks due for today in 'My Day' sadly, it only can be done manually.
'Important' tab is where all the Important tasks will appear.
You can tap on the Star (#2 in the image above) to make it appear in 'Important.
'Planned' is where tasks with reminder dates will appear.
When you put a reminder date (#3 in the image above), it will appear in the 'Planned' tab, making it easier to see upcoming tasks.
Key Features of the Todoist App
Todoist is also cross platform app, has clean UI, dark mode, and light mode. And it is easy to create talks.
You can organise your lists in different folders, which are called Projects, and they are similar to Lists in Microsoft To-Do.
You can add as many projects you want, and then you can add as many tasks to these projects.
It is also less confusing as there are no different tabs like in Microsoft To-Do.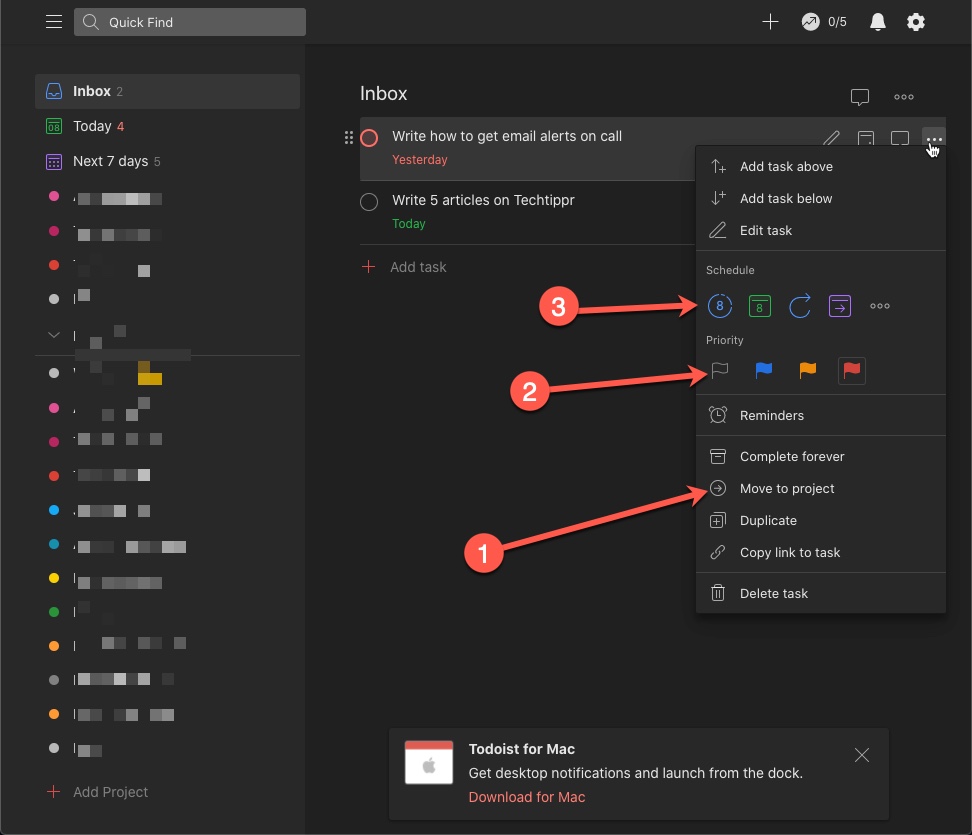 There is Inbox, which is like 'my Day' in Microsoft.
You can directly add tasks in it, or you can move tasks (#1 in the image above) from another project to Inbox.
But, unlike in Microsoft To-Do, where tasks remain in the list and get added to 'My Day' as well, the tasks get moved to Inbox.
You can set different levels of priority (#2 in the image above), which is equivalent to 'Important' in Microsoft To-Do.
You can also put due dates on the tasks quickly (#3 in the image above).
You can either tap on one of the options or write, today, tomorrow, or a specific day, while typing the tasks, and it will automatically schedule it.
Another nice feature that I came across, which is missing in Microsoft  To-Do is, you can export or import a project as a Template.
This can be useful in creating projects faster. If your works require you to do projects that are similar in the steps to complete them, you can export the project as a template.
And then import the template every time you have to deal with a different project. This can help you write down tasks, steps faster.
Despite having these cool productive features, Todoist is quite limiting when it comes to offering essential elements in their free version.
For example, Putting reminders, adding labels to tasks, or writing comments on the tasks fall under premium version. However, it is just $3/month (billed annually).
So, I find Todoist has more features than Microsoft To-Do. But my most used feature is reminders. I like it when the To-Do app notified me about a due task.
The premium version of Todist unlocks many features and becomes so much better than Microsoft To-Do. So, if you can afford to pay $3 per month for a task management app, go for Todoist.
If you do not use or need the Reminder feature in your to-do list app, you can use the free version of Todoist since the free version of Todoist is pretty much at par with Microsoft To-Do, sans the Reminder