If you are a blogger, or an influencer, or anyone who uses their Gmail account extensively to reply to a lot of emails regularly, I am sure many of those emails might be repetitive once.
If you are a productivity freak like me and you already have an idea about writing down a set of responses you can use by just copy-pasting, you might already be using a template saved in a text file on your computer.
Even better productivity have for you
If you are not already using canned response in Gmail, you are missing on this useful productivity hacks that can save you a lot of time.
Canned response in Gmail has been there from a very long time is just that the process of creating it has changed, since the redesign of Gmail.
Here is how you can create them and use them to save time.
How to create Canned response in Gmail
You will have to write down a draft first. Open in reply to any email you want to reply then write it down.
Click on the three horizontal dots, beside the Trash icon, appear on the right-hand side, which will give you a few options.
Hover your mouse Pottu templates and then click on save draught as a template.
You can create as many templates you want and give them descriptive names,
The templates will appear just above the option to 'Save draft as template', and you can click on it to insert the template the next time you want to reply to some email with a canned response.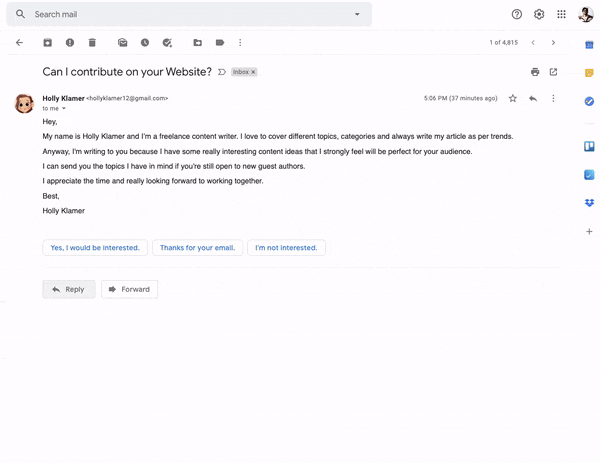 Using canned response on Gmail for mobile
Looking at how useful and its time saving it can be to have canned responses in Gmail it is a shame that this feature is not available on the mobile apps for Gmail.
However, you can enable 'Smart Reply' from the settings area of the Gmail app. Although they cannot replace the canned response feature, it still gives you pretty smart answers to reply to in an email.
If you want to write more than a couple of words you can use voice typing feature which works pretty nicely on an Android smartphone. I would recommend you use the Gboard app if it is not already a default keyboard on your Android mobile.
Check out this article to learn about some useful features of the Gboard app, and voice typing as one of them.
You can also read more articles about Gmail, where we have shared mode tips and tricks to make you more productive.