I will tell you why I love the Pushbullet app on my phone in a moment, but first, let me tell you how my life was before it.
And before I do that, I want to tell you

What Pushbullet is all about?
Pushbullet acts as a connector between your PC and Mobile, letting you get your mobile notifications on PC. It's the core feature of Pushbullet, and then few other features make Pushbullet more useful.
Now my story,
I am someone who spends the majority of his work time in front of a PC, which is more than 8 hours every day.
And when I am on PC, I am probably writing articles or doing stuff that requires a lot of attention. I attend calls and reply to messages during that time, but it sucks that I have to get up from my desk and pick up a call only to find it's not an important one.
I've even tried keeping the phone with me, but I still have to stop my work, pick the phone up to see the text message and reply to it.
Though Truecaller has helped me a lot in ignoring spam calls, the thing is, you will need to switch your focus from PC to your phone, not a big deal, but still, tech can help.
And yes, Pushbullet does help. I installed it to get my Mobile notifications on PC not to have to keep the phone with me all the time.
But when I started using Pushbullet, I realized how this simple app is making my life easy.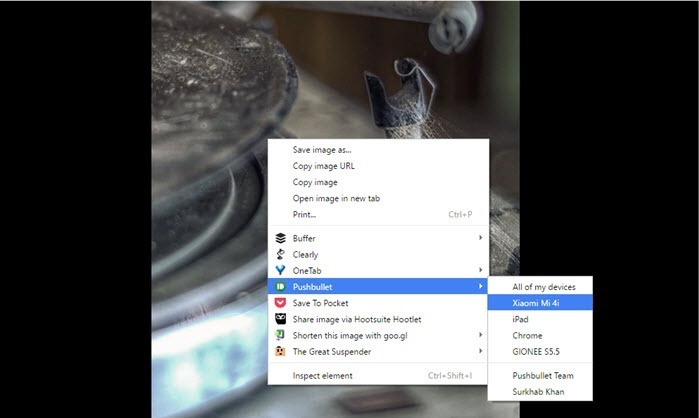 From getting OTPs (One Time Passwords) to Replying to the text messages to Sending Stunning Wallpapers to my phone directly from the PC, I do it all using this app that resides in all my devices, be it the Chrome Extension on my Desktop PC & Macbook Air, the app on iPad mini & Android Phones.
I am sending links to the desired device. I think I'll be using it. For example, I send long articles to my iPad mini because that's the device I use for browsing before going to sleep. I use the Pocket app, but sometimes the links are not just long-form articles that contain only text and look good only in a browser.
I send quick screenshots from my phone to the PC. I also send links to recipes to my wife. She is a food blogger and loves to try new recipes. She also has got Pushbullet installed on her Chromebook and Mobile, and she gets a push notification for the message irrespective of the device she is on.
[su_expand height="400″]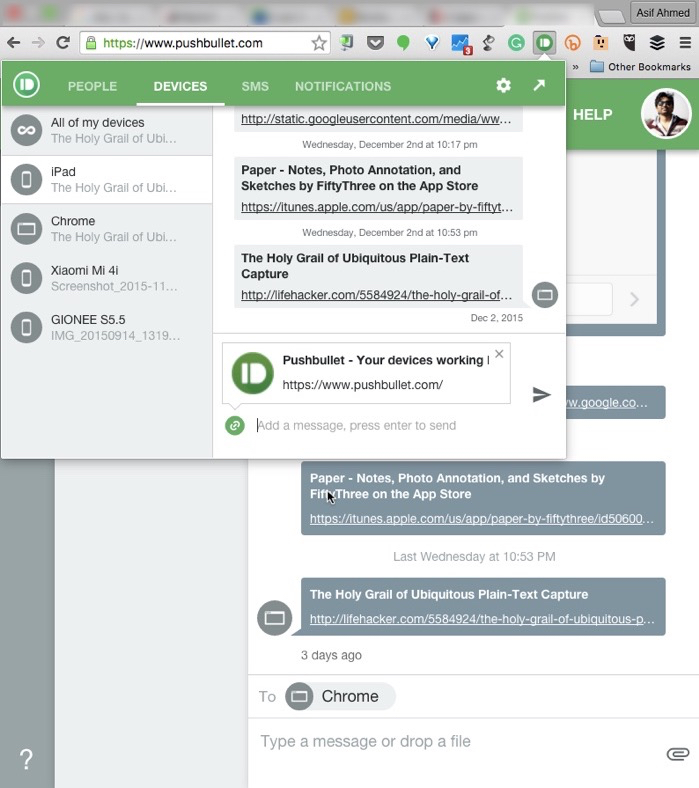 [/su_expand]
No matter what device I use to send something (links, images, files) to another device or user, it remains there, in chronological order, so that I can always check it out from any device.
So, Pushbullet has made my life easier by reducing the ➜
★ number of times I had to get up from my desk,
★ number of times I had to pick my phone up,
★ number of times I had to open my phone and read/reply to a text message,
★ number of times I had to connect my phone to PC to get a screenshot.
★ The number of times I had to copy and collect the links I needed from another device.
In short, it has saved me a lot of time and trouble. I am not counting the time that got wasted because I got up from my desk or lost my focus on the work I was doing at the moment.
Pushbullet is awesome, and I love it. That's why I included it in my list of productive apps. Do check it out.