College life is the time when you have too many different tasks to complete. It's hard to keep up with everything and not to get lost with all your different notebooks. 
These apps below will help you to navigate all your records and will give you a clear understanding of when it's time to google "who can write my article for me" or "hire someone to write a college essay" to make sure all your assignments are completed before the deadline and you still have time for rest.
Notion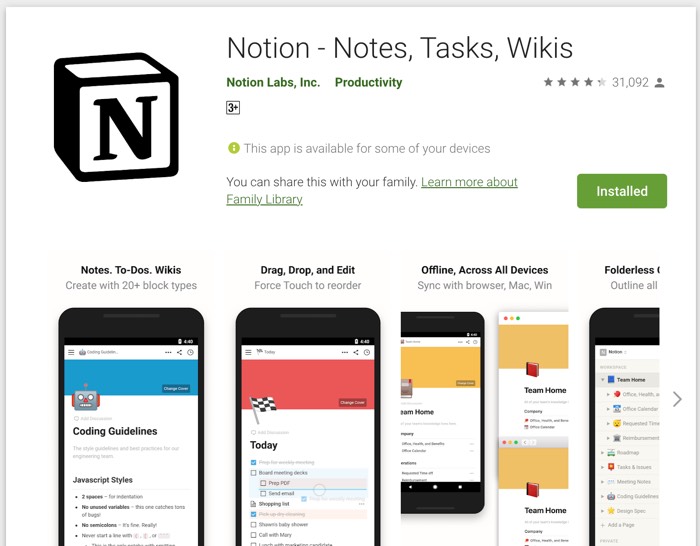 Notion is the main app for note-taking lectures and maintaining a knowledge base. The peculiarity of Notion is that you can turn it into anything you want: a learning board, a schedule, a diary, a book, and a habit tracker.
You can take notes, attach materials to lectures in different formats, create tables, and keep financial records. Notion allows you to create your multi-level organization system with a unique design, through which you can manage your whole life.
For example, your foreign language page may consist of a block with notes, a checklist, and a block with academic literature, which has many pages of textbooks, links, pictures, and reading progress.
The features of the program are complex, and it won't be easy for a beginner to figure out, but there are lessons and courses on Notion itself and the Internet, as well as templates for different purposes.
Notion is great for maintaining a working knowledge base or for keeping track of the process in group projects. You can also share pages with friends.
The free version has limitations:
You can only share a page with 5 people

No ability to edit pages together

Only 5 MB is available for uploading files

No access to page version history
Using the free plan is quite comfortable, in addition, you can earn points for three months of access to Personal Plan Pro by doing small tasks. For example, logging in to the Notion app on your computer or from your phone. Notion is free for students and teachers.
OneNote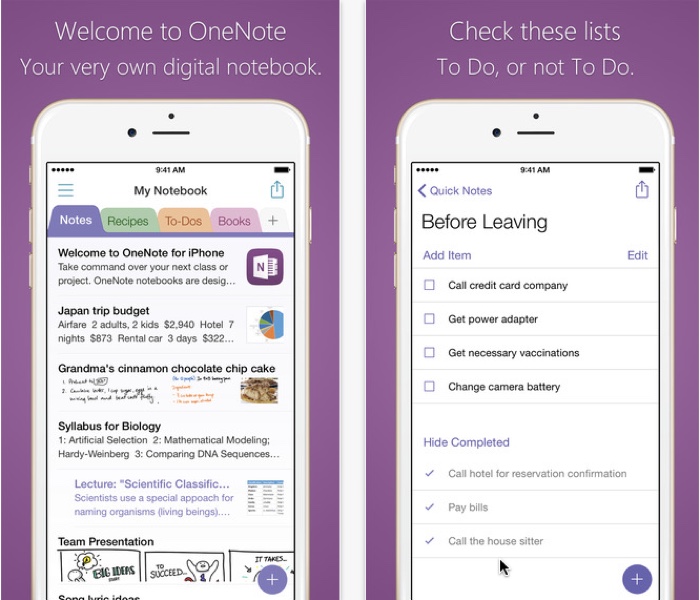 Microsoft's alternative to Notion, in which you can create an unlimited number of tiered notes. The program consists of notebooks that can be divided into topics or projects.
The main feature of OneNote is the ribbon menu and the ability to take notes randomly. The page can be stretched to a huge size, you can make it ruled, checked or blank, drawn with diagrams on it, or written by hand using a tablet.
For example, you found on reddit essay writing service you want to use in the future. OneNote lets you move what you want, how you want. On the one hand, it is complete freedom of creativity, but on the other hand, it is chaos, which is difficult to navigate.
OneNote is extremely fast and easy to search that recognizes text in pictures, videos, audio, and handwritten notes, so it's easy to find what you're looking for in your notes.
OneNote is available as part of the Microsoft ecosystem at no additional charge.
Evernote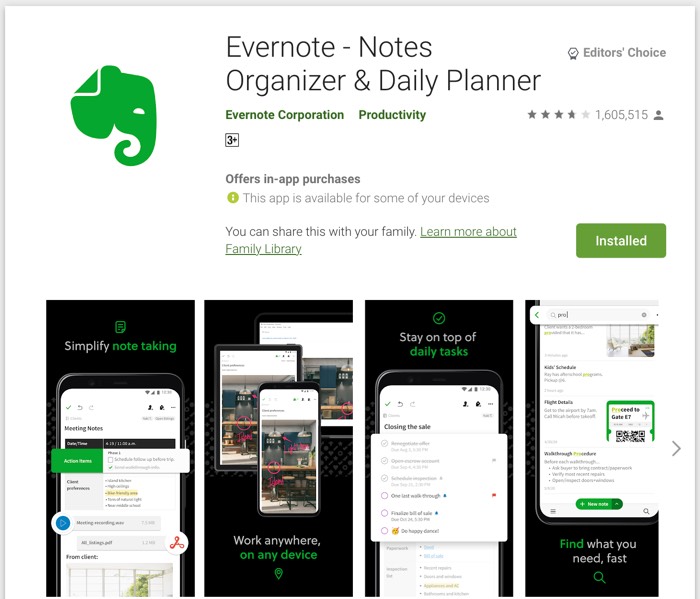 Evernote allows you to keep notes, to-do lists, and tables and share them with other users. 
Even in the large number of notes in Evernote, it is easy to find what you need: you can search by text in notes, in pictures, in pdf-documents, as well as assign tags to notes, save frequent searches and add notes to favorites.
There are a variety of template options for each notebook, from a day or week schedule to an Eisenhower matrix that lets you rate task priorities and generate a schedule based on them. All templates can be customized and you can add text, photos, screenshots, and task lists to them.
You can make working with Evernote even more convenient with additional apps. For example, WebClipper is an add-on in your browser that takes a quick screenshot of a page and allows you to put it into Evernote. Or Skitch, which allows you to add shapes, arrows, and drawings to your notes.
The free version has some limitations:
Synchronization only between two devices

The maximum size of a note is 25 MB

Only 60 MB downloads per month are available

Offline access for PCs only

No access to note version history

Can't work with pdf files

Can't create your own templates
Toggl
Toggl has a timer, handy reports, and analytical tables for estimating the time spent on a particular task.
It's easy to work with the application: you just click the start button, and you can enter the title, select the project and set tags for the task later.
Projects in Toggl can be your goals or subjects of study, which can be broken down into smaller projects or jobs.
A special feature of the program is that you have to record the beginning and end of the session yourself, thus honing your discipline closer to perfection. If you get distracted – you press stop and the program automatically enters it into the report. You can also set reminders in the settings: the app will notify you if you forgot to turn the tracker on.
In Toggl, it's interesting to study the long-term statistics of the time you spent on a particular item, goal, or skill.
Toggl has integrations with other services, such as Evernote, Trello, Google Calendar, TickTick, Notion, and hundreds of others.
The free version has limitations:
You can't set reminders

Unavailable dashboard administrator and the project

Scheduled reports are unavailable, but there is access to general statistics

The Insights tab is not available

The free version is enough for personal use. The paid version is used for teamwork on large projects
Google Calendar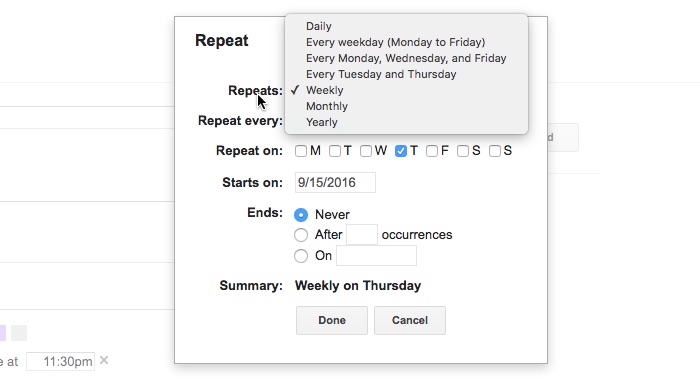 Google Calendar is a simple tool for creating schedules and organizing calendars, tasks, and notes that works in conjunction with other Google programs.
The main feature of the program is calendars that you can create for different areas of life and easily switch or connect.
So you can have separate calendars for work, school, and vacations that can be viewed at the same time. Conveniently, when you view your friends' calendars and teachers' office hours, you can see how your activities overlap and plan a joint event at a time that's convenient for everyone.
Tasks in the program are created based on Google tasks, which can be divided into lists, create subtasks, assign a color, date, and time, repetition on certain days, and weeks, and add a description or location of the event, which will automatically add the ability to view the google map.
Google Calendar is completely free.
So, make your college life much easier and pleasant with these apps, while having everything done within the deadline. Choose one or two of the listed above that work best for you and you will see how many benefits they bring into your life!