Gone are the days when you had to download music and save it on your phone. With the number of music streaming services in the market, it has become very convenient for music lovers to enjoy their favorite music with a single tap.
If you are a music lover, moreover, if you are from India, you are going to love this list, because, in this list, we are going to list out some of the best music streaming services available in India.
1. Apple Music
Music made its entry in India a few months ago and I am keeping it on top because some of its amazing Technologies.
Apple is a premium music streaming service, it costs $9.9/month in the US but surprising they have a very competitive pricing in Indian market. It's Rs 99/month. And students get discount also.
Apple music offers lossless music also, which is a high quality audio file (average size is 36MB).
Their recent introduction of Spatial Audio take music listening experience to the next level. (available for DolbyAtmos supported speakers).
2. Spotify Music
The second music streaming service that is available in India is Spotify music. It is also a multi platform service that has abs available for iPhone and Android.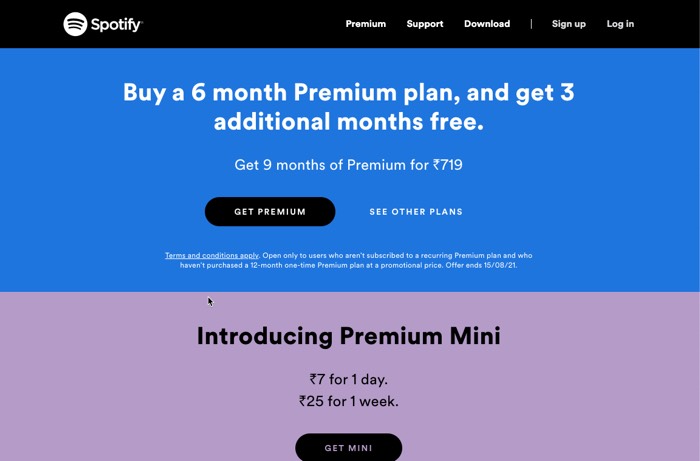 Their music curation is simply amazing. India new plant start from as low as Rs 7 for 1 day, so that everyone can try it for themselves how would the services.
Although they also offer Ad-supported free service as well, but you are interrupted by an ad after every song.
3. YouTube Music
Google retired there Google play music service and extended their YouTube premium service by offering a separate music app called YouTube music.
Google has a huge library of songs that can be streamed through the YouTube music app. Good thing about it is that you can also so listen to the the covers by independent artists put up on their YouTube channels.
YouTube music is also my favourite, because I can play the playlist I created on YouTube, which also includes some podcast, and story format content.
The Subscription of YouTube Music starts at Rs 109/month for individual.
The subscription of YouTube Music is also included in YouTube premium which costs Rs 129/month for an individual.
With YouTube premium, you also get an ad free YouTube video watching experience, and the ability to play YouTube in a floating window on your mobile phone. You can play the videos even when the screen is turned off, which is quite a useful feature.
4. Gaana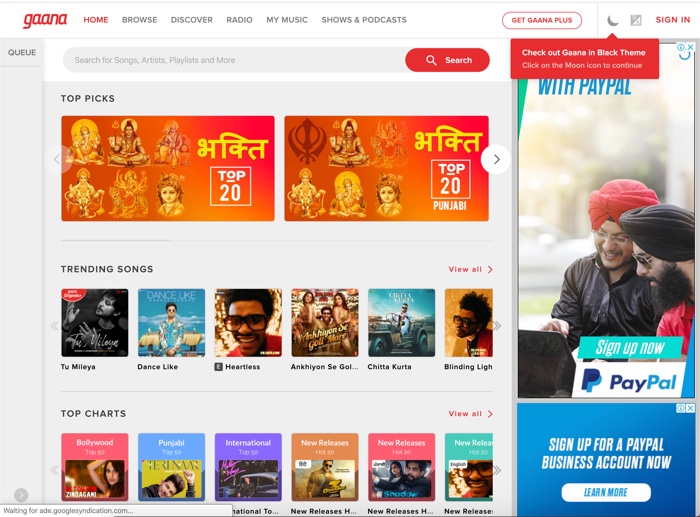 Gaana is probably the first music streaming service made available in India. It was Live, even before smartphones became too common. I remember listening to the song from Gaana.com on my laptop while working.
It was an awesome feeling not to waste time finding my favorite song to download from the internet and organizing it on the computer. A simple search inside Gaana gave me whatever I wanted to listen to.
It is now available on multiple platforms so that you can enjoy the same music streaming experience on any device.
The service is free and ad-supported, but a subscription-based premium service lets you stream the music at the highest possible bit rate and even offline save the songs on your smartphone.
The premium subscription is called Gaana plus where you pay INR 99 per month or INR 999 per year to get features like offline support and highest quality playback.
5. JioSaavn (Previously Saavn)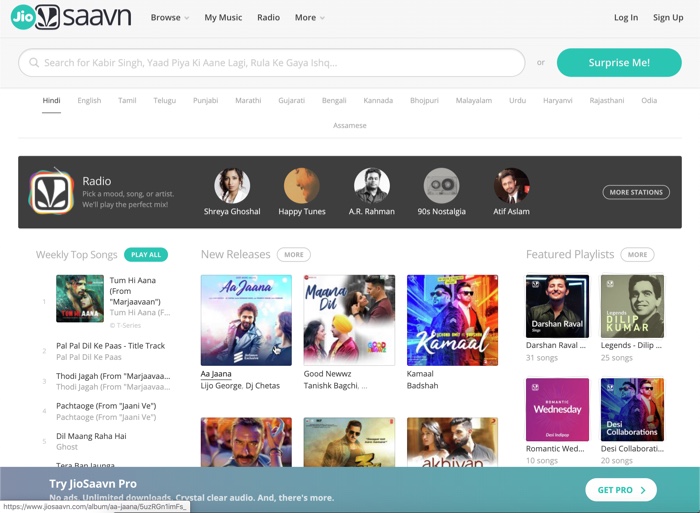 Saavn merged with JioMusic to offer a better music streaming service. It's awesome.
Like the Gaana App, Saavn is also about full-on Bollywood music, and if you love Desi music, you will love Saavn.
Like Gaana.com, Saavn (Now Jiosaavn) also offers a free, ad-supported version of its service and also offers a premium subscription.
One great thing about this app is that it can stream music even on low-speed mobile data, which is why it is the favorite of many people in two-tier cities, where the internet speed is not as high as in metro cities.
Like the Gaana App, the Saavn Pro charges INR 99 per month, unlocking the offline support and highest quality playback.
6. SoundCloud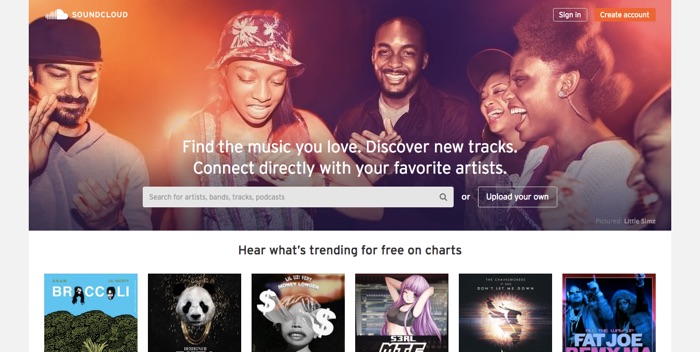 SoundCloud is an online music streaming app more like YouTube where users can create an account and upload music.
You are free to access any song that is listed on SoundCloud. There are no subscription fees for accessing unlimited songs, but there is also no offline support.
Soundcloud app is also great for the discovery of new music, it also has a lot of Copyright-free music that can be used in videos, something YouTubers would love to check out.
7. Wynk App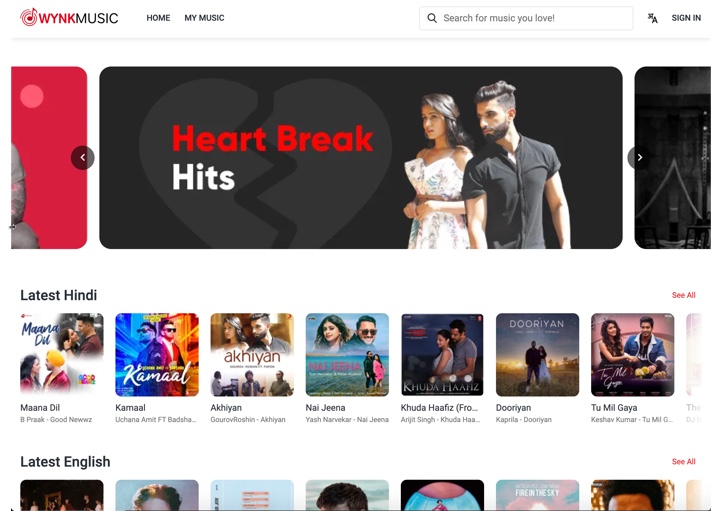 Wynk app is developed by Bharti Airtel, the Telecom giant from India. The company has introduced the service as an add-on service they offer under their mobile plans.
But, it can also be obtained by paying INR 99 per month on Android phones and INR 120 per month on iOS.
8. Amazon Prime Music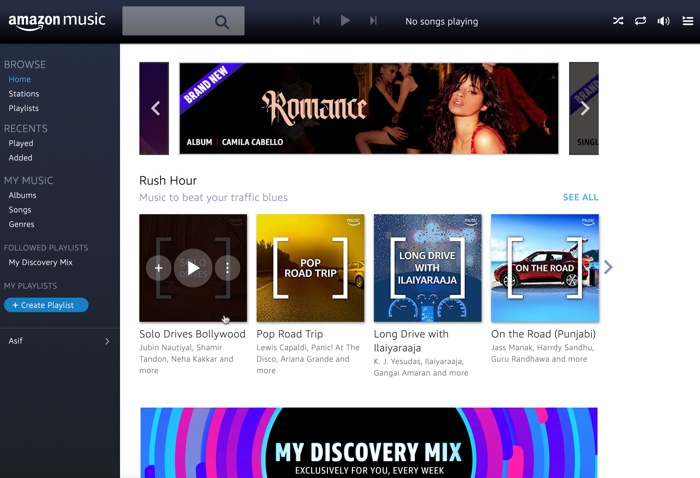 Amazon Prime Music is the latest entry in India's online music streaming market. Amazon Prime video was already available in India since 2016, but Amazon Prime music launched in the country in Feb 2018.
The music service is available on all the major platforms.
If you are an Amazon Prime member, you don't have to pay anything extra for Amazon Prime music Since it comes bundled with Amazon Prime membership which costs INR 999 per year.
The music service gives access to regional and international songs and some general-based radio stations.
So these were some of the best online music streaming services available in India. The list is random and is in no particular order to pick the one you like.
The Most Popular Music Streaming App from this list?
I came across this weekend poll conducted by Android Police asking readers which music streaming services they use. The poll options include Spotify, Apple Music, Amazon Music, YouTube Music, Pandora, Tidal, Deezer, and "Other."
According to the results, the majority of respondents use Spotify, with Apple Music and YouTube Music following closely behind. Amazon Music and Pandora received fewer votes, while Tidal and Deezer were the least used options. Overall, the poll suggests that Spotify is the most popular music streaming service among Android Police readers.
My Personal favourite is YouTube Music as YouTube Music offers many other benefits such as YouTube Premium. A separate music streaming app is available as well as you can listen to the music on YouTube as well. That too, with your mobile phone screen turned off.
You also get Ad-free experience on the entire library of YouTube videos. which is pretty cool to have under one subscription.
Also check, best Internet Radio Apps for Android