I have been using the Lenovo Chromebook Duet for the last few weeks and it has been an excellent experience so far.
Like I mentioned in my review, which you can read here, I love the tablet form factor of Chromebook and the ability to use full movie Chrome browser, where I do most of my work.
But the Chromebook is not free from issues. There are a few of them, I am able to find the solution to some of them and I still have to look for some more solutions.
In this article, I am going to give the solution for the Touchpad of the detachable keyboard. I have this issue while using the touchpad.
Whenever I am moving my finger to move the cursor, sometimes it accidentally drags Windows. So if it is hovering over a Google Chrome tab, it will drag it out, which makes it pretty annoying.
So, here is what you can do to fix this issue
This is actually a feature which is is available in mostly all the chromebooks. When you go to the Touchpad settings, in device section, from the settings area of your Chromebook.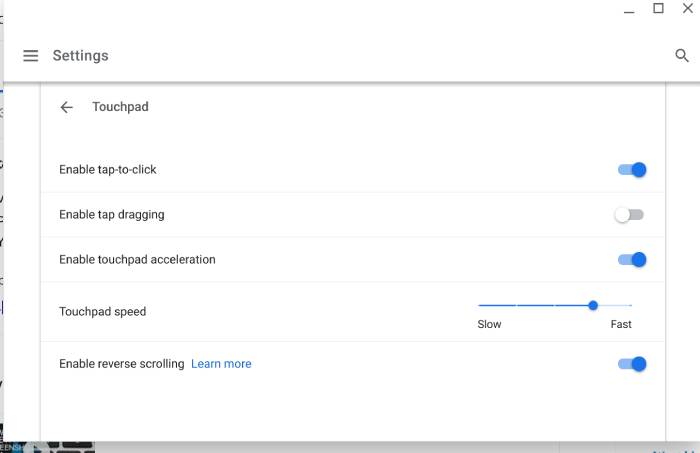 There is this option called 'Enable tap dragging' which basically means you can drag Windows or files by simply tapping on the touchpad. But I don't know if the implementation done by Lenovo is bad, or the feature from Chrome OS itself is not perfected that it accidentally drags Windows even when I'm not intending to do it.
Good thing is that you can I disable it from the settings area, and hopefully this will solve the issue.
You will still be able to drag files
Since the Touchpad also has got left and right clicks by pressing on the either side. So, if you have to drag files or Windows, you can simply press the Touchpad with one finger, which acts as a click, and then use the second finger to drag the file.
I was facing this issue only on my Lenovo Chromebook Duet even though this is my third Chromebook. I have previously used HP Chromebook 14, and Samsung Chromebook Plus and I had disabled this feature in both the Cromebooks.
So this solution applies for pretty much every Chromebook if you are facing this issue
How to make your Chromebook run faster?
I have which you can read here talking about ways you can make your Chromebook run faster and it was written specifically for the Lenovo Chromebook Duet. But since the majority of the the tweaks I did was in the Chrome OS, it can be applicable on any other Chromebook as well.
So, if you have got a low power Chromebook which field slower maybe this article can help you make it run a little faster.
You can check out the Chromebook tag on our blog to read all the articles related to Chromebook. I am a great fan of Chromebooks and have been using them since 2015 and have written a lot of articles regarding that as well.