If you are looking for a way to download Instagram photos from your account or others, you have come to the right place.
I am going to share a pretty cool way to download Instagram photos all at once. Yes, you heard it right.
How to Download Photos from Instagram
Instagram is a popular photo-sharing website. You might be looking for a way to download the photos either for keeping it for offline purposes, or you want to add them to an article or put them in a slideshow or whatever.
Always make sure you have the permission of the owner ( account holder of shared photo) to use it. 
Though Instagram is a mobile-first company, you can still access your Instagram account and browse the photos on Instagram, and there is no way to download these photos.
The simplest method would be to take a screenshot of the photos one by one. It surely would take some time, but there is no need to install any additional software.
But taking screenshots will greatly reduce the quality of photos. So, if you need to keep the quality intact, you can continue reading further.
Use DownAlbum Chrome Extension to Download Instagram Photos All At Once
DownAblum is a Chrome extension that not only lets you download Instagram photos, but you can download Facebook, Twitter, and Pinterest as well, which makes it a must-have Chrome extension if you use these sources to download photos from.
Here is how DownAlbum works.
For this post, I'll download Photos from my Instagram account. It works pretty the same way on all other supported platforms. 
Install DownAlbum from Chrome Web Store, it will appear on the right-hand side of the address bar.
Go to the Profile page where you can see your photos.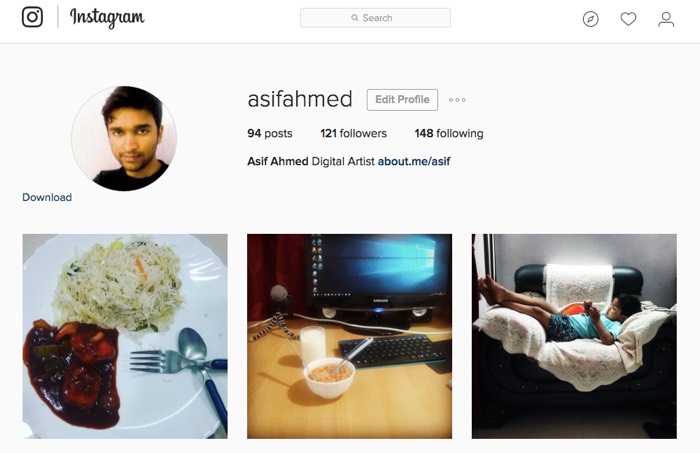 Now, click on the DownAlbum icon on the top right of your browser. And then click on normal.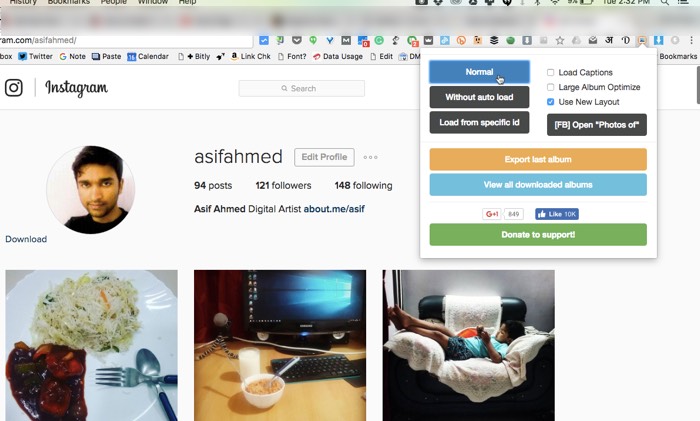 You will see the photos start loading.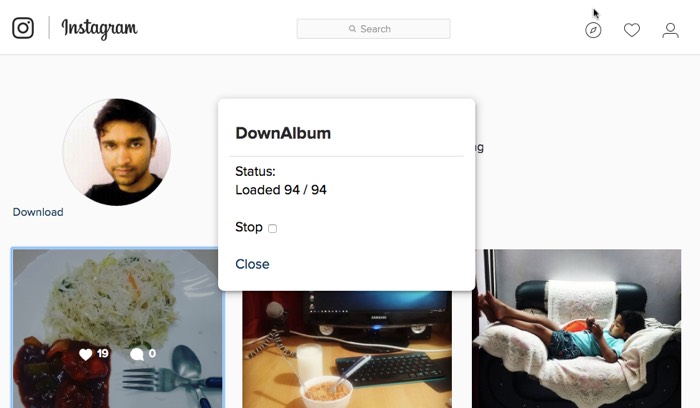 Then you can see a new tab opening where you will see all your photos.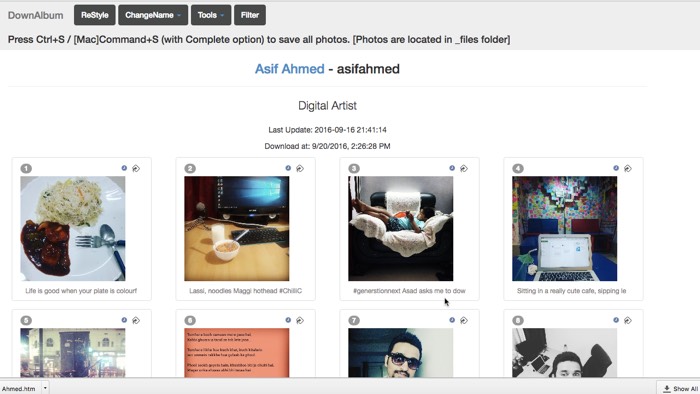 On the new tab, save the web page by pressing Ctrl + S (Cmd + S for Mac users). This will save the entire page to your computer.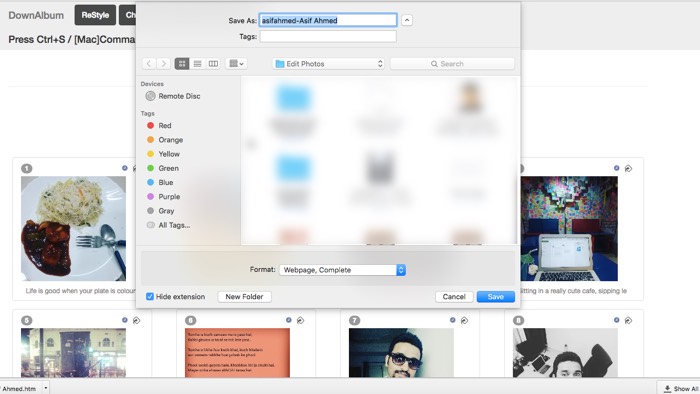 And a separate folder would have all the photos that were appearing on the new tab.
 So, you get all your photos in just one click.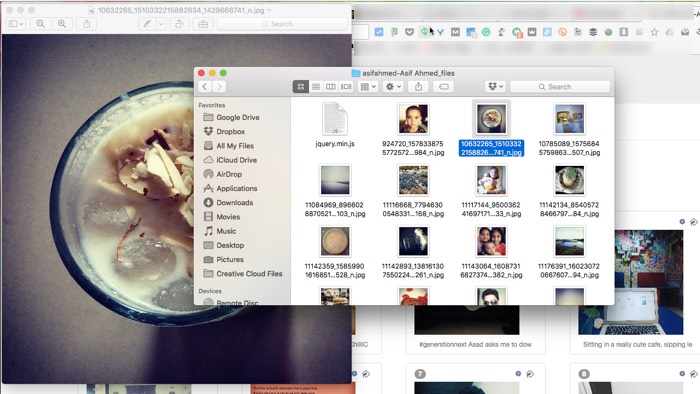 You don't want to download the entire photo collection of someone, so you can download just a single photo from the same tab as the link to every image has available on the page itself.
Previously, I used Install DownAlbum from Chrome Web Store which lets you download only one photo at a time and that too just for Instagram. So you can use it if you want to download photos just from Instagram.
Else DownAlbum is the best choice for people who want to use this trick on Facebook, Twitter, and Pinterest.