Are you tired of endlessly scrolling through social apps and craving a mood change? Well, how about spicing things up with a thrilling game of Cribbage?
It's time to step into the world of classic card games but with a modern twist – online Cribbage websites! Whether you're a seasoned Cribbage pro or a complete newbie, these awesome free websites have covered you.
So, let's take a break from the usual and dive into the exciting realm of Cribbage fun. 
Cribbage online
Cribbage-Online is an excellent platform to enjoy the game of Cribbage conveniently and for free. This user-friendly website offers a variety of features that cater to both beginners and experienced users alike.
One of the standout features of Cribbage Online is its online multiplayer capability. Players can compete against real-world opponents from all around the globe, adding a social and competitive element to the game. 
For those seeking to hone their skills, the website also provides the option to play against a computer opponent at various difficulty levels.
This feature allows players to practice and improve their cribbage strategies at their own pace. The website's accessibility is a significant advantage as it requires no software downloads or mandatory account creation. Players can jump right into the action, enjoying a seamless cribbage experience without any hassle.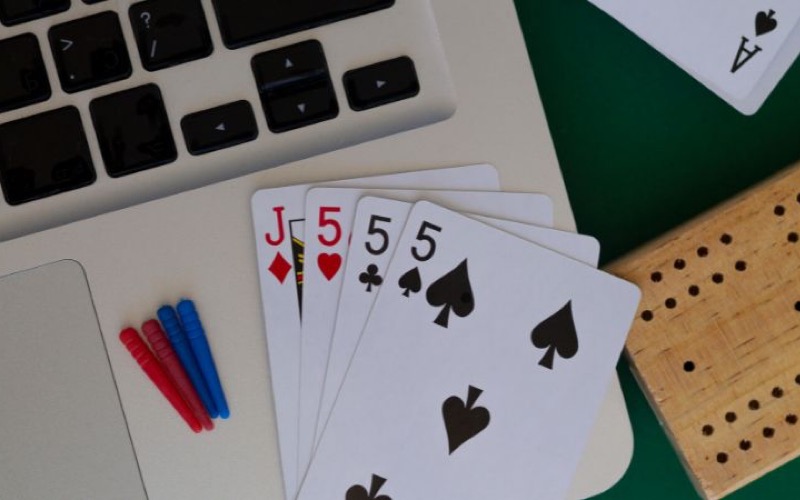 Cribbage JD
If you're a fan of Cribbage and looking for an exceptional online gaming experience, look no further than Cribbage JD.
This website offers a rich and complete cribbage site with impressive graphics, an engaging achievement system, and robust progress and statistic tracking.
Whether you prefer playing against the computer to sharpen your skills or challenging real live opponents, Cribbage JD caters to all types of players. 
What sets Cribbage JD apart is its availability on Android and iPhone, ensuring you can enjoy the game on the go while seamlessly syncing your user stats and level across devices.
Despite its many strengths, Cribbage JD does have one minor limitation. The absence of an in-game chat feature outside of the Facebook version means that you'll have to opt for the Facebook platform if you wish to chat with your friends while playing. 
Cribbage Pro
Cribbage Pro is a highly popular website on various platforms, including Windows, Mac, Android, and iOS devices.
This free website, with optional in-app purchases, offers a host of enticing features that cater to cribbage enthusiasts of all levels. One of the main attractions of Cribbage Pro is its versatile gameplay options. 
Players can enjoy both single-player and multiplayer modes, providing the flexibility to challenge computer opponents or engage in thrilling matches with real friends online.
Additionally, it offers a range of computer opponents varying in difficulty levels, ensuring that players can find suitable challenges based on their skill levels.
Cribbage with Grandpas
Cribbage with Grandpas is a unique and humorously entertaining site that stands out from the crowd. What sets this app apart is the ability to create a personalized grandpa character to play Cribbage against, making it a one-of-a-kind and hilarious concept.
Using an in-depth character builder, players can design a cartoon version of their own grandpa, adding a delightful personal touch to the gaming experience. 
This feature adds a sense of nostalgia and warmth as players engage in cribbage matches against their virtual grandparents.
Aside from its distinctive character creation, Cribbage with Grandpas boasts a visually appealing user interface that enhances the overall gaming experience.
The witty and fun dialogue between the player and the virtual grandpa adds a charming and comedic element to the game, ensuring moments of laughter and amusement throughout.
Cribbage by SNG Studio
Cribbage by SNG Studio is an exciting mobile adaptation of the classic card and board game. With this site, players can enjoy challenging matches against computer opponents at different difficulty levels, ranging from Easy to Expert.
The game's unique betting structure adds an extra layer of excitement to the gameplay. Players who dare to take on tougher opponents have the opportunity to earn larger rewards, making the experience both thrilling and rewarding.
Cribbage by SNG Studio offers a personalized touch, allowing players to select from eight distinct card backs and choose high-resolution backdrops and tables. This customization feature adds a touch of personality to the game and lets players create an environment that suits their preferences.
Even for beginners, Cribbage by SNG Studio proves to be a user-friendly experience. The scoring system is automatic, taking the hassle out of keeping track of points and making the game accessible and enjoyable for players of all skill levels.
eCribbage
If you're seeking a competitive cribbage experience online, eCribbage is the place to be. This platform serves as the hub for competitive cribbage play, and it has become the go-to destination for serious cribbage enthusiasts. eCribbage hosts online tournaments in partnership with the American Cribbage Congress (ACC).
Players participating in these tournaments have the chance to earn Internet Rating Points (IRPs). The player with the highest points earns the prestigious title of Internet Champion, while the top 10% of players receive an invitation to a live Tournament of Champions held in Reno. 
For cribbage players aiming to establish their internet prowess, eCribbage is the ultimate destination. With a thriving community of players, there's always someone to challenge, and the competition is fierce and engaging.
eCribbage offers an impressive array of 12 different cribbage variations, allowing players to explore and enjoy various gameplay options. One exciting feature is the opportunity to play against the renowned HAL bots, which adds a thrilling challenge to the cribbage matches.
Cribbage at Cardzmania
CardzMania offers a versatile and engaging online cribbage experience, catering to players of all levels. One of the standout features of CardzMania is its customization options.
Players can tailor their cribbage games to their liking by adjusting settings like the number of points needed to win, the number of cards dealt, and even the layout of the cribbage board. This level of personalization ensures that each game is unique and enjoyable for every player.
The clean and intuitive user interface enhances the overall gaming experience, making it easy to navigate and enjoyable for players of all ages.
Additionally, CardzMania tracks detailed statistics, allowing players to monitor their progress and see how they improve over time. The leaderboard adds an element of competition, motivating players to strive for the top ranks and showcase their cribbage skills.