New to Mac? I am using in from last six months, and I thought Mac doesn't offer a Full-Screen mode for browsers.
I tried maximizing the chrome using the 'Full Screen' icon situated beside the 'Zoom' icon in the Customization area of Google Chrome.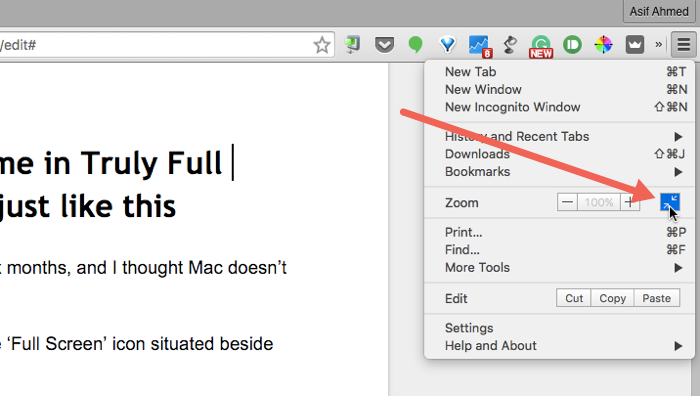 But it just used to maximise the window, which still shows the Address Bar, Browser Tabs, and the Browser Menus. That's approx 50px area I would love to use for viewing a website or writing a document in Google Chrome just like I am doing right now.
I am a fan of Full Screen Mode, especially in Laptops, where the screen is tiny, and I want all of it to work. It also lets you work in Distractions Free environment.
You can't see the block, the battery, Wi-FI and other icons, no tabs etc. This all works in favour of me to actually feel good about my work.
I tried, CMD + F (replicating the Crtl+F as in Windows PC) Didn't work.
I tried the 'Zoom Icon', didn't work.
Then, I tried  CMD+Shift+F and it worked. it was so easy, shame that I didn't know about it.
Did you know about it? I gotta say how cool you are? are you interested in writing for us? :-)