In this article, you will learn how you can insert images or videos into your Google Docs.
Google Docs is my favourite text editor where I write my articles. It is used by officials as well as students for writing official documents, research papers, and school assignments.
Adding images and graphics to your documents makes them more appealing and easy to understand. Google Docs gives you easy options to insert images.
Watch the Video Tutorial
You can find these options by clicking on Insert.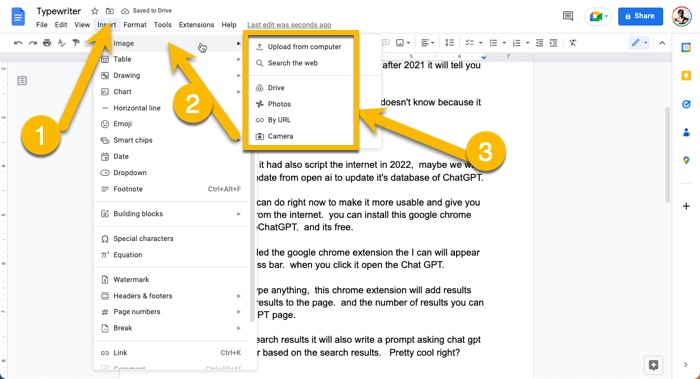 You can either upload the photo from your desktop if you have saved it. Or you can directly make a Google search. However, I wouldn't recommend using Google search because the images that appear in Google search might not be copyright free.
Using copyrighted content is not a good idea, for any type of use case. Surely, if you are writing about a company or a brand, you can check out the website and the social media accounts of brands and companies to get relevant photos that you can download on your computer and then upload.
For any other purpose, you can check out websites like Pixabay.com which offer copyright-free images.
For example, I have an article that I have written about ChatGPT. And I would like to add an image that is relevant to this article.
I will go to Pixabay.com and search for robots since ChatGPT is an AI, visuals of a robot would represent an AI.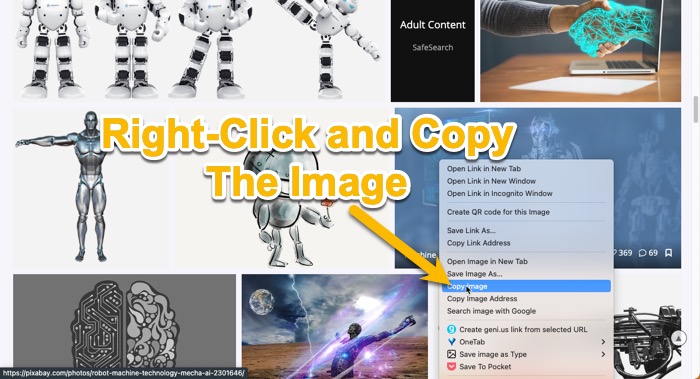 I find this image and I want to use it in my Gooogle Docs. Instead of downloading it on my computer, I can copy the image, and it gets copied into my clipboard.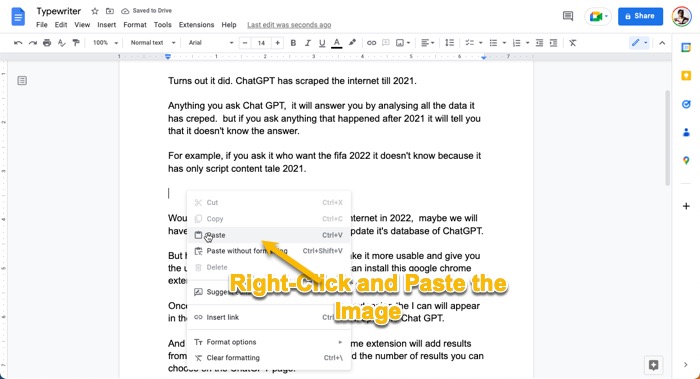 I come back to my Google Docs and click on a place where I want to insert the image. Then I'll paste it using right-click and paste or Command/CTRL. + V.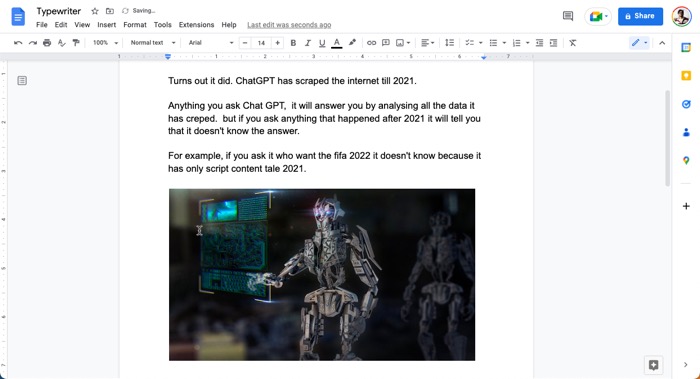 It works most of the time if it doesn't work for some reason you can download and upload it the usual way.
How to Insert Videos in Google Docs
It's a little tricky to insert videos into Gooogle Docs because it is not as straightforward as inserting an image.
But fortunately, there is a workaround that requires a few steps. You can insert videos that you have on your computer as well as videos from websites like Youtube.
For example, if I have to add a video to my Gooogle Doc. I will have to create a new slide from Drive.Google.com. Only the Slides app in Google Suit of documents has the option to insert images.
So when you create a new slide. You can click on the insert link, it will have the video option.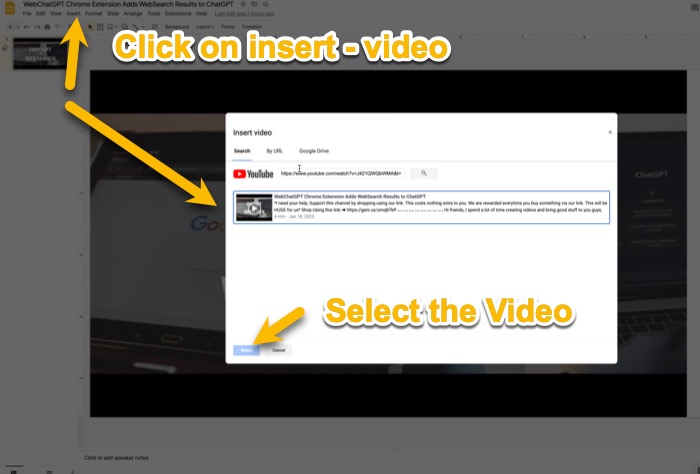 The popup will appear giving you options to search a video on youtube or add a video using a url or simply inserted from your Google Drive account. At this point if you have a video on your computer you can upload it on your Google Drive so that it appears in Google Drive section.
I have a video that I uploaded on youtube. I will paste the link into the Youtube section, and then select the video to insert into the Slides.
Once the video is added to Slide, I can adjust the size of the video. The formatting options will appear on the right hand side of the page. Once I am happy the way video is added to the slide, I can copy it by doing a right click.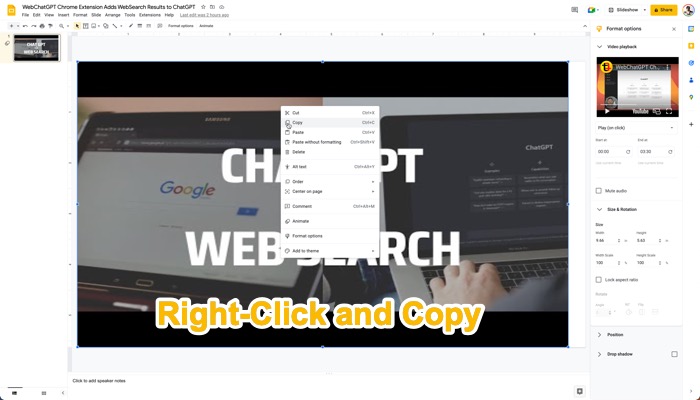 Now I will go back to my Google Docs, click on insert, and this time I'll select inserted drawing. And in pop up will appear when I click on new, I can paste the video that I have copy it from the slides, or simply do Command/CTRL + V.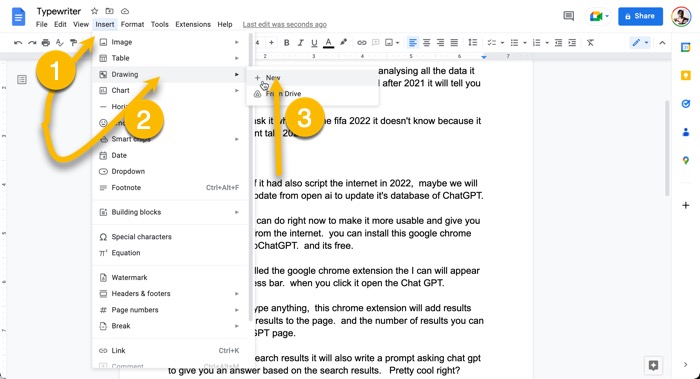 The video will be added to the drawing, I'll click save and close, and the video is added into Google Docs.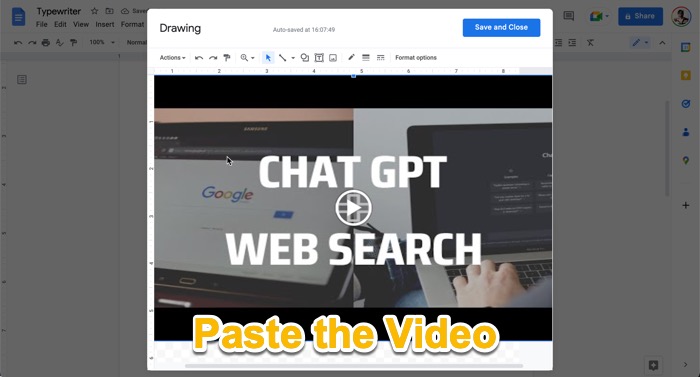 Now if someone has to watch the video inside the document, they can double click on the video and an in-pop-up will appear, where the video can be played.