AOMEI Backupper Professional Backup Software is a powerful backup and clone software for Windows 11 and other versions that helps to create a backup image of your hard drive, including the operating system, applications, personal files, and more. It also offers disk sync, as well as system backup and restore, which ensures that you never lose any of your important data. This backup software is easy to use and provides efficient solutions for data backup and data protection for Windows PC.
With AOMEI Backupper, you can easily clone your entire hard drive to another drive or just backup specific files and folders. It offers numerous options, such as incremental and differential backups, encryption, compression, and split backup, making it a great backup software for both home and professional users.
The software's user interface is intuitive and easy to navigate, while its solid yet flexible backup features make it an ideal software for Windows users looking for an efficient and reliable way to protect their data.
If you are looking for an easy, no-brainer solution for backing up your data from your computer, you will find this article pretty useful. Please continue reading to know more about it.
Since I'm running a tech blog from the last ten years, I am automatically considered an expert by my friends and family, who can solve any techie problem. And I also get a lot of emails asking me for solutions for their problems.
And one of the prevalent issues I come across often is about data recovery. They have mistakenly deleted all their files from the computer, and now they want me to recover, right on the phone.
Sadly, nothing much can be done in such cases, where the data has been deleted, all the hard disk has been corrupted. Maybe you can recover files if you have accidentally deleted them. You might look for it in the recycle bin.
For my friends and family, their data means their movie collection or some documents they may already have in their email.
Prevention is better than cure
I have always maintained that prevention is better than cure. This means, try having a system in place which prevents you from being in such a situation.
The number one thing, in today's age, you can do is, start using a cloud storage service that lets you backup your important files so that it can be accessed from anywhere in the world.
But, since everyone has different needs, it is quite technical to set up a system with these cloud services so that every important file is backed up on the cloud.
This is where third party e software can come in handy which can is the process of breaking up files for you.
Keep your important files backed up using AMOEI Backupper Professional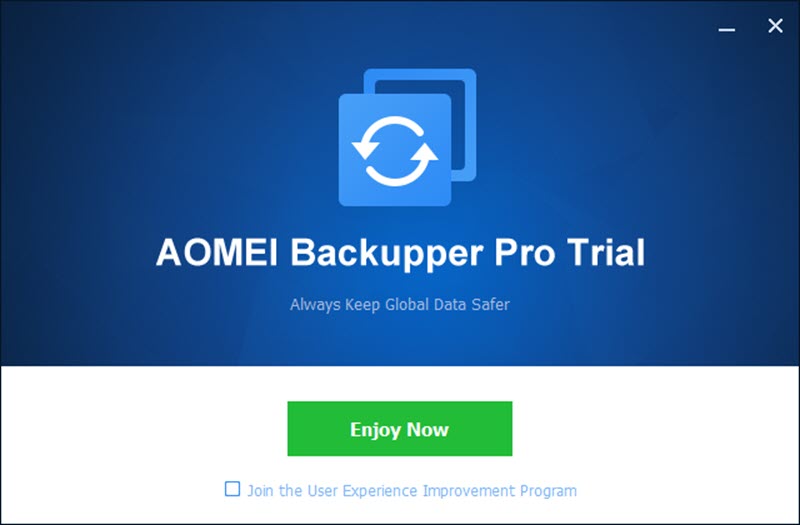 AMOEI Backupper Professional is a software I am currently reviewing for its capabilities and ease of use so that I can recommend it to people who always have a fear of losing their essential data.
The critical feature of AMOEI Backupper Professional of the east to backup files, to keep folders on your computer, sync with folders saved in a separate place. And it gives you several options where that place could be.
You can choose to backup a particular folder on your computer to a different partition or a different computer on your network. Plus, there are many options, such as you can get email notifications whenever a backup is complete. You can also schedule the backup so that the backup can happen at a particular date and time.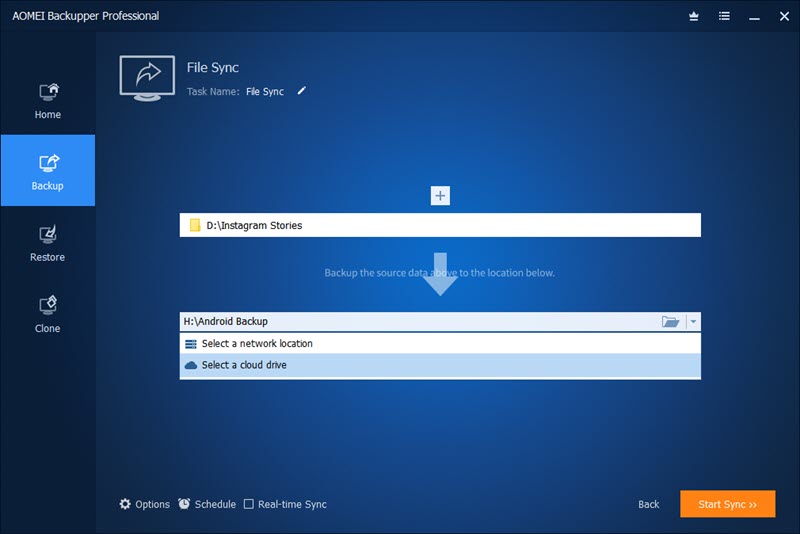 Apart from only backing up files, you can also choose to keep it Synced.
You can choose to keep your folders sync with Cloud Drive (e.g., Google Drive), A Different Partition Your HDD, or on a Different location on your Network.
This piece of software can be beneficial even for small businesses. If you have crucial files on one computer, it is not safe unless you have multiple copies.
Instead of manually, you can automate the process using this software and keep multiple copies of it in different locations.
So that if someone decides to delete files before saying goodbye to the company, you have files handy at a different location.
Disk Clone Software for Personal Use for Windows Data Recovery
Although backup and restore is a crucial feature of AMOEI Backupper Professional, it has got another useful feature of cloning your data.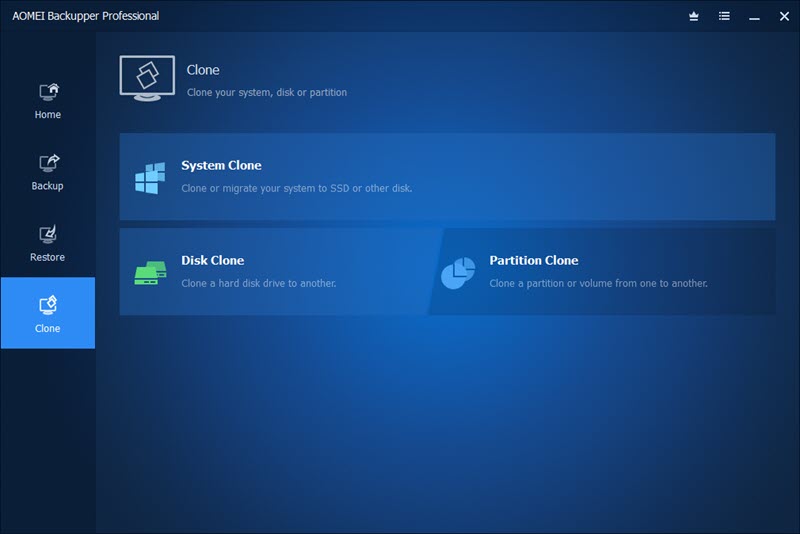 I particularly find the feature of cloning your System (your Computer OS) pretty useful.
It lets you clone the system file to an SSD. The benefit is that you can boot up your computer using an SSD, which will considerably improve the bootup time and speed up your computer.
I was using a 1TB HD on my computer and later switched to an SSD which drastically improved the performance of my computer.
Free Backup Software: You can try AOMEI Backupper Standard
Although AMOEI Backupper Professional has a free version, which lets you check the software out yourself, the pro the version gives you access to all its features forever for $44.95. for 1 PC.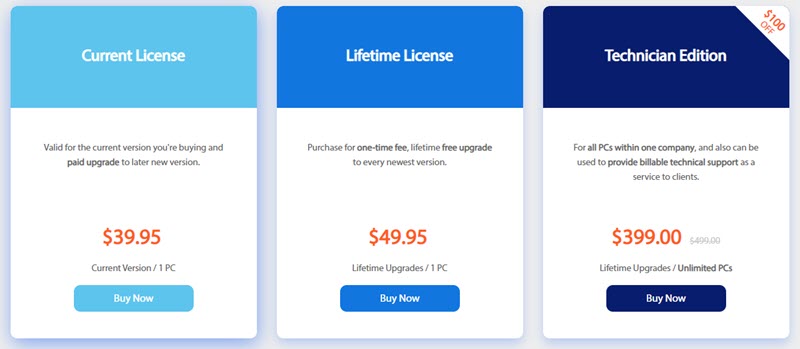 If you have a relatively large company with many computers, you can get the license for unlimited PCs for $399. However, it is cost-effective only if you want to use this software on more than five computers.
For medium to small businesses, as per my experience, computers, where crucial files are saved, are less than 5, and in that case, you can buy multiple licenses.
Download AMOEI Backupper Professional for Free
How to Use AMOEI Backupper Free?
Aomei Backupper Standard is a free backup software that comes equipped with a range of features, including incremental backup, which helps in saving time and space. To use Aomei Backupper Free, users need to install the software, create a backup task, and select the files and folders that need to be backed up.
Here is a step-by-step guide to using AMOEI Backupper Standard to backup hard drive data:
Launch Aomei Backupper Standard on your Windows PC.
Click on the "Backup" option in the left-hand column.
Select the "Disk Backup" option.
Choose the hard drive you want to back up from the list of available disks.
Select the destination location for the backup image file.
Choose a name and description for the backup task to help you identify it later.
Set any additional options you require, such as scheduling the backup task or setting up incremental backups.
Click on "Start Backup" to begin the backup process.
Wait for the backup process to complete, which may take several minutes or longer depending on the size of the hard drive and the speed of your computer.
Once the backup is complete, you can verify that it was successful by checking the destination location you selected earlier to ensure that the backup image file has been created.
Congratulations! You have successfully backed up your hard drive data using Aomei Backupper Standard.
The software also enables users to schedule backups, so that data is regularly backed up without manual intervention. In case of data loss, the recovery software can be used to recover the data quickly and efficiently. Overall, Aomei Backupper Free is an easy-to-use and efficient backup software for Windows, which can provide users with peace of mind knowing that their data is safe and secure.
Frequently Asked Questions About AMOEI Backupper
Can aomei backupper be trusted?
Aomei Backupper is a reliable data backup and disaster recovery solution that can be trusted to protect critical data. The software offers various features, including disk clone software, differential backup, and system backup. With these features, Aomei Backupper ensures that users can recover lost data and files easily, whenever the need arises.
The software has a reputation for being user-friendly, which makes it an ideal choice for even novice users. Its intuitive interface allows users to effortlessly navigate through the features and find the right solution for their backup and recovery needs. Aomei Backupper is also known for its ability to securely protect data from getting corrupted or lost, which means that it can be relied on for safeguarding important information. Overall, Aomei Backupper is a trusted backup and recovery solution that users can rely on to avoid data loss and keep their system running smoothly.
What Makes AOMEI Backupper Your Best Choice?
AOMEI Backupper is undoubtedly a top-notch Windows backup software that brings effective backup and disaster recovery solutions to individual users. It is a free Windows backup software that provides disk clone software for personal use, which is rare to see in most backup software. With
AOMEI Backupper, you are given the opportunity to create a backup plan for files, folders, partitions, or entire disks on your computer. It comes with a clone software for personal use, making it easy to move an entire operating system and all its data from one hard drive to another.
As a reliable software for personal use, AOMEI Backupper is designed to meet the needs of individual users by being easy to use and offering excellent backup and clone features. It can be easily downloaded and installed from the Download Center section on the official AOMEI website. Overall, AOMEI Backupper is your best choice for backup and disaster recovery solutions, providing free Windows backup software and disk clone software for personal use.
Free and Best Android Apps for 2023 to Get the Most Out of Your Smartphone