The concept of 360 videos is not new, and it's just that it was not available to the general public. The first time I watched a video was of some of my friends posting their Matrix-style videos, where the camera would move 360 degrees, capturing them from all sides.
It was made possible with the help of a camera rig where multiple GoPro cameras were installed to capture 360. The videos from all the cameras are stitched into a video clip that shows the person from different angles.
360 Cameras bring a similar kind of tech into just one device, which has two super wide-angle lenses that capture 180 degrees, and then both the videos are stitched to show a 360-degree view.
Watch the Video
Insta360 brought the 360 cameras to the consumer market, or at least they are the only ones that managed to create interest among the general public.
I recently bought the Insta 360 One R. It's not my first 360 camera. I bought the Insta 360 One X in 2020, before the pandemic. I loved creating videos with it.
Price and Availability

 
I bought it from Amazon for Rs 40000/-. It's usually at this price most of the time. I checked with offline shops, and the price was similar. It's available in both online and offline markets.
What's in the Box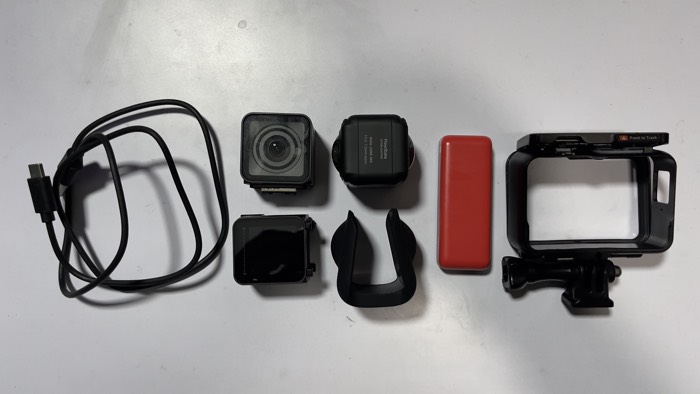 360 Mod, Wide Lens Mod, Camera Body, Battery, Cage with GoPro style mount, USB type C Cable for Data and Charging.
Built Quality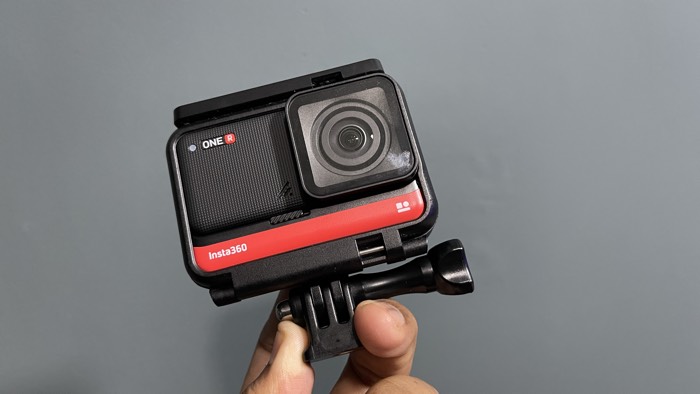 Made of high-quality plastic, feels premium and rugged despite being a modular camera. the quality of the provided cage isn't of high quality. and doesn't offer the usual tripod mount options. The cage has GoPro style finger mount.
There are other third-party cages available which you can purchase, the best one is from Ulanzi.
Why Did I upgrade to One R?
I loved the Insta 360 One X camera a lot, even though it did not give me the quality to match my other cameras. Even my smartphone camera footage was better than that. But, the fact that I was able to get a third-person perspective in my videos made me love it more than any other camera.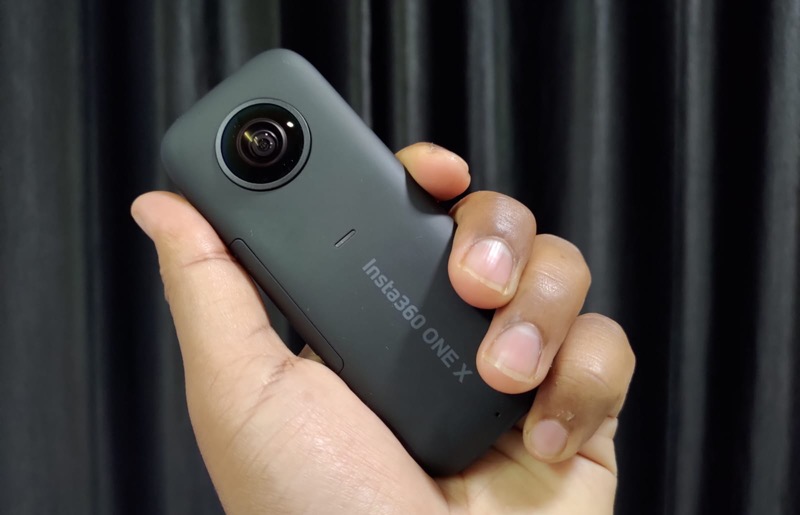 All the Insta 360, be it the Insta 360 One X,  the One R, or the One X2, work similarly. You can use their app on a computer and mobile phone. The selfie stick gets invisible, and you can capture yourself from a third-person perspective.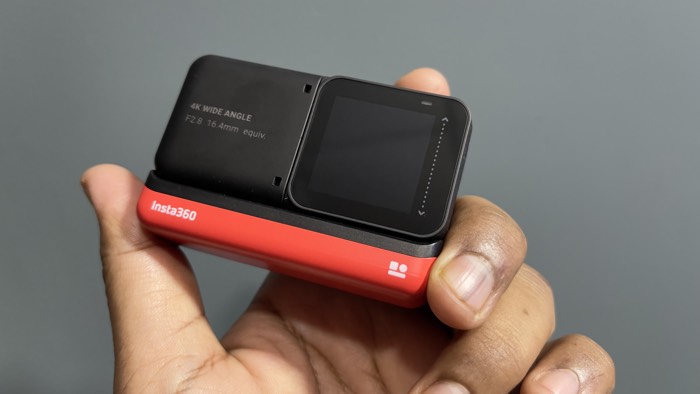 The only difference is in hardware, which gives you improved image quality, and when it comes to the One R, You also can use it as a wide lens camera or a 360 camera, thanks to its modularity. And that is the reason I bought the Insta 360 One R.
But Why Not One X2
Although it makes sense to buy the Insta 360 One X2 because it is the most recent camera, there isn't much price difference between the One R and One X2.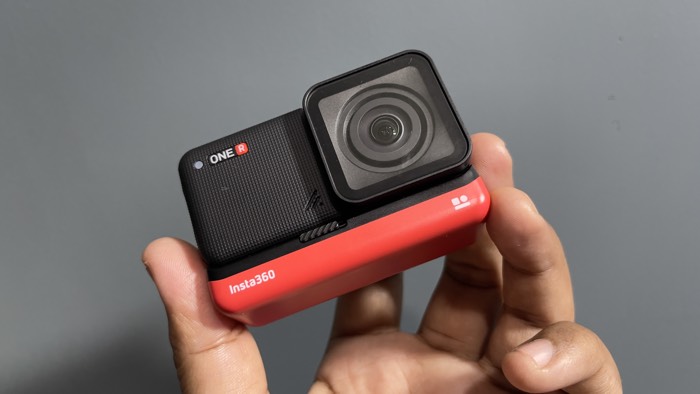 The fact that I used Insta 360 One X, I know the limitation of its form factor and how the action camera-like factor of the Insta 360 One R can be helpful in many scenarios.
I got confused about which one to buy when watching videos comparing both the cameras hoping that it would make my decision easier. But, the more videos I watched, the more confusing it got.
The One X2 has all the features one would require to use a 360 camera; it can also be used as an action camera where only one lens is used to record videos in MP4 format.
But the only downside is its form factor. Since I have used the Insta 360 One X, I wanted to go for an action camera-like device, like the GoPro, which can easily be mounted on motorcycle helmets and used in different situations.
I got the twin edition, which has a 360 Mod and a Wide Angle Mod, but Insta360 also has a 1inch Mod, which gives a much clearer video.
If we compare the twin edition One R to the One X2 (since both are similarly priced), the video quality is better on the One X2. Still, after watching several videos, I concluded that the difference isn't too big.
I mean, the only significant difference between the cameras is if you take photos. The photos on One X2 would be much better than those captured on the One R.
I wouldn't have taken the modularity of the Insta 360 One R into consideration for my purchase if the difference in video quality between the One R and the One X2 was significant.
But, Insta 360 One R doesn't have Stitch as good as the One X2
Because the width of the One R is more than the width of One X2, the distance between both lenses on the One X2 is lesser, which results in better stitching.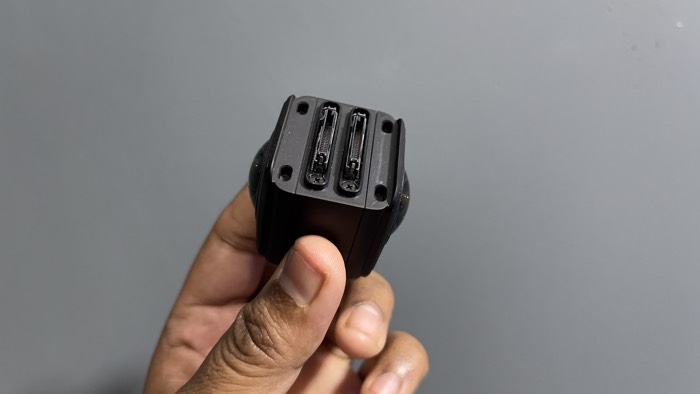 But, it is only in consideration if you are capturing yourself or something closer to the camera. If you are a little away from the One R camera, there isn't much difference between the Stitch, and you will get as good stitching of videos from both lenses as it is on the newly introduced One X2.
What if you already have a GoPro?
I buy the Insta 360 One R Twin Edition because it also comes with a wide-angle lens mod, which turns into an action camera, like the GoPro.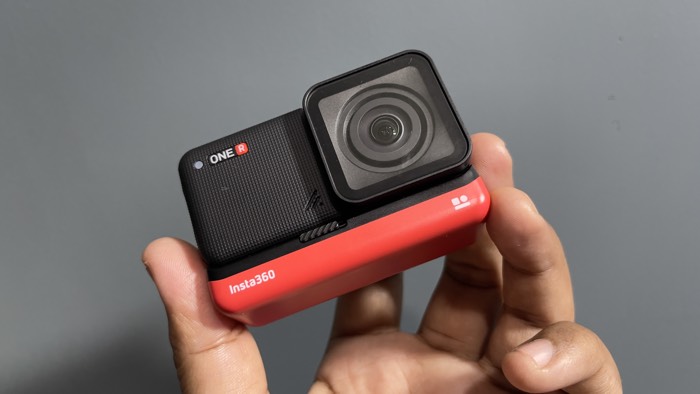 At one point, I thought that I would buy a camera specifically for 360 videos. I will buy a GoPro separately for regular Videos, and that's what you can do if you don't have any issue spending another $400 on a GoPro.
But then you also have to ask yourself how much you are going to use an Action camera or how much you are going to use a 360 camera. The usage for an action camera is not that much, and I am not sure how much I will be using a GoPro.
I don't do extreme sports, and I am not a moto vlogger. So many use cases of a camera are already covered by my Sony ZV1 point and shoot and my iPhone. So, I went for this, but if you already have an action camera, the modularity of One R won't matter to you and if you only use it for 360 videos, then get One X2 instead.
Steady cam feature on One X2 Makes it an Action Camera
Yes, it does, but it does not offer a 4K resolution, and the maximum resolution you can get from the Steady Cam mode is 1440p, which is like 2K. It is okay for many people, but if you are into extreme sports, the One X2 is a little fragile and needs some care in handling because both its camera is exposed, and even a minor scratch on the lens would mean it's unusable for 360 videos.
If you are using the One R for extreme sports, you would still use the 360 mod if something happens to the wide-angle lens mode.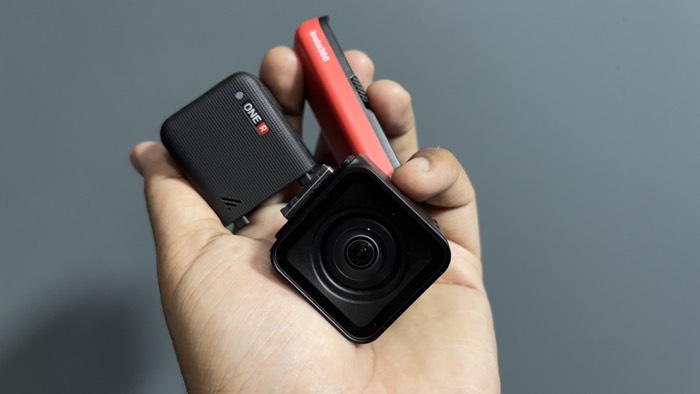 The Insta360 One R is a better choice for people venturing into 360 videos for the first time because it is something new, maybe you won't understand, or perhaps you won't find use cases for capturing 360 videos. In that case, you would still be able to use the Insta 360 One R as an action camera. You can also purchase the 1-inch mod to get high-quality videos, which I am also planning to do in the future.
Moreover, the Insta 360 One X2 is an upgrade to the Insta 360 One X, so there isn't much difference between the video quality even though features add camera tricks available in the Insta 360 app are available for both. So you are not missing on something when it comes to 360 videos if you buy the Insnta 360 One R