I've been using the Lenovo Chromebook for more than six months now. And every time I pick it up, I thank myself for deciding to buy it. I have been in love with Chromebook since its inception. Lenovo Chromebook Duet is my third Chromebook, and my previous two still work used by family members to attend online classes.
The Tablet form factor of Lenovo Chromebook Duet opens many new possibilities. I recently came back from a five day trip, and I did not take my Macbook Pro with me for the first time in a long time. The Lenovo Chromebook did everything I wanted to do.
But, in this article, I'll tell you how to use a Tablet with your Laptop to make yourself more productive.
We all know the importance of screen real estate. It makes you do stuff faster, without having to switch between windows. I've previously written articles about getting more productive using Laptops. So, here's how you can use your Chromebook Duet as an extended screen for your Laptop.
I currently on this Tablet Chromebook, so I am using it like this. If you own any other Android Tablet, it will work for you as well. Because the connection is done via an Android App.
How does this work?
We will be using an app called iDisplay. It offers Apps for Computers (Windows & Mac) and Tablets (Android & iOS). And then, the Tablet can be used as an extended monitor for your Laptop.
The connection can either be Wired (USB based) or Wireless (Wi-Fi based). Although, at the time of writing, the Wired option is not available for Android Tablets.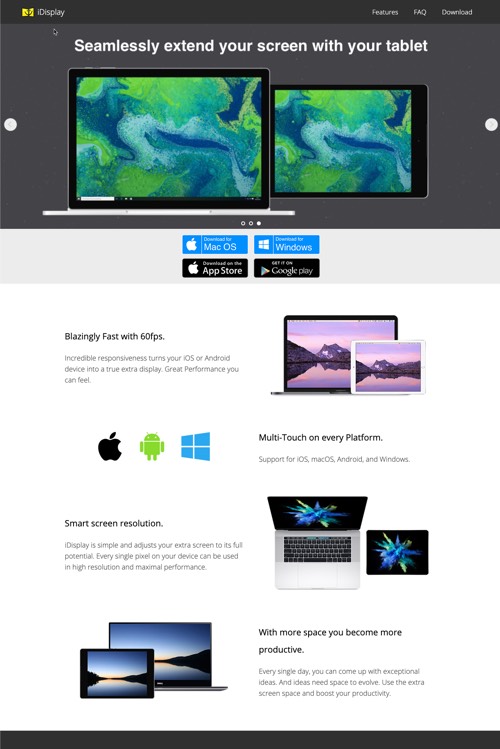 Also, this feature doesn't make sense for iPad and Mac users since Apple has a better way to use the iPad as a secondary monitor. It's called SideCar. 
I've used the Wi-Fi option, and it works well. If you have iDisplay apps installed on your Computer and Android Tablet, and both the devices are connected to the same Wi-Fi network, it works well.
It also works cross-platform, as I have a Macbook and Chromebook Tablet. It works without any issues.
Why use Tablet as a Secondary Screen?
Some people would know the usefulness of this feature, getting some extra screen real estate to get the job done faster.
But if you have doubts about whether or not this will make you more productive, here are some use cases I find an extended screen to improve productivity.
If you have any Android tablet, it's a fact that the device is pretty restrictive when it comes to running apps. If a specific Windows-only Mac-only app is not available on Android, you can utilise this feature to have it on your Tablet. And since the connection is wireless, you can stand up and still use the exclusive computer app on your Tablet.
I love moving the Final Cut Pro app to the extended monitor (the Lenovo Chromebook Duet) and use the touch feature to operate this resource-heavy video editing software, as it is still running on Macbook's processor. Since the connection is Wi-Fi, I can be away from the Laptop and still use FCP for editing something.
Similarly, there are many others apps you can enjoy working on a tablet form factor with all the touch gestures.
The second use case would be to have additional space for a browser window, where you can have a web page opened for reference purposes. (Although it can be used like that without the iDisplay, send the link from Computer to Tablet).
It is pretty cool to know that something like this is possible. It looks pretty cool and maybe can help someone who wants a little extra screen real estate.