Not sure why you should use a To Do list? let me convince you.
Every one of us has 24 hours in a day, but how effectively you use them will ensure that you get the maximum out of it.
The best thing you can do is, write down the tasks you want to do, so that you are focused on completing them instead of thinking what to do next.
It is the simple fact every To Do list app is trying to achieve, to let you make the best use of your time by using their app.
Any.Do vs. Microsoft To Do
In this article, we will be comparing both the to-do apps. The good thing about them is they are designed for use as a to-do app and nothing else.
We will talk about different aspects of these apps in this article.
User Interface
The User Interface (UI) of Any.Do app is pretty simple. It has a light theme by default, but it also has got a dark mode, which is all the rage these days.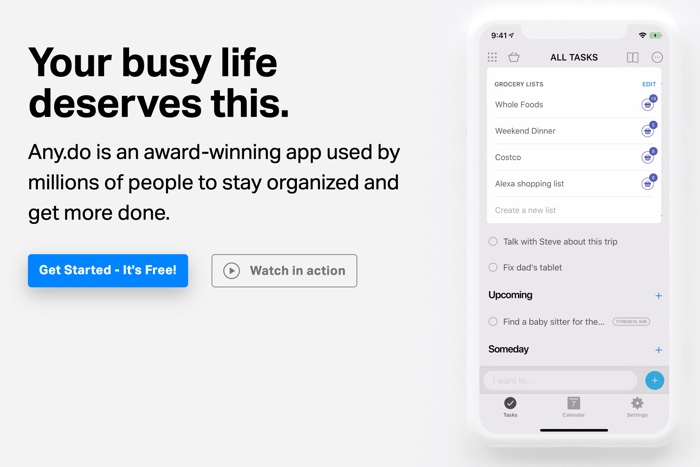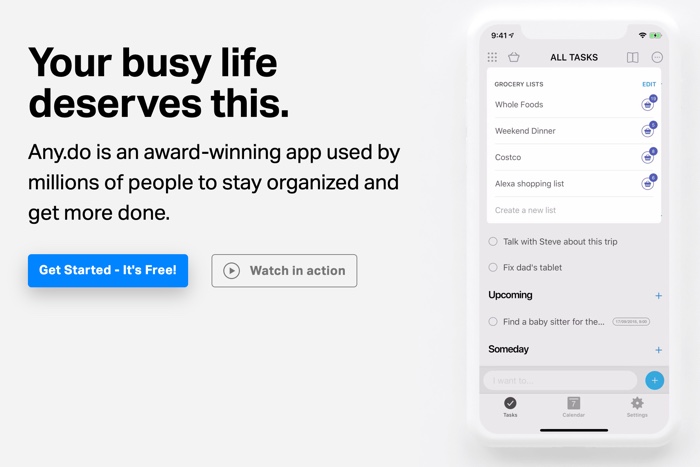 Any.Do has got the dark mode since I came to know about it several years ago. There are other themes as well, but they come under premium since the app is on a freemium model.
You can add a task in the Any.Do app, and then add a reminder to it. A location reminder is also available, but it is in the premium version.
When you are reminded of a task, you can snooze it to let you remind you after some time, and you can also pick another time for the app to remind you.
The task you couldn't do for the day are also shifted to the next day.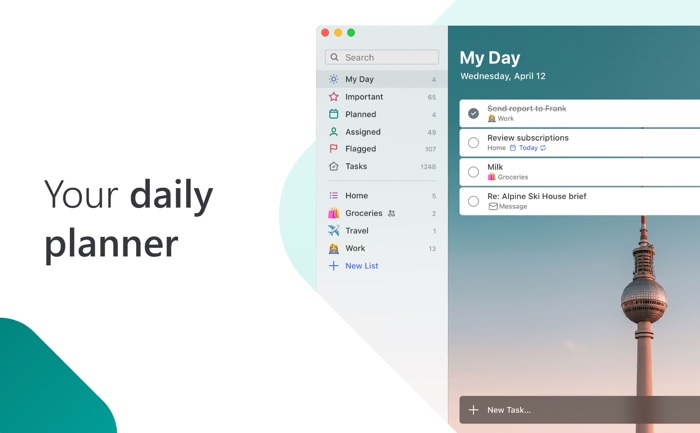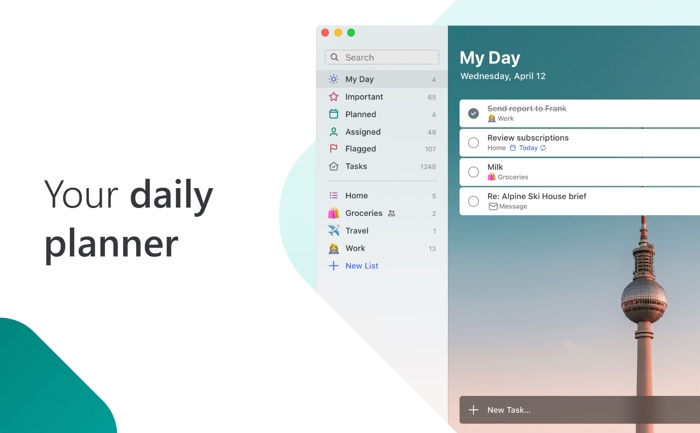 The UI of Microsoft To Do is also clean, and easy to understand. However, it behaves differently than Any.Do app.
When you launch the app for the first time, you have to choose where you want to add the task.
Most likely, it is in the 'My Day' section of the app, but it also gives users the option to create lists. It is, however, useful in keeping personal, or work lists separate.
It simply adds another level for the organization. Similar to Any.Do app, the Microsoft To Do app also lets you add reminders to the tasks.
However, it also allows you to add steps to a particular task if you want to elaborate it further.
The Microsoft To Do app also has got a light and a dark theme.
There is no premium version offered by the Microsoft To Do app, which means there are no features that need to be unlocked.
But, since we are talking about the user interface of both the apps, I feel the UI of Any.Do is cleaner in comparison.
To Do List Features
Any.Do has been one of my favorite To Do lists for several years, the best part is it does not try to do a lot of things at once.
Once you add a task to Any.Do, you can then add a reminder to it, you also add a short description if you want to elaborate it further.
And then you can also assign it to someone else who also uses Any.do, such as your spouse, or your partner, or an employee.
Any.Do app is a premium-based model, which means it has also got a premium version, but it does not, in any way, interfere with the free version.
The premium version offers features like customized themes to add more colors, location-based reminders, customizing recurring tasks, unlimited attachments, and unlimited collaboration.
The Microsoft To Do app, on the other hand, is built on amazing features of Wunderlist, which it acquired in 2017.
There is still time to switch from wanderlist to Microsoft To Do, and if you want to do that, you should read this article.
Microsoft To Do app is pretty much at par with Any.Do when it comes to the UI. It is one of the few apps from Microsoft, which is done right.
Taking clues from Wunderlist, it has all the fantastic features to keep you organized.
For example, when you add a task, you can then tap on it to add steps, or files to it. You can also add due dates.
Features like collaborations, attaching files, is available in Microsoft To Do, which is a premium feature in Any.Do app.
Microsoft To Do app allows you to not only add tasks but also create separate lists so that you can be organized.
I have a list called Personal, Shopping, Work, and then a Shared list, which I am sharing with my wife.
The sharing option is pretty cool but is done in a way that does not interfere if you do not want to use it.
Cross Platform
One of the reasons why many To Do list apps fail is the lack of availability on multiple platforms.
Both, Any.Do, and Microsoft To Do, are truly cross-platform apps available for Android, iOS, Mac OS, Windows, and the Web.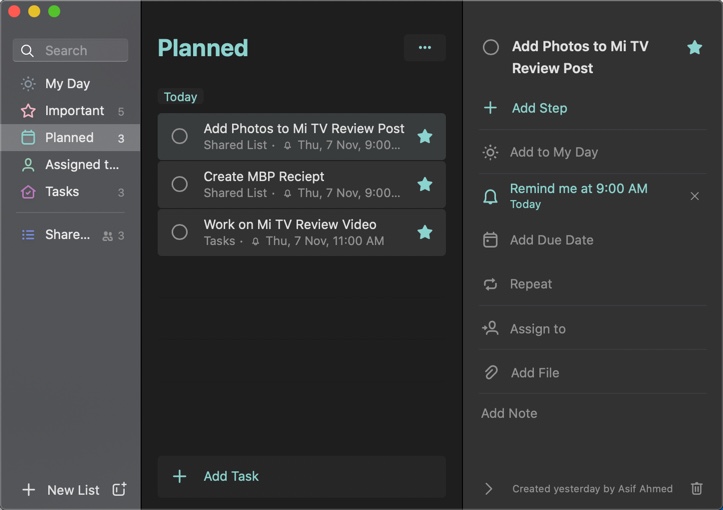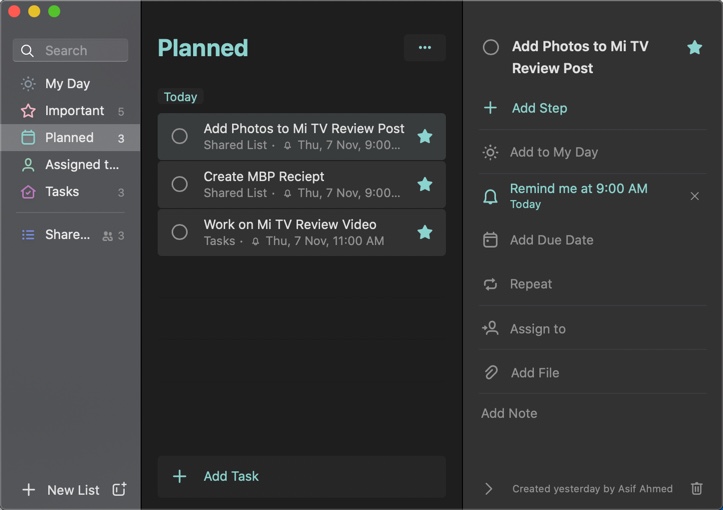 So, if you are on your computer and you want to add something to your do list, you don't have to bring your phone to add it.
Which app should you use
If you have gone through the entire article, you may have realized that both the apps are amazing at what they do.
If you are specifically looking for a to-do list app where you want to add and get reminded, Any.Do` is a better choice.
But if you want a little more than that, if you are someone who has more responsibility, more stuff to do, the Microsoft To Do list app can help you stay organized in a better way.
The implementation of creating different lists, so that you can categorize your tasks, is done better on Microsoft To Do.
The feature of sharing apps with other people is also done nicely in Microsoft To Do app.
Both the apps are available for free to use so you can try it yourself and see which one you like the most and which one tells you to do stuff.