It is a well-known fact that iPhones are used by pretty much everyone, whether it is personal or business. For the business people out there, this means that they are constantly fighting with their inbox to make sure nothing falls through the cracks.
The email app on the phone can make or break your ability to stay productive in this environment.
The iPhone has an abundance of email apps, so the task of finding the best one can be daunting. First, however, it's essential to choose an email client that meets your needs with so many options available.
This article will help you choose the most useful email app for your phone, including the free version. Keep in mind that not all email applications are created equally, so make sure to take the time to compare different apps before making a final decision.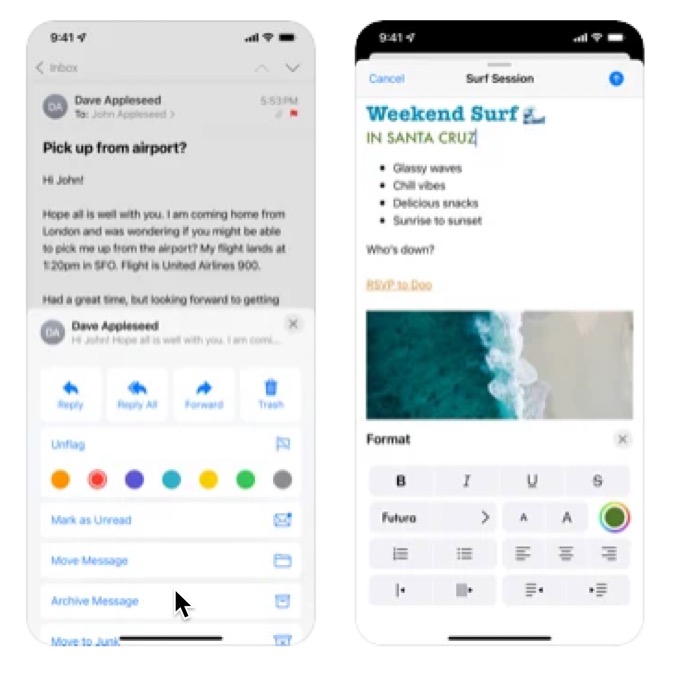 While iOS defaults to Mail, plenty of apps do the same job. If you have many email accounts, you may need an app that allows you to manage them all from a single screen.
You can also use the Assistant feature to categorize your Mail. This helps you find what you're looking for, even when it's a long way down the page. If you want something more powerful than Apple's built-in Mail app, try one of these alternatives: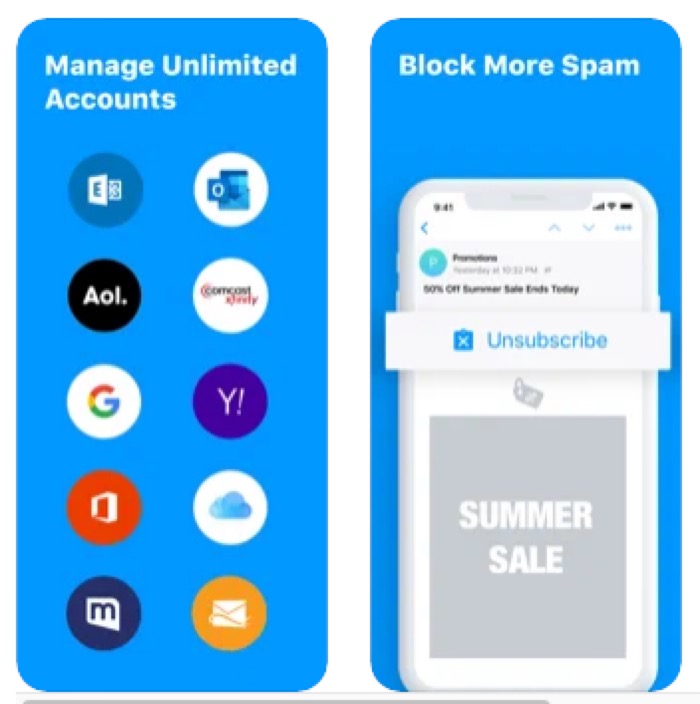 Edison Mail is another great option if you're on the go. Its Assistant feature will automatically categorize your messages, making them easier to find.
This app lets you organize your emails into folders by their subject. This is an excellent feature if you want to keep track of your email.
It allows you to pin important emails and snooze them if you need to read them right away.
You can also see the number of emails you've sent and received. This is a great feature for busy people who don't have time to spend going through their inbox every day.
Outlook has automatic push notifications and synchronization for Gmail, Yahoo!. And it is also one of the few apps from Microsoft that works great on an Apple device. You'd be amazed at how different Outlook looks on iOS if you're used to Outlook on Mac or PC.
Outlook is an app that feels just like Apple Mail+. However, it has a smart inbox that allows you to sort between important and less-important emails.
It contains customizable swipes (delete, archive, etc.). In addition, you can schedule messages to appear in your inbox again, which is helpful if an email needs to appear only until you get back at work.
And While We're talking about in email app for iPhone, people really love the Microsoft Outlook app on an iPad because give them dual pane layout. Designed with appearing colour palettes which are pleasing to the eye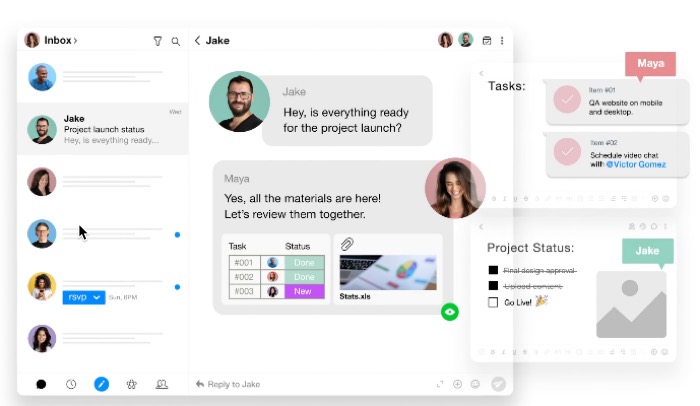 Spike has been one of my favorite approaches to email in years. It borrows from apps like iMessage and Facebook Messenger to bring the same look to email. In addition, spike created a design that makes it easier to send short messages (think Slack-style) emails.
It removes headers and signatures to help you concentrate on the content. You can also have a priority inbox that allows you to keep your inbox clean and free from unnecessary clutter such as receipts, newsletters, etc. Spike's Groups feature another unique feature.
You can create groups to support sports teams or work departments. These groups are similar to iMessage, but they work over email. It's easy to form groups to discuss specific topics and not search through old emails.
Spike recently added tasks and notes to its app. Spike's note functions are similar to a regular notes app, but they're inside your email app so that you can manage them with your email. You get all the features you'd want: rich text, links, comments, sharing/collaboration, and file sync (similar to how you can store files inside Apple Notes).
Spike's task function doesn't have the same features as Things and Todoist, but it is perfect for those who use Apple Reminders heavily or keep a list of tasks. Unfortunately, a Send Later function is one of the most critical features missing in the mobile version.
It is available in the Mac version so it should be available on mobile. Spike is available as a free app in the App Store. There are also paid options for business users.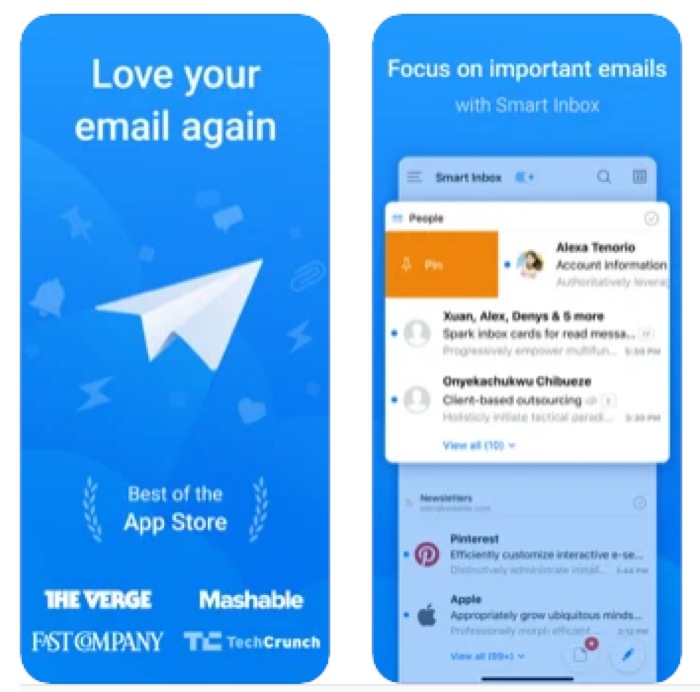 Spark's tagline is "Love Your Email Again," It does a fantastic job in helping you take control of your inbox.
It supports all of the most popular accounts, including iCloud and Google, Yahoo!, Exchange, Outlook, IMAP, and Exchange. In addition, spark features an intelligent inbox that organizes your email into buckets such as newsletters, new, seen, pinned, and so on.
You can also sleep, send later, receive follow-up reminders and integrate with third-party apps like Dropbox, Google Drive, One Drive, and many others. You can customize your app to your liking.
You can swipe right to delete and swipe left to pin. That's possible. You can add a calendar button to the bottom. That can be added. Spark was initially released free of charge.
I was concerned about its longevity. We've seen many email applications be discontinued within a short time. This is why I am curious about the business models of various apps. Spark now offers a team plan to answer that question.
Signing up for Spark allows you to collaborate on email, communicate privately, and create permanent links to emails (which is useful for linking to a CRM). Spark for Teams' basic version is free. However, they offer paid versions that cost a monthly per-user fee. These include more file storage, better link sharing, team roles, and greater control.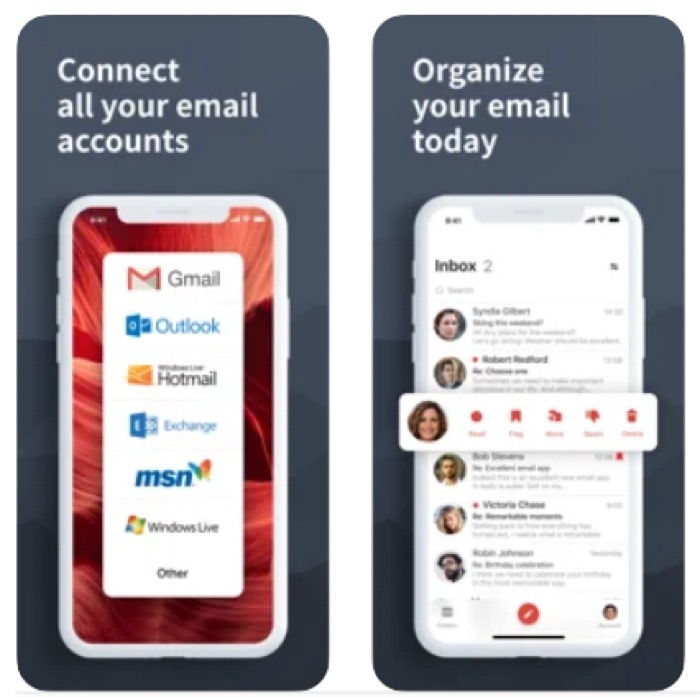 Although it has Gmail in its name, it supports all email accounts from different providers, both personal and business emails (also, it's not developed by Google).
It has all the standard features you would expect, a great email app, and the ability to create custom notifications to respond to email on time.
If you are looking for an email that gives you push notifications for only a set of emails that have been filtered into a folder, this one does it for you.
Conclision
In conclusion, apps like Mailbox and Spike are great for those who want to keep their inbox clean. They make it easy to manage your emails with features like snoozing, archiving, and scheduling.
So, these are the best email apps for iPhone. The apps I've covered in this article all have specific purposes that will appeal to different people's needs.
Make sure you download one or two of them to see which one(s) works best for you!