If you own Audible subscription that you no longer use any want to cancel the subscription it can be quite tricky to do it.
If you don't properly cancel your Audible subscription you keep getting charged month on month. I can say that from person experience. It has happened to me twice so I am finally writing it tutorial about how you can cancel your order the subscription and make sure you do not get charged again.
Here is a video tutorial
What is Audible?
Audible is an Audiobook platform formed by Amazon. That catalogue of Audiobooks is quite vast, pretty much every book that is available on Amazon is also available as an Audiobook on Audible. All though the prices of Audiobooks are a little higher than the eBooks, they are my preferred format for consuming knowledge and information.
Audible also has a Premium membership, under which you get one credit every month with which you can buy any Audiobook from the catalogue.
It gives monthly and yearly subscriptions of Audible Premium Plus which also offers weekly podcasts in different genre.
But if you are looking for buying one book every no and then you may not need to get the subscription throughout the year you can just get it for a month get your credit and use that trade to buy the Audiobook.
Do this if the monthly Audible Premium Plus subscription is not for you
Interestingly the one credit you get in the Premium subscription can be used for buying any Audiobook available on the platform, and the price of the book doesn't really matter that match so it is wise to get the Premium subscription for a month for that one credit and buy the book using that credit instead of buying it at its MRP.
But that tricky part is once you get the subscription it is quite difficult to get of the subscription or cancel the subscription. But I have this is why Amazon makes the deal so interesting that you can't resist to get the membership.
Amazon is not the only company to blame here there are many other companies that makes it super confusing to cancel the subscription. For example, Netflix also makes the cancellation of separation is quite tricky.
How to cancel Audible subscription
Just like Netflix Audible also does not cave you the option to cancel the subscription in the app which you are using either on iPhone or Android. It can only be cancelled from the website, and that too, the desktop version of website not the mobile version.
Although there is a trick to open the desktop version of the website on mobile, we recommend you to use a large screen device a tablet PC or computer so that you can look at the screen and understand what's going on there.
Once you open the website, and login to your account you will find 'Hi Your name' somewhere on the top right hand side when you click that you will find the option of account details.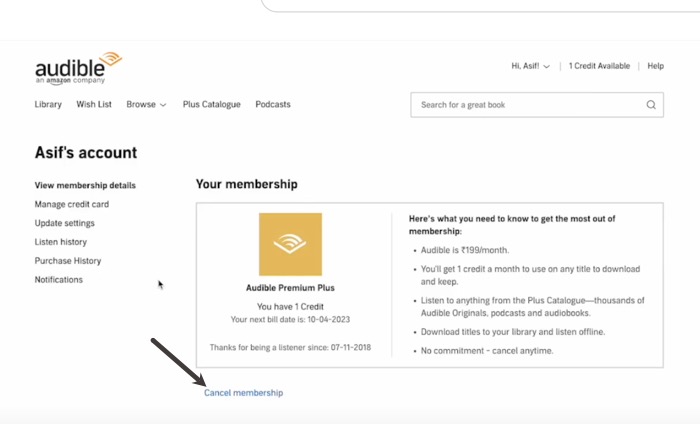 It will take you to a page which will try to convince you to not cancel the subscription. But if you have made your mind click on 'No thanks, Continue Cancellation'.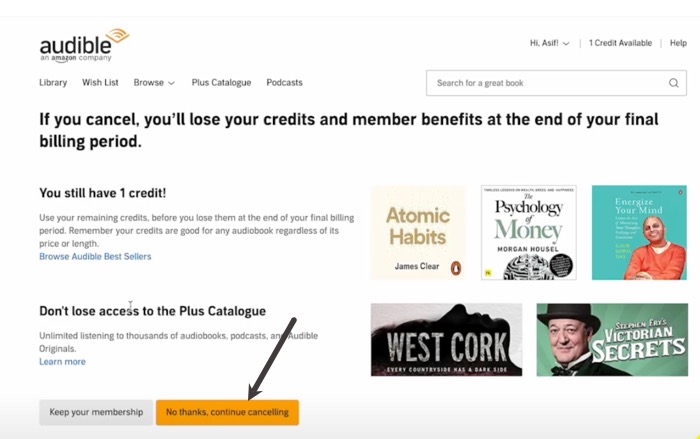 On the next page it will ask you for the reason of your cancellation, and then again you will have to click on 'Cancel Membership'.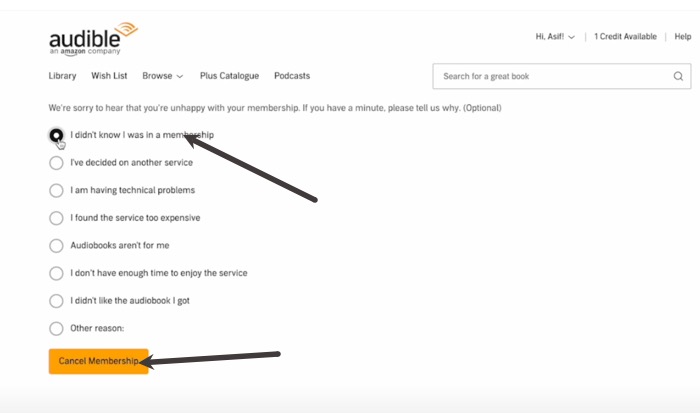 On the next page again it will try to purse with you into continuing the membership by counting the benefits Premium membership has. You will again have to click on 'Continue Anyway'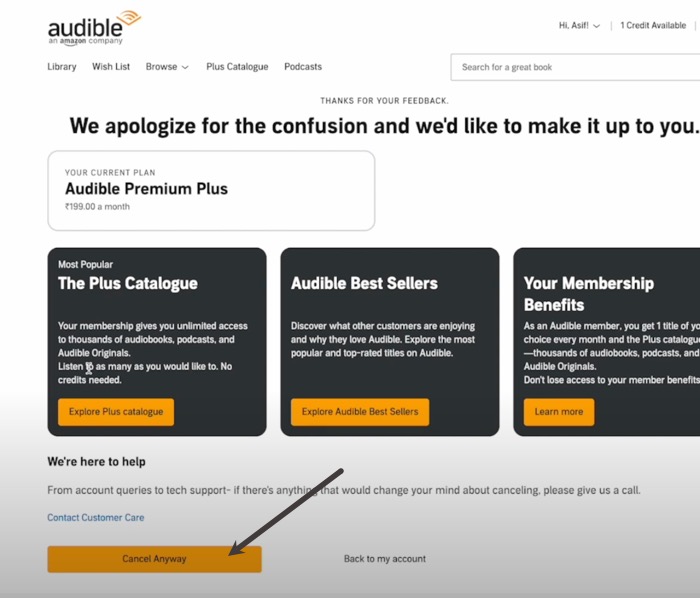 You will have to click on 4 buttons to completely cancel your Audible membership and the last one doesn't even say cancellation.
It seems Audible is trying to trick people into letting them know that the subtracting has been cancelled on this third step but in reality it did not.
The next page will say that your Audible membership has been cancelled and you will still be able to use the membership benefits till the next billing cycle.
But at this point I am not sure. Maybe they will activate midway and you will be charged on the next billing cycle again.
So, to be double sure, you need to check the website once again prior to that. The easy way would be to snooze the cancellation email you get just after cancelling your Audible membership.
Just snooze the email one or two days before your next billing cycle so that it pops up again in your gmail inbox and reminds you that you need to open the website again to verify if your Audible membership is cancelled.