About 10 years ago, in 2008, Bill Gates made a statement that speech will be replacing our keyboards, in fact, it was not for the first time he made this statement.
It was in 1997 when he said that, and here is a quote from October 1997.
"In this 10-year time frame, I believe that we'll not only be using the keyboard and the mouse to interact but during that time we will have perfected speech recognition and speech output well enough that those will become a standard part of the interface."
Now, maybe we did not have the tech so efficient in 2008, a lot has happened in the last 10 years, we have digital assistants Who talk to us in a conversational manner. And speech to text has become so much effortless.
Be it writing long-form content, urgently replying to a text message on your Android smartphone, you can make use of speech to text aka voice typing to get it done faster.
In this article, we talk about how you can enable voice typing on both Google Chrome on your PC and on your Android smartphone.
Even though voice typing is available natively to the Operating Systems, most of the benefits of voice typing are when you are connected to the internet and you are inside a browser, at least on a PC.
Google Chrome works on Windows, Mac, as well as Chromebooks, it makes sense to know about how you can enable voice in Google Chrome browser.
Enable voice typing in Google Docs
If you want to write three times faster, voice typing can help you achieve it effortlessly. Simply use Google docs, which has natively got in the feature of voice typing. It makes use of Google Engine and works when you are connected to the internet.
And the fact that it uses the internet, it is always updated with latest words so it can convert popular names of popular terms in that has been trending or has become popular on the internet. It makes so much easier to write with your voice.
First, make sure you have a mic connected to your PC, If you are using a laptop, it already has an inbuilt mic, but to use voice typing efficiently, you need to have the mic closer to your mouth. So you can use a microphone headset or be in a quite a room if you want to use the inbuilt mic.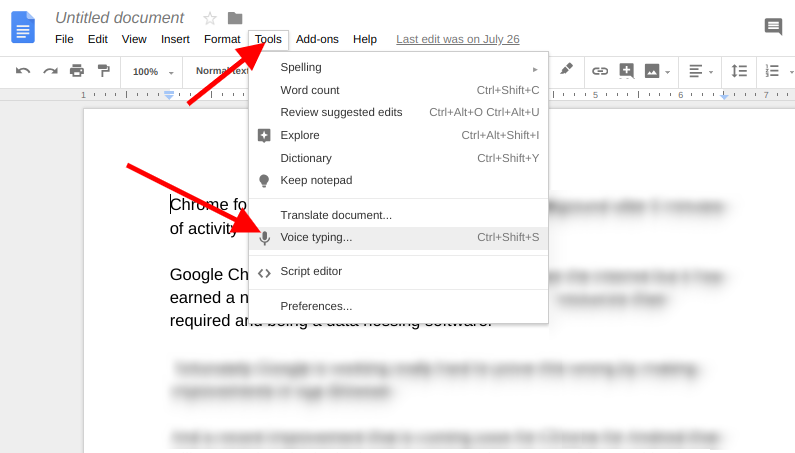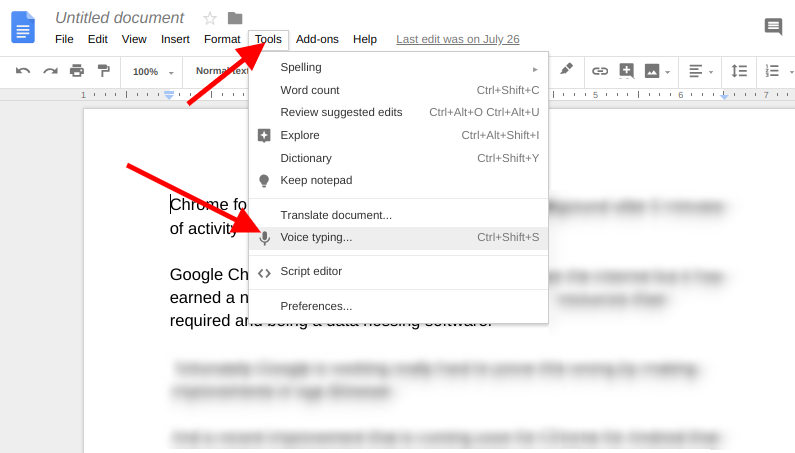 To enable voice typing, open Google docs, go to tools, then click on 'Voice typing' that can be found below translate document.
It also has the shortcut key, Ctrl+Shift+S. You can press this key combination and the voice typing will be enabled.
When the voice typing is enabled, a bigger red button will appear on the other side of the document, all you need to do is speak into the mic and your voice will be converted into words.
You can click on the big red button to Enable disable voice typing.
Tip to use voice typing efficiently
Try to keep the mouth as close as possible, You can try buying microphone enabled headsets with noise cancellation feature for the mic.
Try to speak in your normal conversational manner, and keep in mind the pronunciation of words.
Voice typing is not perfect, so it might pick a few words wrong, you can come up with your own set of rules, try writing the first draft using voice typing, then proofread to fix the typos in errors, it will still be faster then typing on the keyboard.
Enable voice typing everywhere in Google Chrome
If you get a hang of voice typing in Google Docs, you would want to use it everywhere, its writing comments on Facebook or anywhere else, VoiceIn Voice Typing Chrome Extension will make it so much efficient. You can check out this article that talks about enabling voice typing for Google Chrome in detail.
For those who don't want to read another article, you can add this Chrome extension called 'VoiceIn Voice Typing', select your language from the options, and you can enable or disable which by clicking on the extension icon that will appear just beside the address bar in Google Chrome.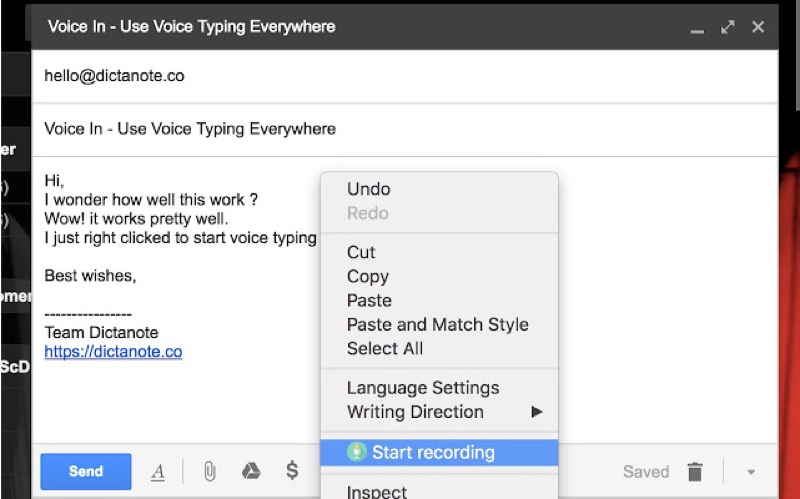 Another way to enable it is by right-clicking, and then clicking on 'Start voice typing' wherever available.
6 Speech to Text (Voice Typing) Chrome Extensions for Writing 3x Faster
Enable voice typing for Android smartphone
You can write faster not only on your PC but on your smartphone as well. And it is pretty easy to enable voice typing, in fact, it might already be activated on your smartphone.
If you use it SwiftKey or Gboard, which I think are, tour the best third-party keyboards available for Android devices, they have a key shortcut for voice typing. There might be other third-party keyboards with key shortcuts for voice typing, but it's better for the majority of the people use.
Gboard has a slight edge over Swiftkey when it comes to for voice typing because a voice typing button is just a tap away as it resides on the top right-hand side if you have enabled it from the settings section of Gboard.
In the best part is, it doesn't entire release which is the keyboard to voice typing, which means, switching back and forth is a little convenient, especially when you have to use, comma, period or when you want to type a complex word and then switch back to Voice typing again.
We have talked about this in detail in this particular article in case if you are interested.
But for those who do not require a step-by-step Walkthrough, I hope you know how to enable voice typing on Android as well.
This is one of the ways I am using to write three times faster if you love reading, there is a way you can read three times faster.