Facebook is used by more than two billion people in the world. It has made the world more connected; people around me spend plenty of time connecting with other people.
Facebook users are so fascinated to enhance their reach. But nowadays the platform has become so competitive that it's very difficult to boost Facebook pages so users even look for sources to 
buy likes
and followers to get the growth faster.
There is a downside to it as well, of all the people on Facebook, there are also the people you hate, and you do not want to be connected with them on Facebook.
For example your ex Partner, or Boss, or anyone you don't want to share your life moments with.
Facebook does give you an option to block such people so that they do not see you on Facebook. But merely blocking someone on Facebook won't prevent them from viewing your profile.
But it is easy to block someone on Facebook, go to their profile, tap on the three dots on the right-hand side, and you get more options, choose Block. A popup screen appears telling you what's the person will no longer be able to do, and then you confirm by typing on Block again. You can refer to the image below.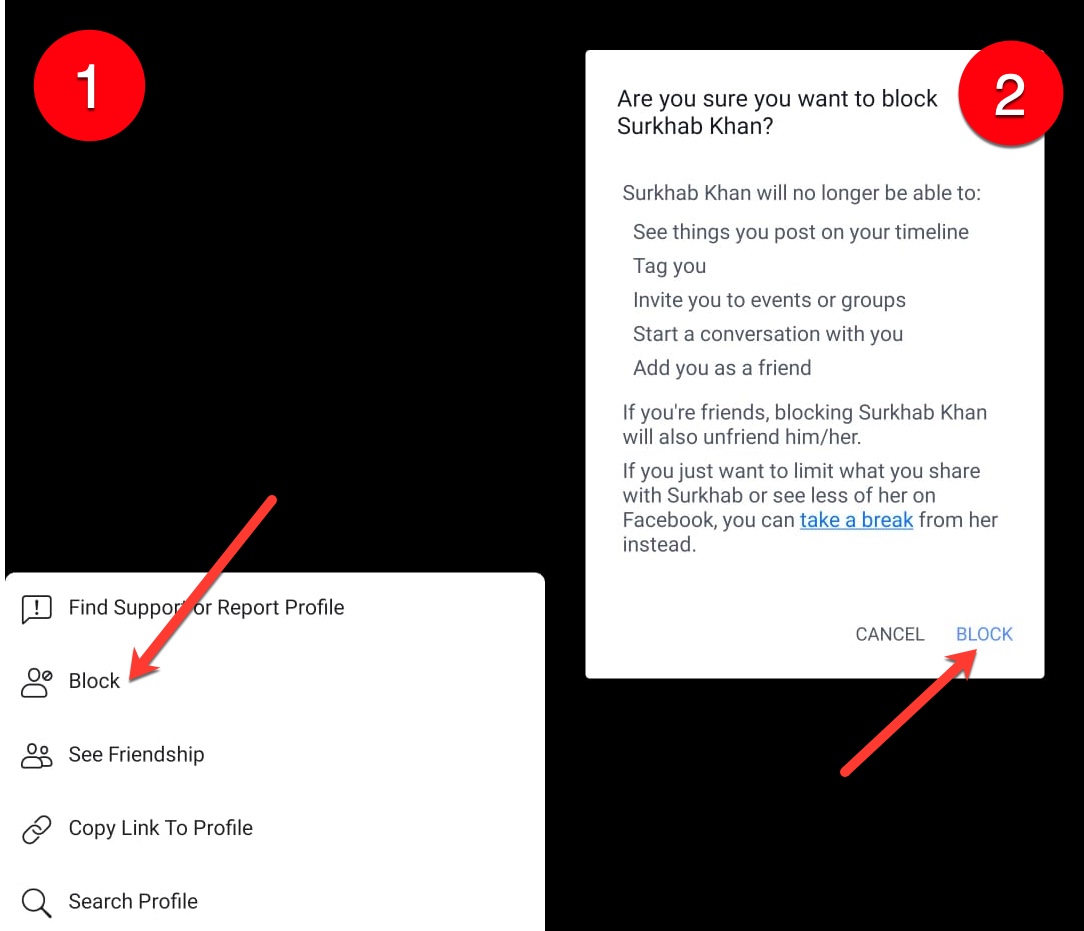 Facebook does tell you about how to block someone on Facebook, but that's not a complete guide.
That's why I am writing this complete guide to block someone on Facebook so that they don't give you your profile.
What happens when you block someone on Facebook.
When you block someone on Facebook, you become invisible to them.
If you are in their friend list, you won't be visible to them, as Facebook will also unfriend them.
Blocking means unfriending them also, which means, if you ever have to unblock them, you will also have to send them a friend request, which might let them know that you have blocked or unfriended them in the first place.
This is the difference between blocking someone or deactivating your profile. Because when you activate your profile again, you won't have to send a friend request to someone.
If you comment on someone who is a common friend, Ora mutual friend in Facebook terminology, your comments won't be visible to that person. They won't be able to tag you in their posts or invite you to any event.
If you go to Facebook Messenger, to check out the previous chats, all the conversations will remain there, but there would be a warning at the bottom, giving you the option to unblock them.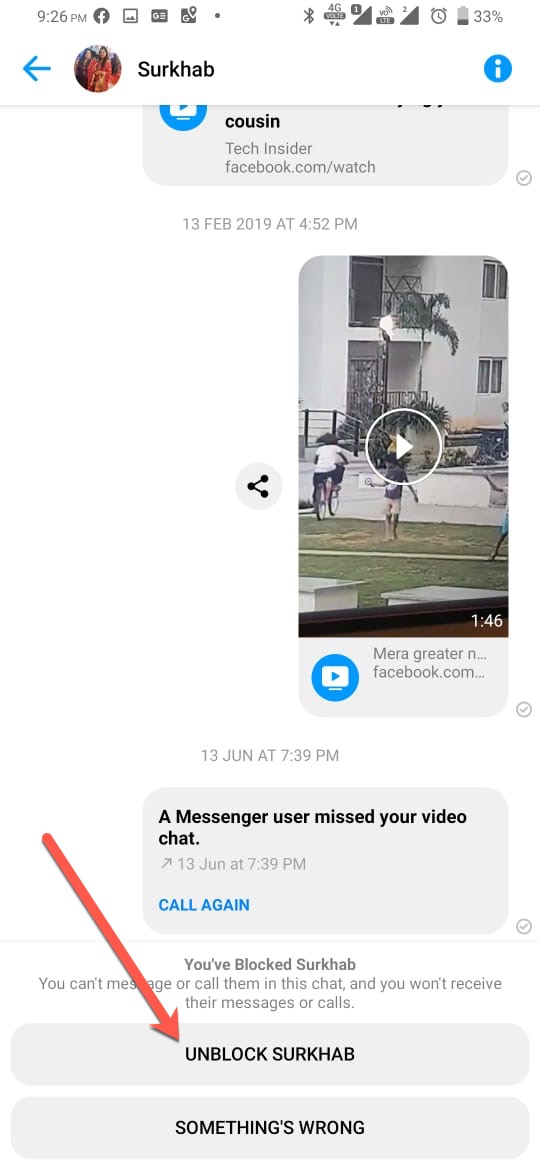 If they go to their Facebook Messenger, all the messages would be the same, but they won't be able to message you, as Facebook will notify them that the person is not available at the moment. Also, there would be no profile picture being displayed.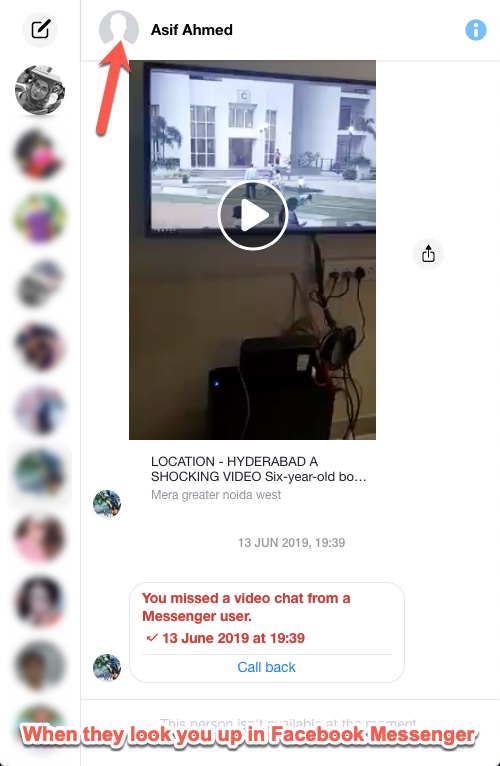 It could also let them know that you have blocked them, but it could also mean that you have deactivated your profile.
If they try to search for your account, it won't be available. But if they do it by using someone else's account, your profile would be visible.
The public URL of your profile would be visible even without logging into Facebook, which means, they can check whether you have blocked them or not by logging out and checking the profile link.
If it is available publicly and is not available when they login will let them know that you have blocked them.
How to completely block someone on Facebook
To completely Block someone, so that it won't be able to search you, even when they log out, or use another account who is not in your friend list, here is what you need to do.
Change your profile URL.
It could be easily changed, by the changing your username. You can access the link by going to Facebook.com/username on PC.
Changing your username would change the profile link, for example. If your earlier username was rocky123. Facebook profile link would be https://facebook.com/rocky123, and it will be publicly available to everyone.
So if you change your username to rockyabc, Facebook profile link would be changed to https://facebook.com/rockyabc.
Which means, even if they have got your profile link, they won't be able to view your profile. Even by logging out, since your public profile link would be different.
Exclude your account from Facebook search.
This option is available in the private section of Facebook settings. You can choose how people can find and contact you. You can refine your privacy.
By setting up 'only friends' who can look you up using your email address or phone number. And uncheck the option to allow search engine outside of Facebook to link to your profile.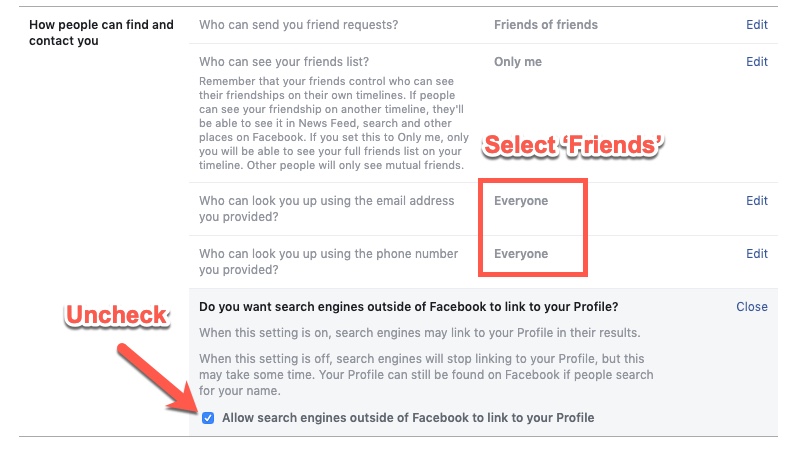 These to settings would be helpful in keeping your Facebook profile in stealth mode, so that the person you have blocked, is not able to look you up, using another Facebook account, which is not in your friend list.
So this is how you can completely hide from someone you have blocked on Facebook.