The addiction of Smartphones among kids has always been one of the major concerns of parents. Several studies show the negative impact of social media and smartphone addiction among teenagers and kids.
Being a parent to two kids, it is my constant struggle to keep them off the screen. Since we live in a connected world, it isn't easy to do it, but we can still limit screen time using tools.
Watch the Video
Limit Internet Access for Kids
The majority of the kids' time spent on screens is connected to the internet. This is how they can access YouTube for kids, multiplayer games, and even social media.
So, if you can disconnect your kids from the internet, it will limit them to use screens.
If you are using modern Wi-Fi mesh systems like Amplifi, Google Mesh, etc., they offer useful features, such as creating profiles and limiting internet access to one or a group of connected devices.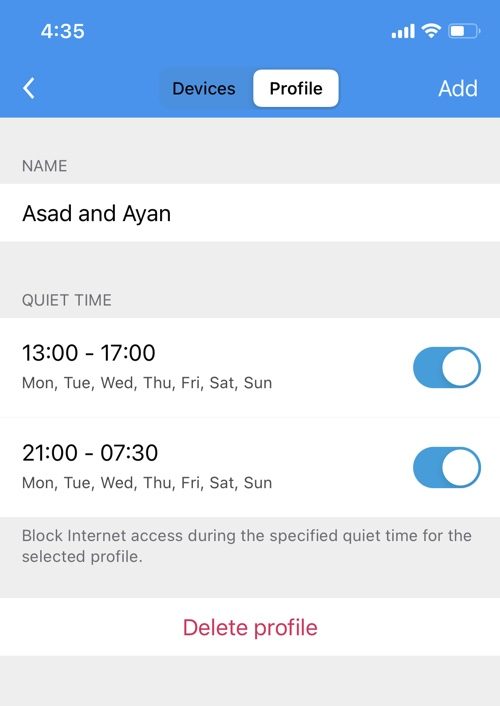 I have created a profile for my kids where have added their devices and give the internet access at specific times.
If you do not want to invest in premium Wi-Fi mesh systems and already own a router, you can still set up a system that allows you to limit internet access to kids' devices.
These days, most routers are dual-band routers, which means you can and set up Wi-Fi with 2.4 GHz and 5.0 GHz. You can set them separately. It will be two different Wireless networks that need to be connected separately.
You can connect your kids' devices to one of the networks and connect every other device to the other wireless network. It enables you to pause the internet on one of the Wireless networks, while the other frequency is still available for your devices.
There are many Wi-Fi manager apps available that will easily let you log into your Wi-Fi Router dashboard and enabled/disable Wireless Network.
You can also setup OpenDNS on your Home's Wi-Fi router, which will give you additional controls like blocking certain websites from opening. You can also block certain addictive sites, like all the social media sites. Which will also help prevent addiction of Social Media.
Limit Screen Time for Kids
There are Parental control apps available that can be installed on Kids' devices. The purpose of these apps is to lock the devices at a given time.
You can use Apps like Google Family Link (Play Store link) to add your kid's Google Account so that you can approve/disapprove any new installation of apps on their device. This app has improved quite a lot the last time I wrote about it.
If your kids have their own devices this can be really helpful, as the family link app will give you control over their devices, you can check out there app usage, the screen time spent on individual apps, along with the ability to to lock unlock aur give bonus time to your kids to access the device.
It also gives you for the controls as to what type of content they could watch on YouTube, whether you can give them access to only the YouTube kids app or or the YouTube app with access to content appropriate for a certain age, they have 9+ and 13+ content, although this section is in beta, so Google warns you that children could see content they are not supposed to watch, but in my case it never happened.
How to Setup Family Link
If they have Android devices you can create there google accounts with right age, Google will detect that they are underage, and it will ask the parent to supervise the account. You can follow the step which is smooth and simple.
My advice would be to develop a schedule as to when the kids can access their devices for some playtime. You can incentivize them for not using it much.
You will also have to change your habits of using screens whenever you are around the kids. It is because they learn from their older ones. If you are always on your mobile phones talking about what's happening on social media, you are only making them curious to check it out.
Set rules for using Smartphones in the house
Many families are coming up with rules for using mobile phones and not using mobile phones. For example, no Smartphone allowed on the dining table.
No screen time access before going to bed, no screen time while lying in bed. Rules like these can help prevent the addiction of Smartphones among kids.
Use Smart Speakers instead of Screens when possible
Some people may argue that it is rather getting them connected to the internet and getting addicted to it. But it is pretty useful in getting rid of extra and essential screen time.
I have a Google Home Mini at home and have trained my kids to make use of it for asking spellings and definitions of difficult words or answers to simple questions they would otherwise turn to a smartphone to find.
It is not only useful hey Google hey Google shoot mode on on Google switch on the shoot mode I was going to be a really usefully video for kids but Grown-Ups as well. I cannot recall how many times I pick up the phone to check something out and then getting glued to Instagram or Facebook's infinite feed.
I hope you find this article useful, and get some idea about how you can prevent your kids from getting addicted to social media.
You can check out other articles on the blog to make your tech life easy.