Internet penetration has increased much fold in the last few years. I remember 15 years ago, when I first installed internet connection at home along with a wireless router, there were no wireless connections broadcasted in my area.
Years later, I can see a dozen wireless networks in my neighbourhood. Although Technology has improved a lot in the last decade, there isn't much development in tech.
Although we now have routers that support a more stable and fast connection, we still need to set up a couple of repeaters, if we have a big house to cover.
Thankfully there are new hardware available in the market that makes it easy to set up a wireless network that can eradicate the Wi-Fi blind spots.
And for this same reason, Wi-Fi Mesh systems are quite popular, where you get a set of hardware that is easy to install in your home.
I am currently using AmpliFi Mesh Wi-Fi Systems, manufactured by Ubiquiti Labs, from the last few months, and it has been a great experience.
Unboxing and Setting it up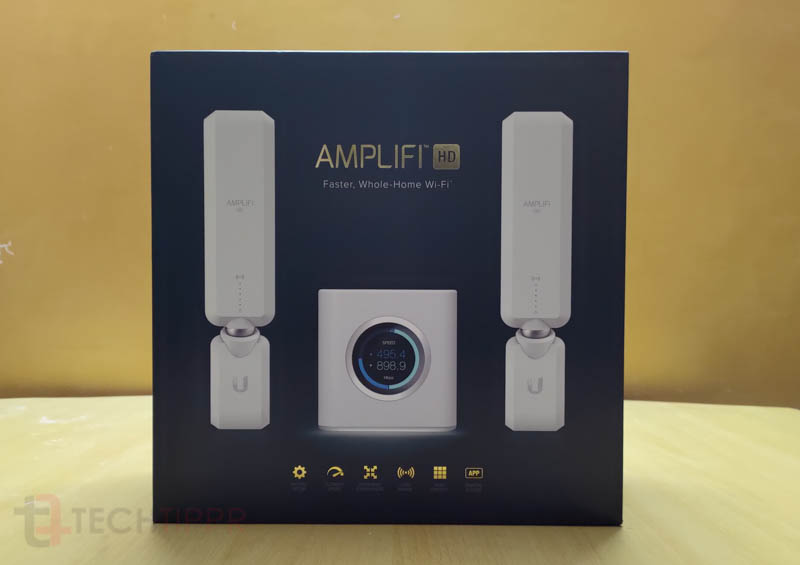 I got the AmpliFi Mesh Wi-Fi System in late November 2019, so I am using it since December.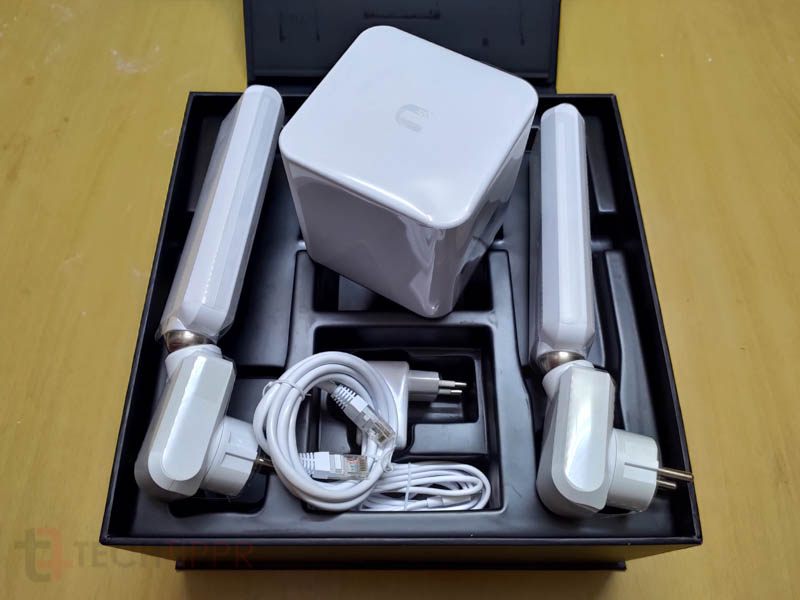 Although I don't like to include the unboxing experience in my reviews, I was quite impressed with the packaging of the device. And it was a fun experience to unbox it.
There is the router, which has a circular LCD, which is also touch-sensitive.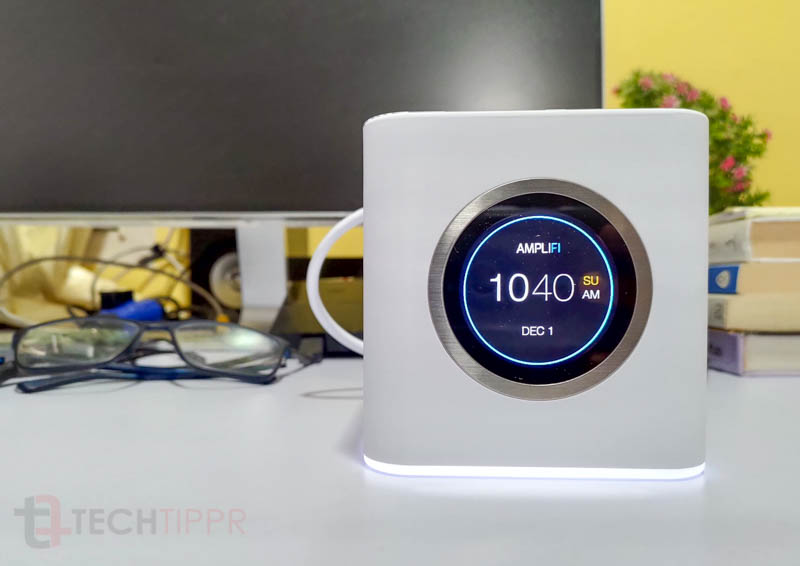 You also get a LAN cable and the USB type C adaptor to power up the router. There are two Mesh points given that can be directly plugged into the wall socket.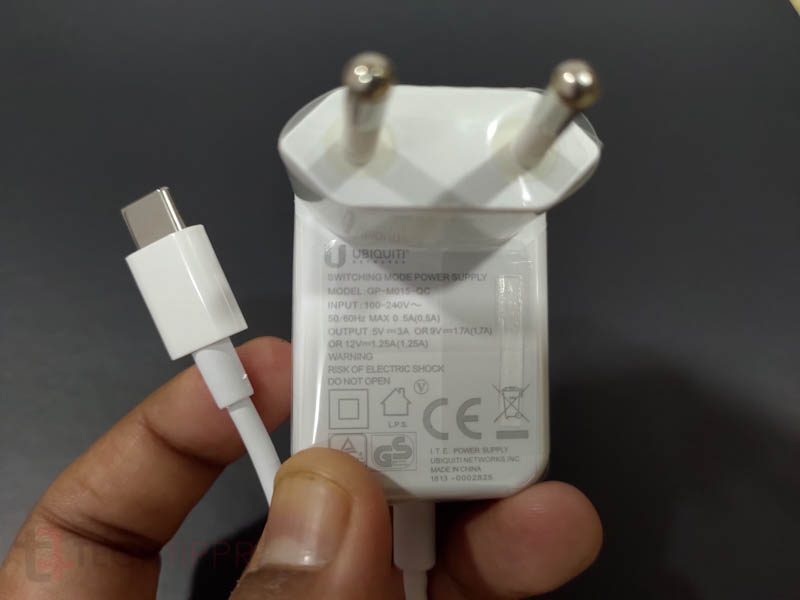 The Mesh Points have movable joints connected by a strong magnet so that you can change the angle accordingly to catch the signal from the router.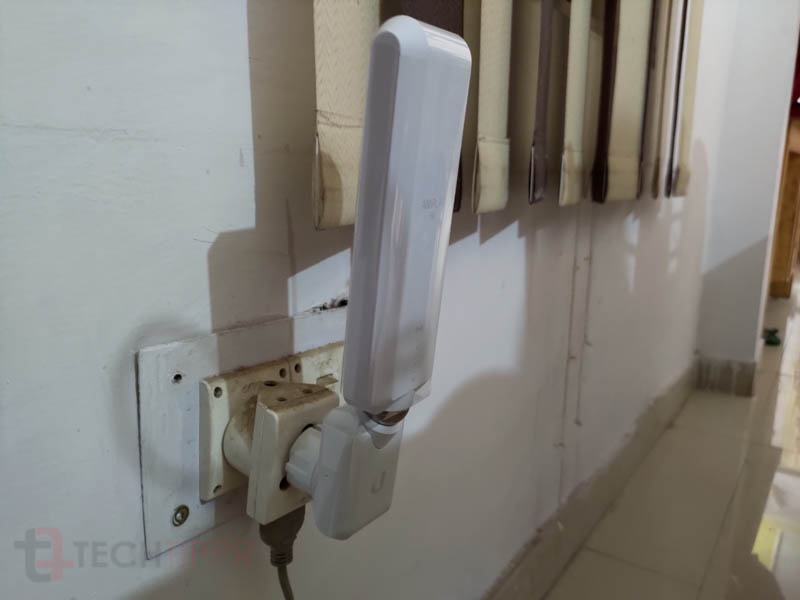 The purpose of these Mesh Points is to AmpliFi the wireless signal sent by the router. And the best thing about it is, it's a seamless experience to use these mesh points, unlike setting up the range extenders, or repeaters, where you have to link it to the main router manually.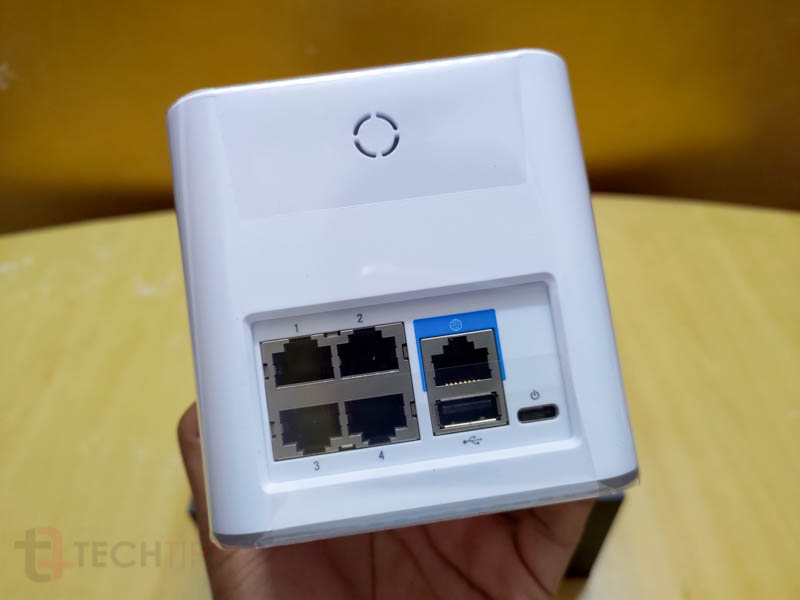 Before this, I was using the router provided by Jio Fiber, so I had to disable the SSID broadcast, connect the AmpliFi router using the supplied LAN cable, plugged in both the mesh point in distant rooms to cover my 1200 square feet apartment.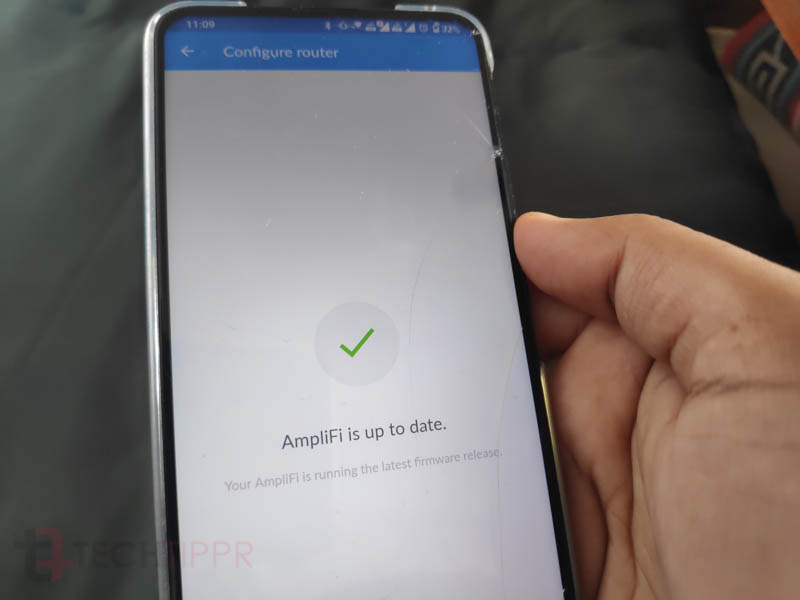 Setting up the router would require you to install the app available in the Play Store and App Store for Android and iPhone, respectively, just for the instructions mentioned in the app to set it app, which takes less than 5 minutes.
Using the AmpliFi app
Apart from setting up your router and monitoring whether your internet is up or not, and the Mesh Points are working fine, you can also so make customizations to how you want the router to look.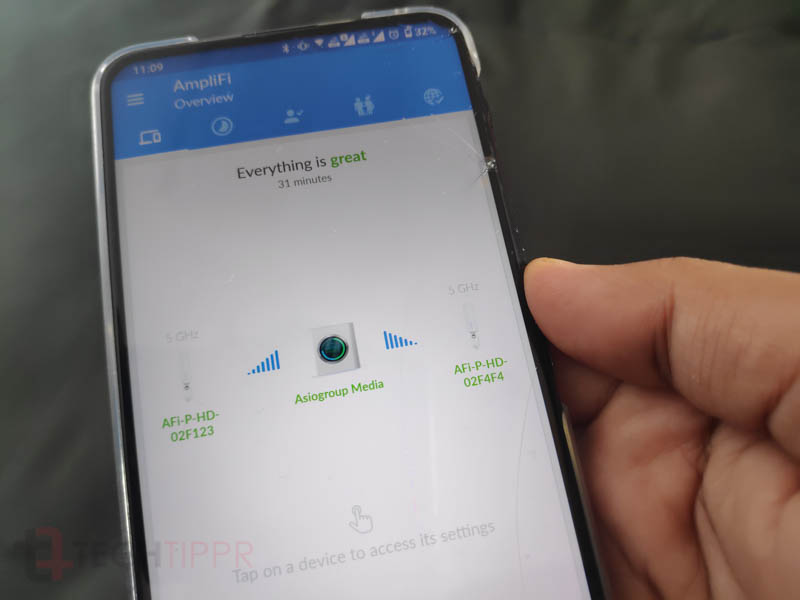 The text sensitive circular LCD panel can be used to showcase the clock, which is a nice touch because you can double it up as a digital clock on your table.
The LCD can also display the internet speed, or the number of ports used.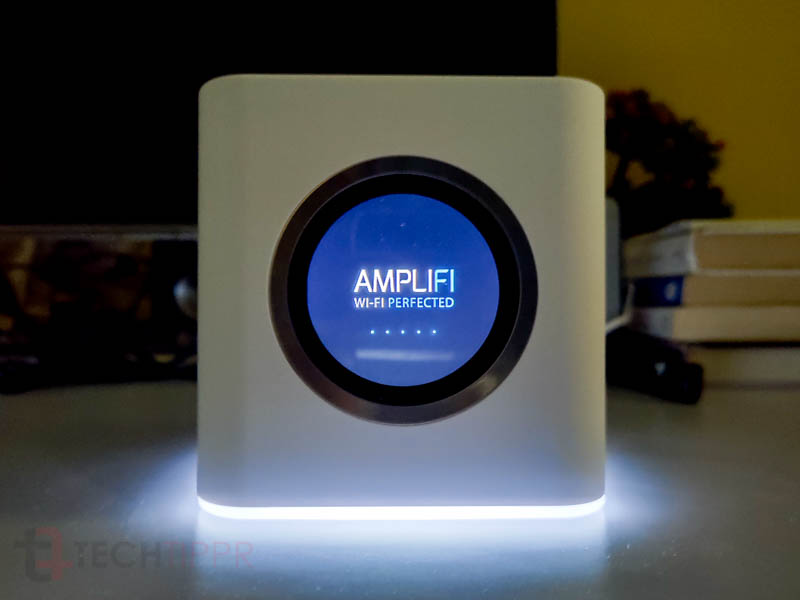 And recently, I came across one other fantastic use case of the LCD, which is updating the Router software, which can be done with just one tab on the display when there is an update notification.
The router also has got LED lights at the bottom, and you can control the intensity alternate off from the app itself, it gives it a pretty fantastic look.
The router supports both 5.0 GHz and 2.4 GHz channels, and you can broadcast both at the same time, your wireless devices will be able to connect to the stronger ones, which is pretty much everywhere in your home.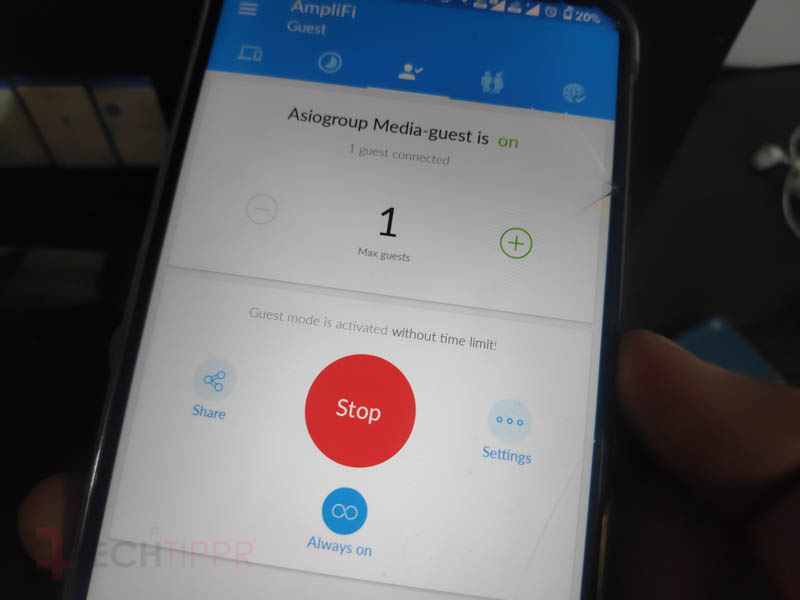 The app also makes it easy to share your Wi-Fi network with guests without sharing your password. In a separate tab, you can select the number of guests you want to allow to connect to the Wi-Fi network and choose the time as well so that it automatically turns off.
What it does it starts broadcasting a new SSID that does not require a password, but no one else can connect to it once the number of guests are connected.
And then there are other features like the app that gives you a list of devices connected to the Wi-Fi network, and it doesn't beautifully by showing you the icon about the company logo of the device.
You can create profiles where you can add members (devices) do it so that you have more control, and you can limit access to multiple devices at once.
There is another interesting feature, called AmpliFi Teleport, which will talk about it later in the article.
Connectivity and blind spots
Before using the AmpliFi Mesh Wi-Fi System, when I checked it using this speed net app, I was getting around 50 Mbps internet speed in the same room where Wi-Fi is set up, and much lower than that in the adjacent rooms.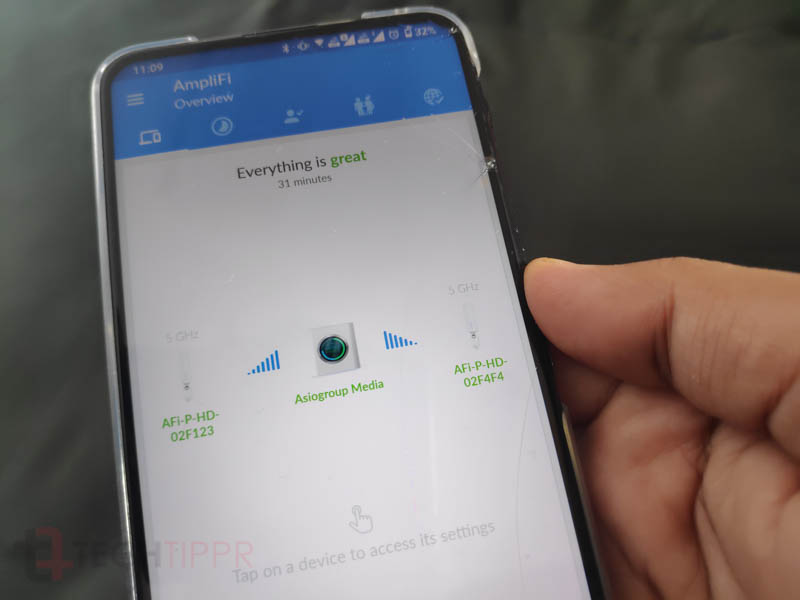 I immediately found that I was getting close to 100mbps on my 100mbps JioFiber internet plan.
And about the similar speed in adjacent rooms as well thanks to the Mesh Points.
And the balcony used to be the blind spot for the Wi-Fi network. I was getting a good Wi-Fi network, which is a fantastic thing, send since I can now also work from my balcony.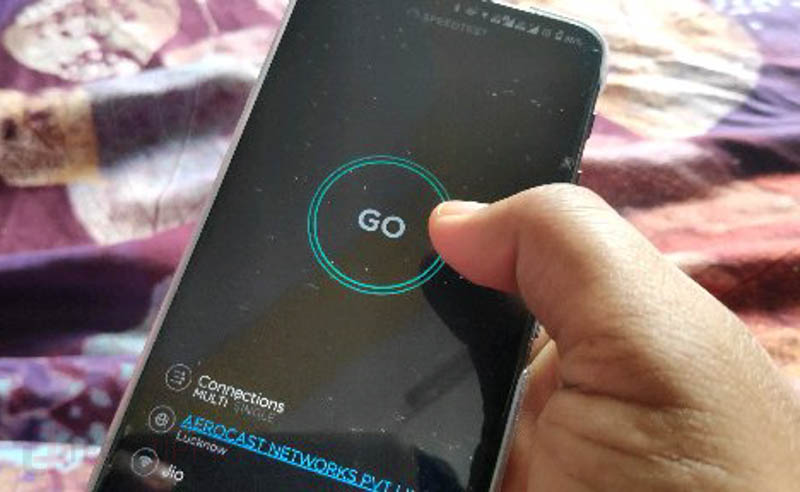 I did it speed check, and the speed was more than 10mbps, which is better because I was barely able to connect to my Wi-Fi network from the balcony.
Although the AmpliFi Mesh Wi-Fi System has many features which is fantastic to have, the purpose of Mesh Points is to remove all the blind spots and get better coverage, which this device does perfectly well.
Since I work from home, any internet is needed throughout the day (and sometimes at night), I have used it extensively, and I am thrilled with it.
Features I don't use
Although I love this router, there are still a few things that I wish would have been more simple to use.
At the back of the router, there is a USB slot, but there is no mention of its purpose. And it is confusing because the router has so many features I was expecting the USB e might be one of the fantastic features where I can connect the USB drive and then access it.
But it turns out that it currently has no function and is present there because maybe the company will do something with that in the future. I had to go and find this information proactively, and I think the company can be more specific about it or may include it in the manual.
The other feature that I didn't understand is the AmpliFi Teleport. All the description of the third-party app mentions that it gives you access to your home network from wherever you are, I tried it, but it didn't work, so I'm not sure how this works.
I tried finding the use cases on the internet, but I couldn't find any.
Price and Availability
Now coming to the price and availability of the AmpliFi Mesh Wi-Fi System, you can get it for Rs 35899/- from the Ubiquiti India Store, which has just launched in India.
The product is currently listed on their website, which you can access here.
Apart from this exact product, they have got the catalog of their entire product line up on their India store.
Under their range of Ampli Products, they also have got AmpliFi Mesh Wi-Fi System: Gaming Edition, which is priced at Rs 38,899/-,
The gaming edition product has features like reducing internet latency, which is a crucial thing on internet-based online gaming.
Should you buy it?
AmpliFi Mesh Wi-Fi System luxury product with amazing features, which is going to make you take life easy.
And there are similar products in the market, such as Google Wi-Fi system, which is roughly available at rupees 20000 (although not officially available in India), but the features offered are unmatched.
And considering the Wi-Fi systems are a one-time investment and can be a worthy addition in a smart home.