If you don't already know about one use case of Android TV, you can screen mirror your other devices to utilize the big screen.
You can either use it for viewing your mobile or laptop content on a big screen or mirror your device to do things on a bigger screen.
Watch the Video Tutorial
Things are pretty easy if you have got an Android phone, several Android TV gives you the option that is built natively on their TVs.
When both the devices are connected to the same Wi-Fi, you can go to the wireless display option on your Android device and then screen mirror on Android TV.
Things get a little tricky when you have got an Android phone because both belong to different platforms. Apple loves to limit its stuff on their ecosystem.
They do have got a screen mirror feature on their devices, but it exclusively works on Apple TV. If you have got an Apple TV, you can screen mirror your Mac Book or your iPhone or your iPad, but if you try to do this on an Android TV, it is not available natively.
Install AirScreen on Android TV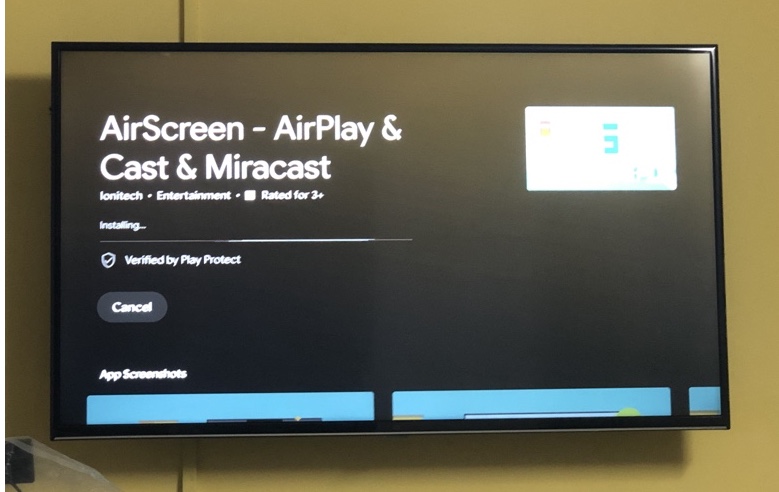 It is where third party Apps come in Play. Thankfully it is pretty easy to install a third-party app on Android TV. You can go to the Play Store and find an app called AirScreen.
The app is freely available in the Play Store; however, it is on a freemium model, which means you will see ads.
But, I found that ads are pretty minimum, and during one and half hours of screen mirroring time play, I witnessed only two ads, which can only be a script using the TV remote.
You can try the service Yourself by screen mirroring your iPhone 9 MacBook on your Android TV, and if you like it, you can get the paid subscription, which will eliminate ads.
Utilize Big Screen using Screen Mirror
There are many use cases for using a screen mirror feature. Do my best use case is to edit videos on mobile phones using the biggest screen as a reference.
The wireless connection between Android TV and iPhone is source mode that I do not find any lag while making quick edit too short videos that I want to post on social media.
Another use case would be to show photos to a group of people on a bigger screen so that you do not have to share your mobile phone with everyone.
I often use the screen mirror feature to use the 43-inch Android TV as an external monitor when I am working on my laptop I can move one tab on the bigger screen so that I can reference it without having to switch between tabs.
Once you try it yourself, you will find your use case, and you are going to love this feature.
Find more interesting articles on the blog that can make you take life easy.