If you create videos for yourself or clients, I am sure you might always be on the lookout for the best ways to speed up your workflow.
In this article, we are going to talk about one app that can make your life easy.
I am a video creator myself, and I am passionate about the process of creating videos. I am continually looking for ways to create videos faster so that I can quickly start working on the next one.
My current process of creating videos is as follows.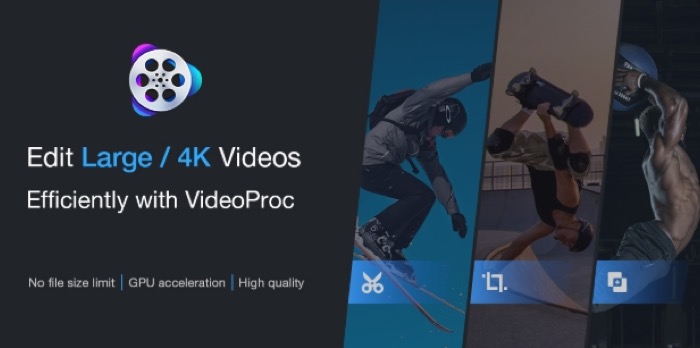 I am transferring video footage from the camera to my external SSD, which is connected to the laptop.
Then I edit my footage inside Final Cut Pro for YouTube channel.
Then I re-edit my videos for social media for suitable formats.
Sometimes the only change I have to make on the video is, use different music.
Video editors like Final Cut Pro are great, but it is not suitable for doing small edits, changing the format of the video, simple cutting and merging of files.
Plus, it takes the same amount of time for video render it takes in the first edit.\
So, I recently started using an app called VideoProc for making changes to my already edited videos. Surprisingly it is the fastest and the most efficient way to convert videos in different formats.
How I am using VideoProc for Video Processing
I am currently using VideoProc to re-edit long videos that I post on YouTube to post on Instagram. And to keep the videos in Instagram's limit of the 1-minute video.
The entire process of cutting a short 8-minute video into a 1-minute video takes less than 2 minutes while exporting time only takes 5 seconds, which makes it one of the top video cutter available for Mac and PC.
The exported video can be found in the output folder. The default is user/Movies/Mac Video Library on Mac. You can change the output folder from the settings area.
I have to cut the portion of the video I want to keep and then merge the multiple clips I have cut from the main video.
It is probably the main reason I choose VideoProc to cut my long videos short because it takes so little time to export the video.
How VideoProc Converter is rendering Videos so fast?
When I converted a 1.5GB 360 video into MP4, and it rendered in just a few seconds, I was pretty curious to know how VideoProc can render video so fast.
On their official website, I came to know that it takes advantage of the GPU of the computer rather than only the CPU.
There are many full-fledged video editors out there that are not letting you do that, which makes exporting videos pretty slow.
Although video editors like Final Cut Pro in Adobe Premiere Pro have started utilizing GPU for video encoding, it is still not comparable to VideoProc.
Maybe because this software is quite resource-intensive and has to do a lot of things, while VideoProc is quite lightweight.
Other Best Use Cases for VideoProc as a Video Processing Software
There are only a handful of software that I would call a must-have, and the reason VideoProc is an all must-have app for video creators is because of its other features.
Convert DVD Files and Back up
Another feature is that you can copy DVDs and convert the files into different formats. There is a collection of DVDs lying around which you want to transfer to a hard drive.
I haven't used this feature since I have based DVDs a long time back.
Download Videos from the Internet
But the downloader feature is something every video creator can utilize. It allows you to download videos from the internet.
I download videos from YouTube, Facebook, Instagram without any issues, and I am sure there are other platforms as well from where you can download videos.
The best part is that it gives you an option to select the output you want from the selected video. You can choose only to download the audio in MP3 from the video.
So, with the help of VideoPro, you can download copyright-free music available on YouTube. To save time, you can copy the link of a playlist, and it will list out all the videos in that playlist, which can be downloaded with a single click of a button.
Record your Computer Screen
There is a feature of recording your computer screen and using the web camera of your laptop to record your face.
It is pretty useful for recording screencasts for tutorials, which can be edited within the VideoProc app itself.
Videoproc as a Video Editor
If we compare it to traditional video editing software, VideoProc is much easier to use and offers a more streamlined editing experience. Its interface is intuitive and straightforward, making it easy to navigate and use all of its features.
Additionally, VideoProc offers real-time previews, which means you can see how your video will look as you edit it. Overall, VideoProc is an excellent choice for anyone looking for a user-friendly video editing software that offers powerful features.
Some useful features in the Video section
We have already talked about some of the features of the video section in the article above. But there is more to it.
VideoProc lets you cut, merge, and convert videos while also giving you options like adding watermark, effects, Subtitles, Rotate, and Crop.
Unfortunately, VideoProc only supports soundtracks removal and video audio sync. If you need to add audio tracks to video, you can do that using Windows Movie Maker or ShotCut.
Split Videos for Stories
This feature is available inside the video section under the Toolbox.
You can split the long video into small parts. You can select the duration of the split clips. This is also helpful for splitting videos for posting on Instagram Stories, or WhatsApp Stories.
If you happen to share a lot of your content on stories as well, this is an excellent feature to do just that without needing to install any other app.
There are many other features available in the app which I am not using. However, they are still there if users do not have these features available on their video editing software.
These features are, creating a GIF from video, extracting audio from Video, Deshake, and Denoising.
Download and Try VideoProc
The app is free to use with the limitation of converting a 5-minute video. It is quite sufficient to use it a few times and find if it adds value to your workflow or not.
You can easily use its other features of downloading videos from Facebook, Instagram, and YouTube, extracting audio, or splitting the videos.
To remove the 5-minute video limit, you can get the paid license for $29/year, or $42.95.
Frequently Asked Questions  About Video Converter Software
Are there any tools to upscale 1080p to 4K?
Yes, VideoProc offers video upscale feature to upscale 1080P to 4K. It is a one-stop video editing software that allows you to edit, convert, resize, and adjust largely or 4K videos, audios, and DVDs easily
Does converting MP3 to FLAC improve quality?
No, converting MP3 to FLAC will not improve the quality of the audio file. This is because MP3 is a lossy file format that results in compressed audio and some distortion. Although FLAC offers lossless audio quality, converting a lossy file format to a lossless one will not restore the lost audio data
But, FLAC is worth considering for music collectors who value high-quality audio and have the storage space to accommodate the larger file sizes. VideoProc is a one-stop video editing software that allows for easy editing, conversion, resizing, and adjustment of largely or 4K videos, audios, and DVDs. It does offer a video upscale feature to upscale 1080P to 4K
How to extract the audio track from videos using VideoProc?
Here are the steps to extract audio track from videos using VideoProc:
Launch VideoProc and click "Video" on the main interface.
Click "+Video" to import the video file from which you want to extract audio.
Click "Codec Option" and select "Audio Only" from the drop-down list.
Select the output format for the extracted audio track (e.g., MP3, FLAC, WAV, etc.).
Choose the destination folder where you want to save the extracted audio track.
Click "RUN" to start the extraction process.
Once the process is complete, navigate to the destination folder to access the extracted audio track.