Privacy is something which is a big concern these days. With the increase in the use of smartphones in everyday life, almost every one of us have got so many things loaded on their mobile phones that it is their most important belonging that they keep with themselves all the time.
This is why mobile companies have been offering different layers of security. It started with a simple pattern lock, then we got fingerprint sensors on mobile phones, now we have got the Fcac-unlock, eye-scan and even retina-scan.
But, you will still find people trying to get into your smartphones, be at the not a kid at home or some relative or even friends.
Even if you have a rather strong security layer, it would be interesting to know who these people are who are trying to get into your smartphones.
Fortunately, every smartphone has got a front camera, and you can install some apps that will click photos of people who will try to unlock your phone but fail.
So that you can keep your phone's secure when these people around.
Lockwatch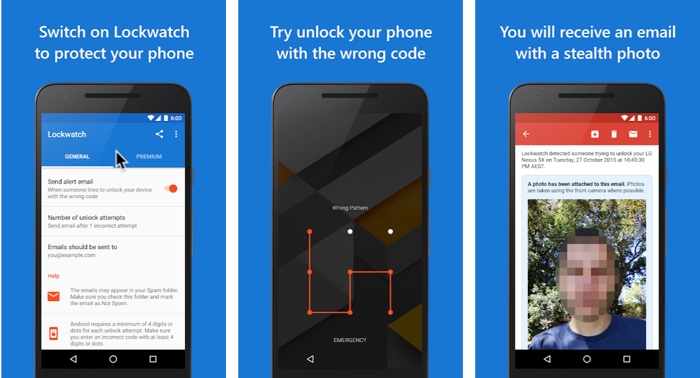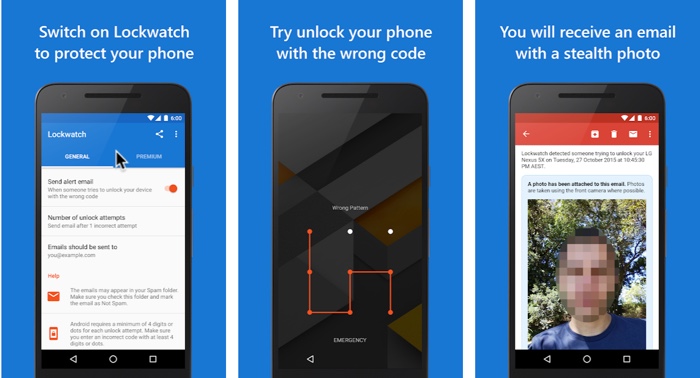 This app is really easy to use, you just have to install and enable it and type in your email so that the app can email you the photo of person who tries to break into your smartphone.
Install the app from the Play Store and follow the instructions after installing to set it up.
Make sure you use the most updated email address or the one that you use on a regular basis.
In the app, you can also so set unlock attempts, suggest two or three or maybe four before the app takes a picture of the person.
Because if you like me you might fail to unlock your smartphone every once in a while, where you would require at least two trials to unlock the phone.
Intruder Selfie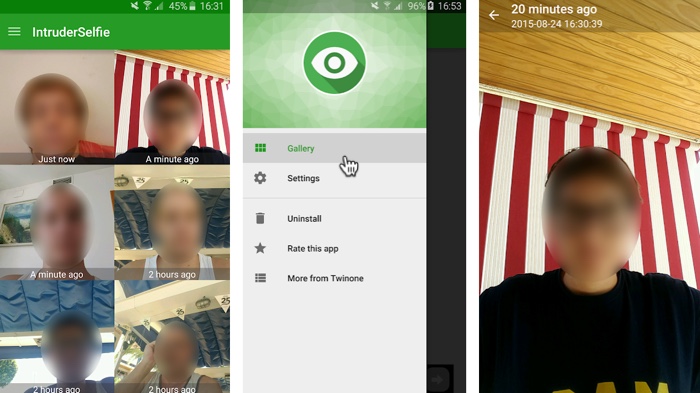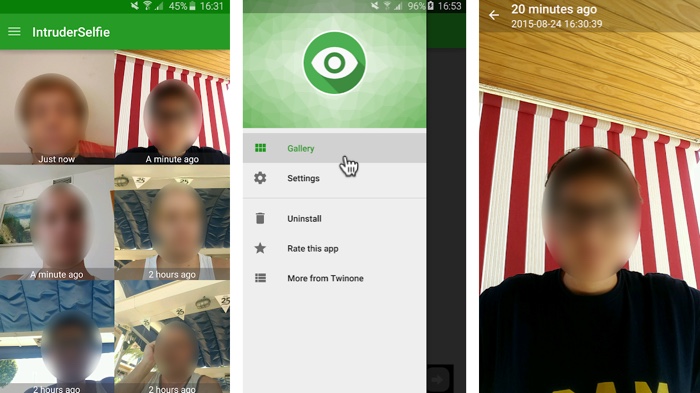 Intruder selfie is another interesting app that you can install from the Play Store.
This one also works pretty much like the Lockwatch. Install, set up, and you are done. Next time someone tries to unlock your phone and fails you will surely know who that was.
Crook Catcher
App developers are really creative when it comes to naming their apps. This one is named Crookcatcher.
So the app already assumes that the person who tried to get into a smartphone is a crook. Well let's not criticize it too much because the functionality is what we require.
And it surely get the job done.
Who Tried to Unlock
Well, this app developer wasn't too creative when it came to naming his app. So he decided to name it Who Tried To Unlock, pretty self explanatory, which is a good thing.
It works like other apps in the list. You have to install it from the Play Store then Follow the instructions to set it up.
Hidden Intruder Selfie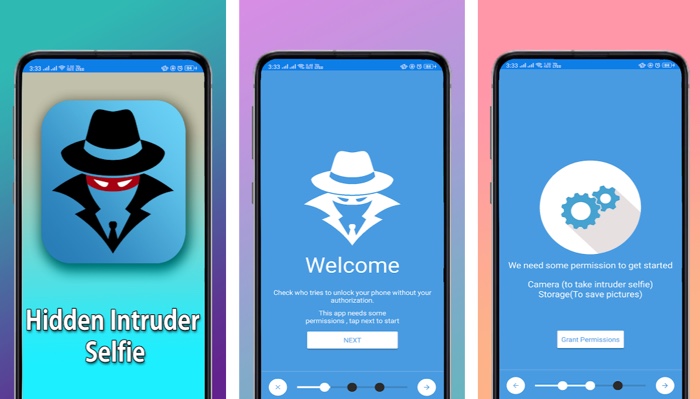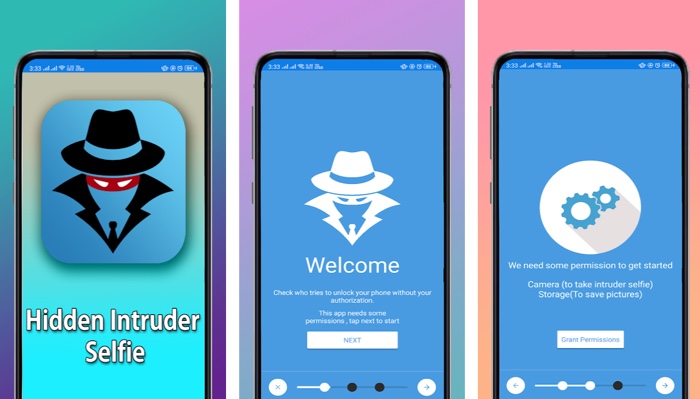 There is another app which is called hidden Intruder selfie. The app is pretty new and is also lightweight and has got over 10,000 installs, at the time of writing.
Most of the reviews of this app are good, which means this is working for a lot of people
The process of setting it up is same, just install it from the Play Store then follow the instructions.
All these five at that I mentioned in this list will require device administrator access so that they can no when there is a failed attempt to of unlocking your smartphone so that they can Trigger and take a selfie.
The app needs to be running in the background all the time so if you have got a saver mode turned on or any kind of AI in your smartphone that conserve battery the app not work at sometimes if it has been killed in the background.