These days pretty much everyone uses social media to consume content. And since all the social accounts have made it easy to post content, a lot of us have this urge to post photos online.
We are literally living on the internet. Especially in this current situation where everybody is locked down in their homes and the Internet is the only way to interact with the outer world.
We have smartphones with amazing cameras and social media apps offering filters to TV cover photos so that they can look good, good you can take an extra step by using a photo editing app on your mobile phone to give that extra wow factor to your photos.
In this article, we will be discussing some of the best photo editing apps both for android and iPhone so you can pick one for yourself and Spice up your photos.
1. Snapseed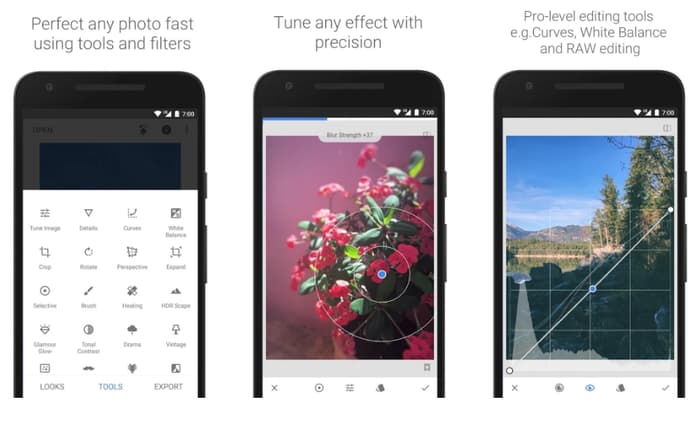 This would be my number one recommendation for both iPhone and Android. It is free. E and since it is from Google, it is done pretty well.
It has some really amazing features some of them are used on a regular basis.
I love the hidden feature which lets you remove objects from your photos that you do not want to appear. It was pretty flawlessly.
The other feature that I like about Snapspeed is to extend photos. Although it does not work every time it has been helpful in many situations where I need to expand the Canvas for better framing of the photo.
Then there are features like the curve tool that lets you precisely manipulate the colors of the photo. There is also some amazing filter is that even choose from for your photos.
2. PicsArt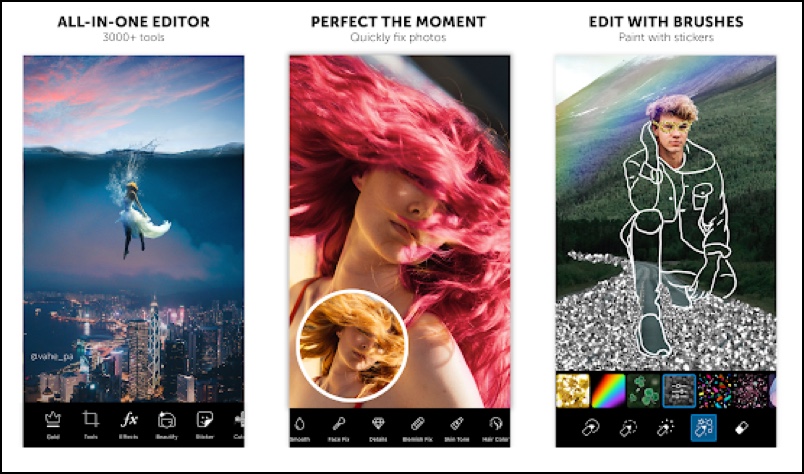 My second recommendation will be the PicsArt app it is also available for both iPhone and Android.
The app is the premium base which means the free version is ad-supported and you can get rid of Ads and get more features if you buy their monthly subscription.
The subscription also unlocks some premium features but if you want to use the free version, it is still perfect for light manipulations on photos.
It has got a passionate community of photographers who are taking advantage of the app and you can get inspired by their creations as well.
And it is one of the most popular mobile apps for photo editing for which you will get a lot of tutorials on YouTube as well.
3. Adobe Photoshop Lightroom
This one is from Adobe. And if you have ever used Photoshop Lightroom on your computer you are going to love using the Adobe Lightroom CC app on your android and iPhone.
The best part I like about the Adobe lightroom CC mobile app is that you can save you presets that you can apply to your photos for quick manipulation.
Custom presets are a lifesaver for photographers who use Adobe Photoshop because you can get your presets to use them on your mobile so that you can quickly color grade your photos before posting them on social media.
I have created some amazing color grading presets on my computer and I was able to use them on my mobile phone as well. And those color grading effects are pretty unique which is not available in any other mobile app.
4. Canva
The reason I love the canvas app is that it is the best Graphic design app available on mobile, and makes your job easy to create content crafted for Instagram Facebook and other social media sites.
You can either pick from already hand-picked and beautifully crafted templates, and make small edits use them before posting on social media or we can start from scratch.
Just pick the size of the Canvas you want to use and then start creating your graphic. The typography available on canvas is on. And hands down the best one that I've ever used on a mobile phone.
And since I am a Canva user on my computer as well I have got a lot of templates that are easily accessible on mobile phones to the Canva app.
5. Adobe Spark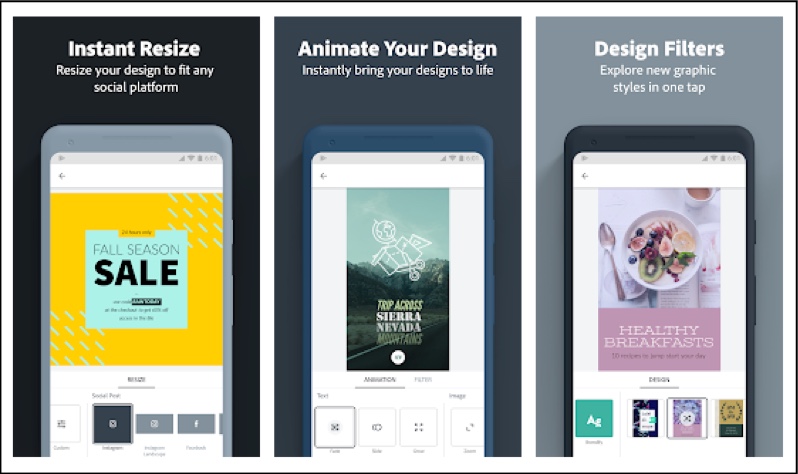 Alto Canvas also offers animated Graphics for social media posts and stories, Adobe Spark takes it to another level.
The best part is that the preset tools make it easy to speed up the process of creating stunning visual stories.
Using Adobe Spark will take your stories game to the next level be if Instagram stories or Snapchat stories.
All the apps mentioned in this article are available both for Android and iPhone.
Just a few years ago people had to have a computer if they wanted to post the professional quality photos on their social media. But mobile apps have made it super convenient and have to speed up the process of creating content, that is worth consuming.
You will find plenty of other photo editing and graphic creating apps on both the platforms (iOS and Android), but these are the ones that I have on my phone after testing a bunch of them, which was pretty time consuming since I had to use them for a significant amount of time so that you do not have to.