The good news is, if you're running Windows 10, 8 or 7, you don't have to worry about upgrading because the update will be free for these devices.
So now it's time to make sure your PC is ready for the new OS by doing these ten important things before updating your device.
The best way to avoid any potential issues is to take a few precautions before upgrading to Windows 11.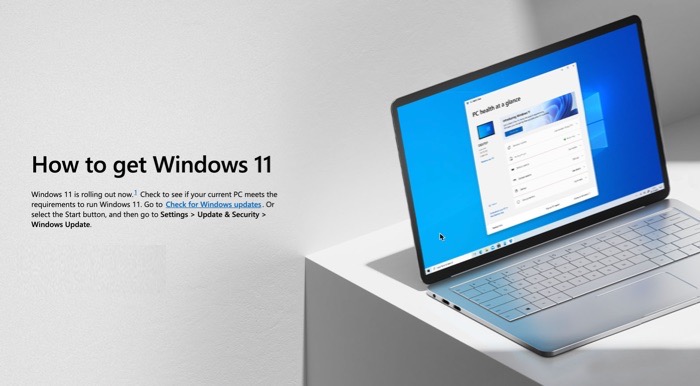 A few of these include:
Checking compatibility
It is the first thing you should be doing when you are upgrading to a new operating system. Although the requirement of Windows 11 is pretty basic, Microsoft is bringing a new operating system after many years.
And if you haven't upgraded your hardware in the last few years, you should give more importance to the compatibility check so that you understand it is the right time to upgrade to Windows 11 and all your things will be working properly.
Processor: 1Ghz or faster.
RAM: 4GB minimum
Storage: 64GB or more
You can check out the full requirements for Windows 11 on this official page.
You can also use Microsoft's PC health check app which can be downloaded from this link. It will give you a report telling you if your computer is compatible to upgrade to Windows 11 or not.
Backing up your data
Backing up your data should be number one on the list after your device's compatibility check. Whenever you are trying to upgrade to a new operating system,
Although the upgradation process has become seamless over time, you still shouldn't take risks for your data.
There are so many options available these days if you want to back up your data using a cloud storage service, but I recommend using a hard drive or an SSD.
Keep your Microsoft account ready
Microsoft has bought two versions of Windows 11. The windows home edition is free to upgrade, but you would require your Microsoft account.
So make sure you have access to the password of your Microsoft account.
Stable Internet connection
If you are upgrading a computer from Windows 10, downloading the windows 11 OS from Microsoft servers.
And for that, you would require a consistent internet connection so that it does not fail. Avoid using mobile data on public Wi-Fi for a weak Wi-Fi connection.
Put Laptop on charger
Operating system installation is a resource-intensive task, and your laptop requires a lot of power. If it is on battery, it is going to suck in battery a lot faster.
So, to prevent any mishappening make sure your laptop is connected to the charger.
Learn about the new features in Windows 11 and how to upgrade