Speech to text can be a great productivity booster. I have been using speech to text for writing 3x for several years. Voice in Chrome extension is my secret weapon. But I was amazed with the quality of output whisper AI is able to give.
In fact, I'm using a desktop app for Mac computer called MacWhisper and the transcription is amazing. But but it adds several steps to my workflow.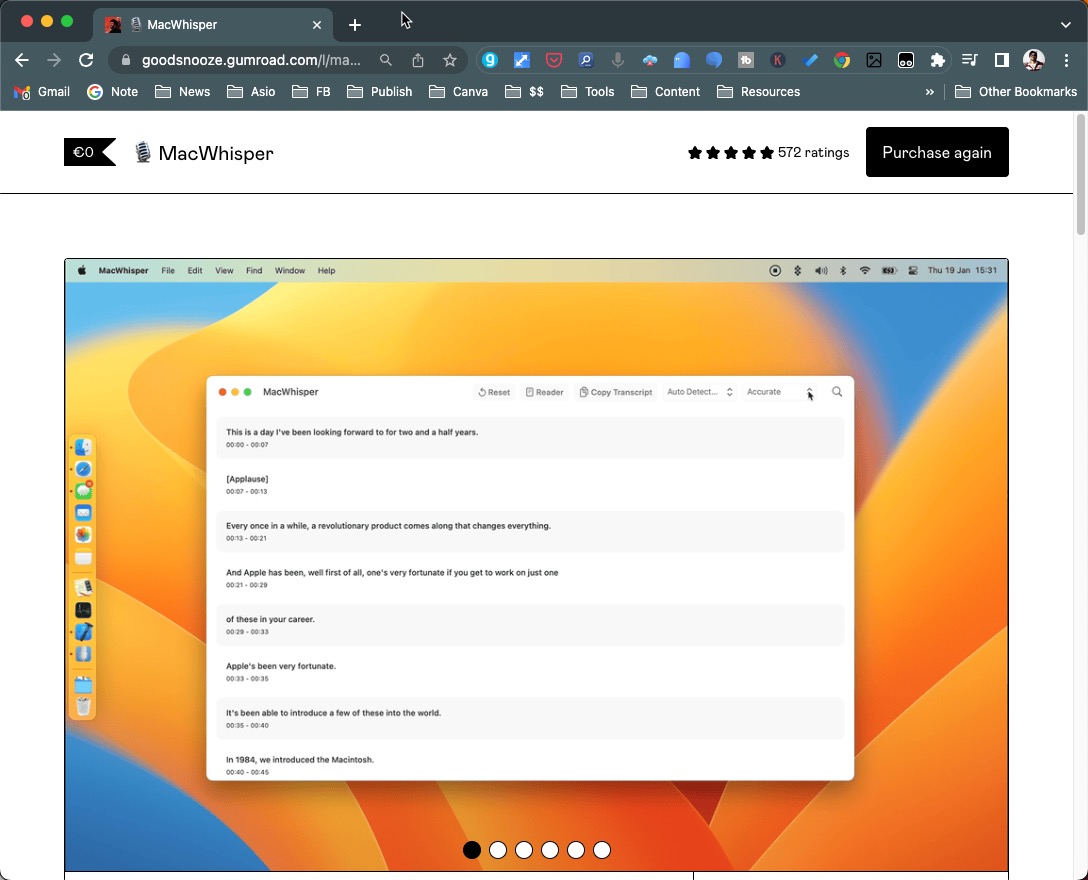 If I have to use MacWhisper to write something, I have to speak into the microphone, then get the transcription, copy it and then paste it wherever it is required.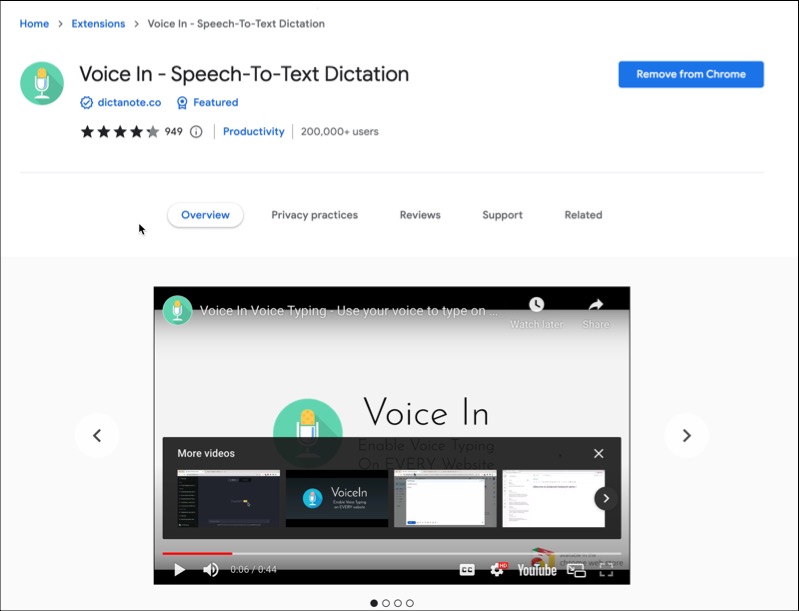 While the VoiceIn Chrome extension lets me activate it using a keyboard shortcut. Speak into the microphone and it automatically inputs the text into the text field, which makes it convenient to write articles, emails or reply to social media posts.
Whispering Chrome Extension
Finally, I found a Chrome extension that uses Whisper AI by letting you use your own OpenAI API key. It is pretty much similar to the VoiceIn Chrome extension with a bit of a difference.
Unlike the VoiceIn Chrome extension, which works on Google's speech to text API, the Whisper AI requires the entire audio clip to process, so that it can give a better output.
I feel  the VoiceIn Chrome extension is still great for replying to tweets or social media comments or even quick one liner emails. While this new Chrome extension that uses Whisper, can be used for writing long form text, be it a formal email or blog posts.
Download Whispering from Github.
Currently it is not available in the Chrome Web Store, but you can download it from GitHub. The updates to the Chrome extension is quite frequent and hopefully it will be available in the Chrome Web Store soon.
The author of the Chrome extension also has a desktop app to offer, which works quite similar to the MacWhisper app. But I would still prefer Mac Whisper.
How to Install and Use Whispering Chrome Extension
To install the Chrome extension not available in the web store, first download it from GitHub using the link provided at the end of this article. Extract the zip file and open your browser's extensions page, accessible either through settings or by typing "chrome://extensions" in the address bar.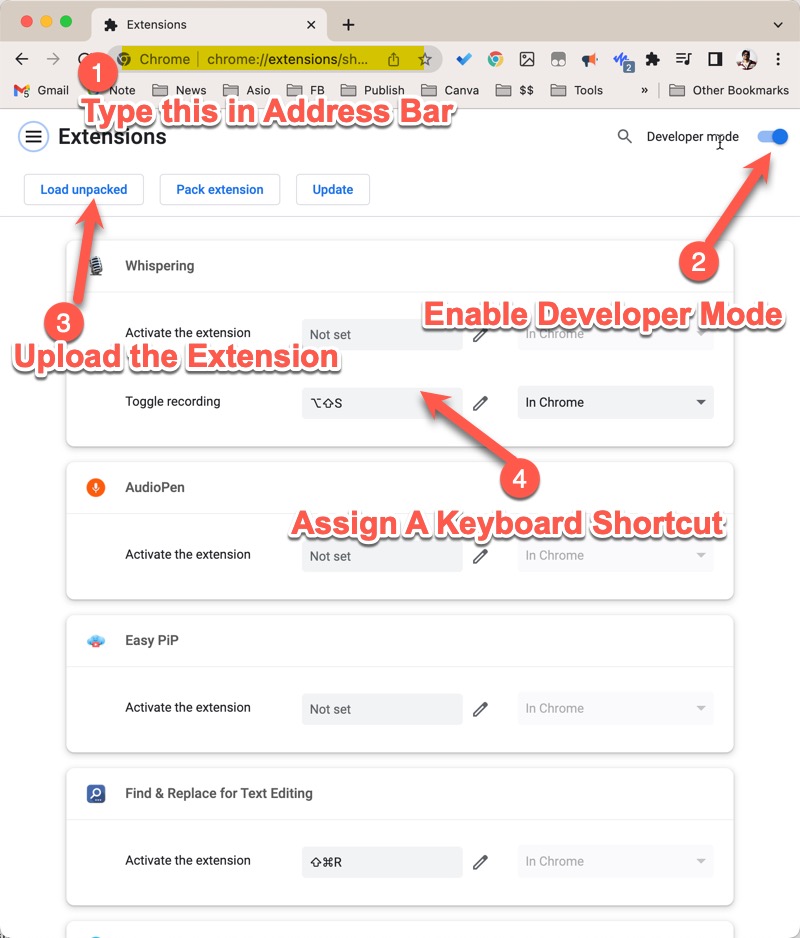 Enable developer mode by clicking on its toggle button located at the top right corner. Next, click "Load unpacked" and navigate to where you extracted the extension folder. Select it and press OK to add it to your Google Chrome browser. If needed, pin its icon for easy access.
Upon installation, a settings page will open where you can paste your OpenAI API key obtained by creating an account on their website—new users receive free credits lasting several weeks. Once added, you're all set.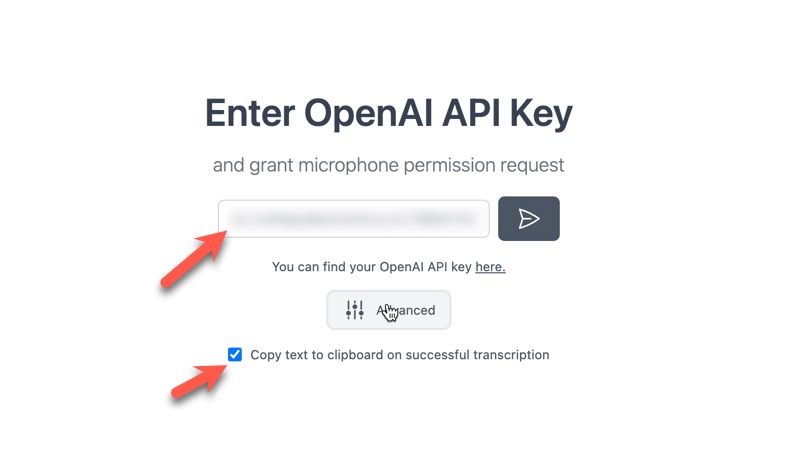 If desired, create a keyboard shortcut for toggling recording: go back to extensions page > click hamburger icon (top left) > select Keyboard Shortcuts > set custom shortcut for Toggle Recording option.
Download my Shortcut, Dictation Pro for iPhone
Also, if you are looking for a similar kind of tool for your iPhone, I have created an iPhone shortcut that uses Whisper AI to transcribe text perfectly.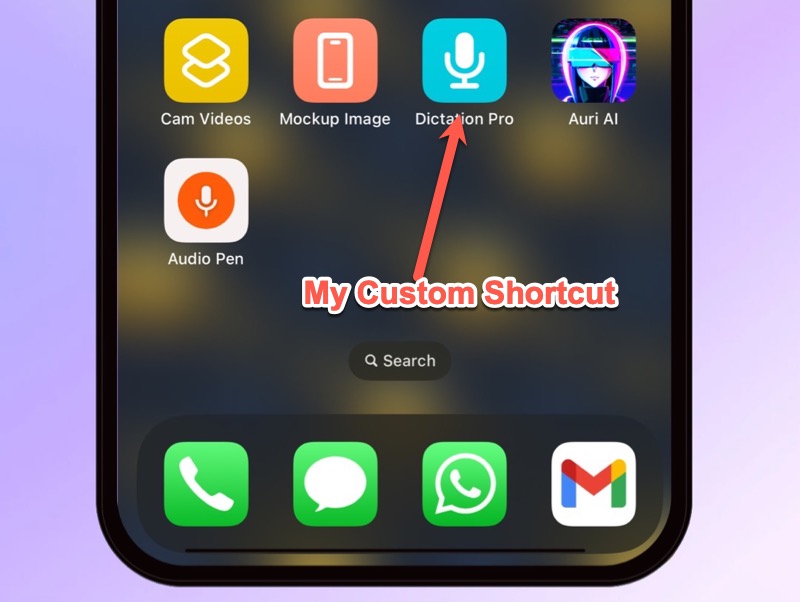 In fact, my custom shortcut, which I have named Dictation Pro, will automatically fix grammars and typos to your transcriptions using Chat GPT and then save it in Notes app, which is remarkable, as you will be able to use your iPhone as a productivity tool and note down your ideas whenever you are away from your computer.
And about the Chrome extension, you can use both the voice in Chrome extension for quick voice typing as well as this Chrome extension called Whispering, which will let you transcribe longer audio files. You can download them from the links below.
Part of the article was written using the Whispering Chrome Extension, and part of the article was written using the VoiceIn Chrome extension. I'm still getting a hang of it because the Whispering does not show you your transcription and it also does not automatically enter the text in the text field, but it is more accurate than VoiceIn chrome extension.
Download Whispering Chrome Extension
Download VoiceIn Chrome Extension