In's been just over a month since Windows 10 has been launched and it's already been installl on millions of PCs around the world.
But few people noticed (and were not happy with it too) that Microsoft has tools inside the Windows 10 that is trackign the activity of users in the name of making their computing experience better, however in reality, it will benefit Microsoft in targetting users to promote their (and their partner's products) to the users.
And that is the point that is stopping them from installing Windows 10 to their devices.
But now, it turns out that Windows 10 is not the only OS that is tracking the user's activities. Other OS like Windows 7 and 8 have got updates that track the users activities.
Updates in question are →
3068708 → Update for customer experience and diagnostic telemetry
3022345 → Update for customer experience and diagnostic telemetry (This update has been replaced by the 3068708 update)
3075249 → Update that adds telemetry points to consent.exe in Windows 8.1 and Windows 7
3080149 → Update for customer experience and diagnostic telemetry.
Sounds scary? it isn't actually, everyone from Google to Facebook to Yahoo tracks you to understand you better and show you the ads you might actually be interested in, but then again, it's totally your choice whether or not they should be allowed to target you and you should definitely be given a choice no matter what.
How to stop Windows 7 and 8 from Tracking you
The best thing would be to avoice these updates and not install them at all, as you already know the updates in question, you can choose not to install them.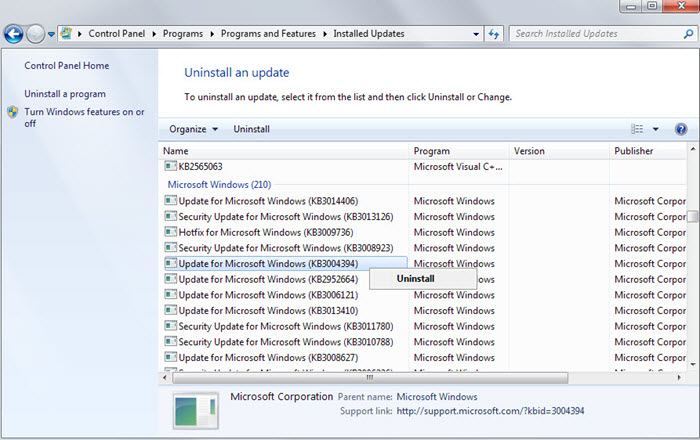 If you have already installed them, you can still uninstall them manually by going to the Windows Update section from Control Panel and choose these updates to remove by right clicking on each of them one by one.
Control Panel ➤ Programs ➤ Programs and Featurs ➤ Installed Updates 
If is possible that the update may get downloaded and installed again if you have chosen Automatic Updates to the Update settings, so you need to block these updates from appearing again.
You can block the updates after unstalling them, loacte the updates in the list of available updates and hide the updates by rightcliking on it and selecting 'hide update'