There are many situations where you would want to record what's happening on your screen.
From helping your relatives troubleshoot their computers, to uploading Tutorials and Gaming videos on YouTube, you need a good app that lets you record your screen.
In this article, I am going to list out some of the best screen recording software, that is also free to download and use.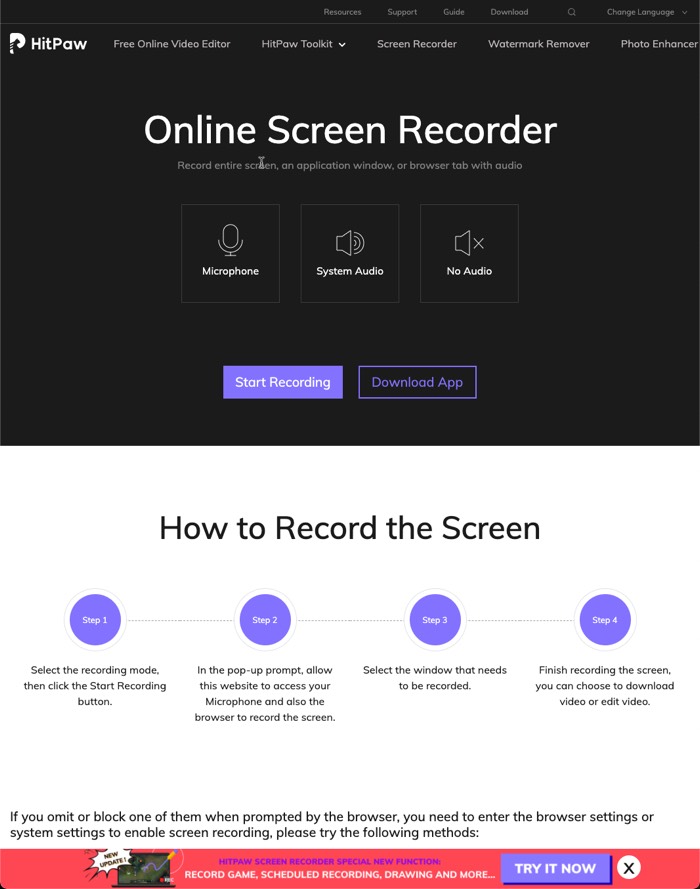 First on the list is HitPaw, an amazing screen recorder. The amazing thing about it is that it is a no-hassle screen recorder.
This online screen recorder does not require any download, you can access it right from the website.
Unlike many other online screen recorders I have tried in the past, it also lets you record any application window on your computer screen. I run a dual monitor setup and it recognized both the monitors.
Once you are done recording, you can trim the clip right inside the browser, or maybe turn it into a GIF.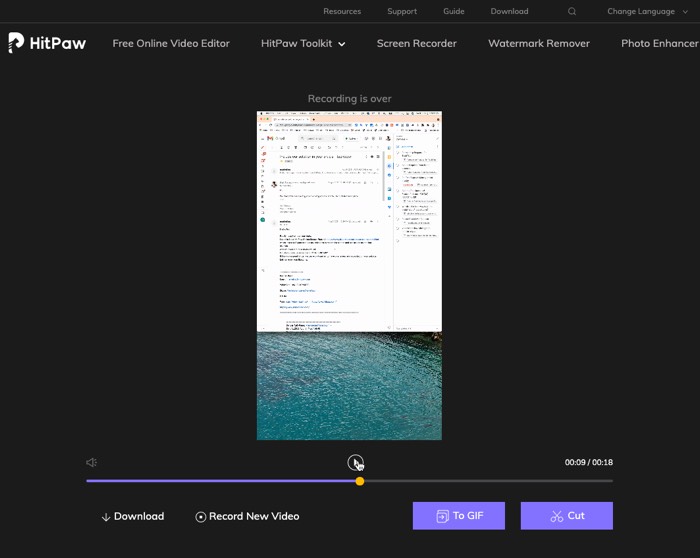 Although this article talks about Free recording software for Windows, the Hitpaw online screen recorder can be used on any platform, including Chrome OS, since it can be opened in a browser.
And if you want to edit those recording videos iMovie is one the best video editing
app for your pc. And now you can use iMovie on windows pc as well with a
certain method.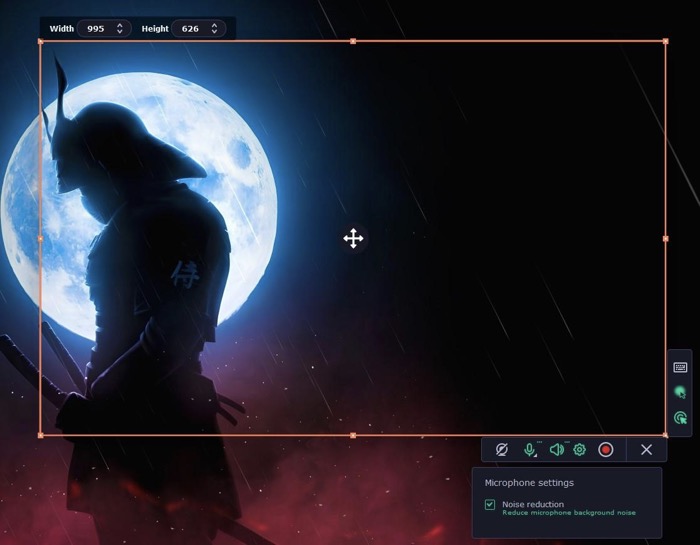 Do you need to record an upcoming webinar, capture an important video call or show your viewers and friends how to use a particular program? This software does it all and much more.
With Movavi Screen Recorder, you'll quickly learn how to record a video from your computer screen or take a screenshot: capture the full screen, any region or application window, add a webcam and microphone, or record audio-only.
You can enhance your videos with on-screen drawing, mouse highlighter, cursor effects, and more. It's also possible to trim your recordings afterward and save video in any popular format or upload it to YouTube or Google Drive right away. The cherry on top is the ability to schedule a recording task in advance, so you don't miss any essential event.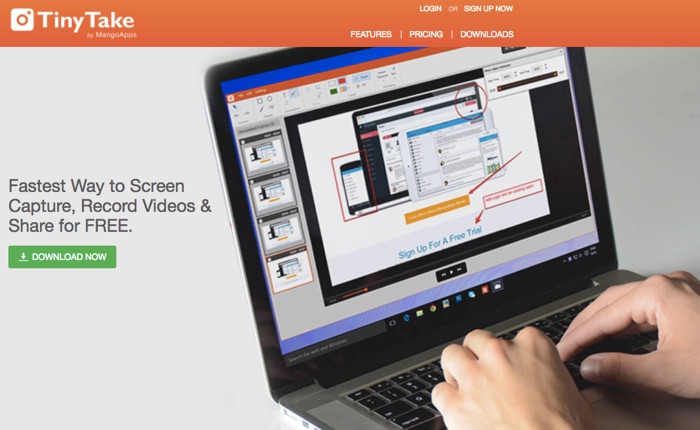 Tiny take is another free screen recording tool and screenshot capturing tool that is available for both Mac and Windows.
The free version lets you record up to 2 hours of videos in length.
You can also edit the videos, add some basic texts if you want to using its built-in annotation tool.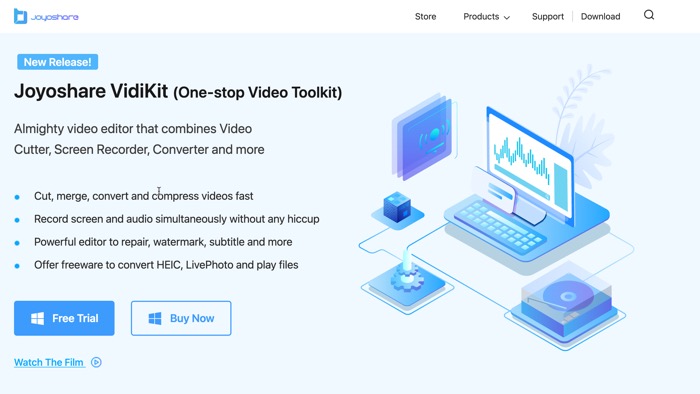 Joyoshare VidiKit is a lightweight, multifunctional screen recorder software, you can select the capture area as you want on the computer screen, and record both internal system audio and external microphone losslessly.
There are many formats available for you to choose, such as HD MP4, AVI, FLV, SWF, WMV, MKV, MOV, etc. It supports 4K and 60 FPS. You can also choose the highlight cursor when you are recording. Apart from Recording zoom meeting without permission, you have right to apply it to record video chats, lectures, games, etc.
Moreover, VidKit from joyshare is not just a Screen recording app for Windows & Mac, but a video toolkit with multiple other features such as cutting, merging and converting videos formats without losing quality. In a word, it is a very good video toolkit to meet all of your video needs in a professional way. As it's powerful features, it is free, but with a watermark.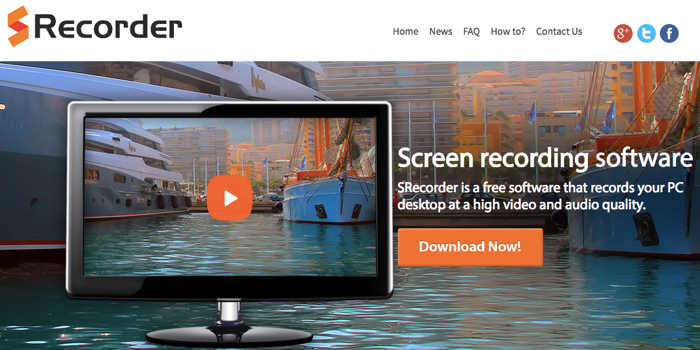 S Recorder is another free software for Windows that lets you record the screen along with the audio.
Its simplicity makes it a perfect tool for creating short videos easily on your computer.
This app is pretty neat for creating screencasts, has a pretty solid built-in video editor for directly editing the recorded screen, making some changes to it, and then uploading it on YouTube.
You can also import videos from your computer and mix them up to create a nice-looking video.
And yes, this one is also free, you can download it from here.
As the name suggests, it's a free screen video recorder for Windows.
It is also a screenshot capture tool, that allows you to easily record your screen.
The images can be saved in many different formats. Apart from the usual .jepg and .png, it also has support for BMP, GIF, TGA, and for video, it supports MP4.
8. Jing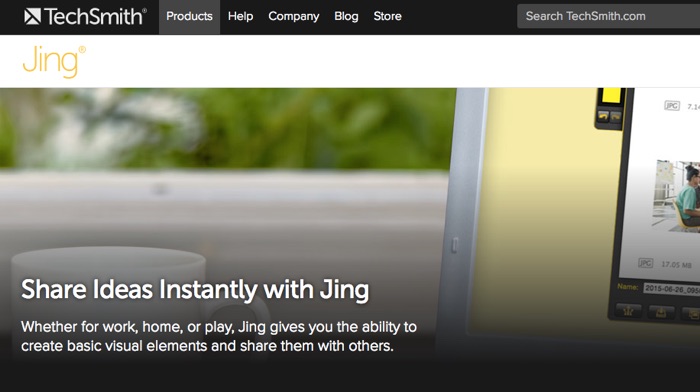 Jing makes creating short tutorials for friends and family easy.
You can use it to create a short video to teach something how it's done, whether it's social media, uploading photos to Google, Facebook, attaching files to email, or using a particular website.
You can download it from the official TechSmith site.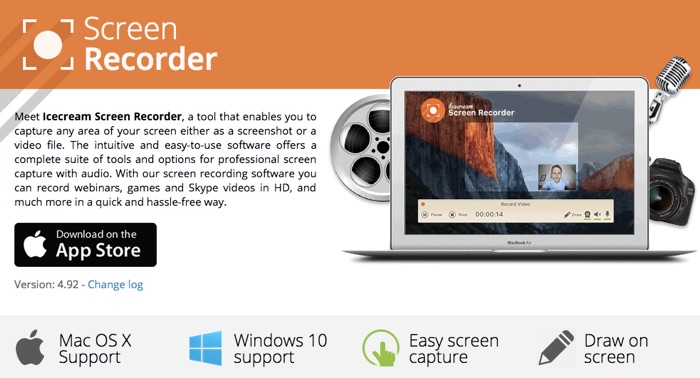 This software for recording your screen is clean and lightweight and is also a feature-rich app.
The free version offers almost everything for you to make short videos, it also offers premium features that can be enabled after paying a fixed amount.
I've tried quite a few apps from Icecream, like their password manager, their apps are pretty nice for the price, which is zero, to start with.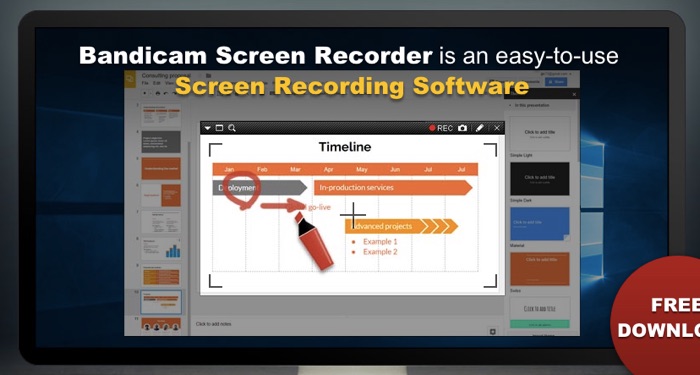 Here is another free alternative to recording videos. Though the UI is pretty basic it also makes it a pretty lightweight app to work with.
Plus, it offers all the features you will need to create screencasts.
It is one of the most popular free screen recorders for Windows. You can record your screen along with the audio of your computer, that is if you have connected a mic and are speaking while recording your screen. it does that natively.
It does that natively, which makes it suitable for Gaming Videos or Tutorials.
Apart from that, the app also supports picture-in-picture functionality, which makes you show yourself by recording yourself via a Webcam.
The UI is pretty basic but quite simple to understand and use.
It might only take a few days to get a hold of this application for using it to its potential.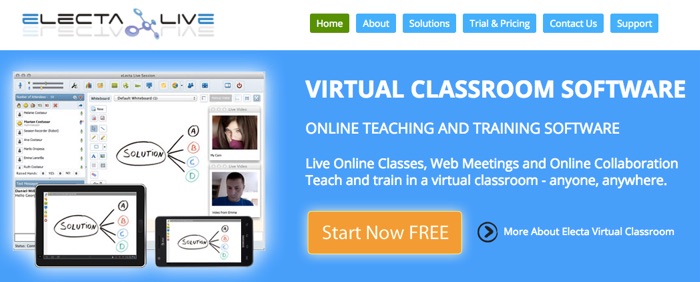 This little app might be pretty old, but works really well, you a record your screen, the entire screen or a particular region, or directly record your webcam connected to your PC.
You can also add music or your own voice using a microphone.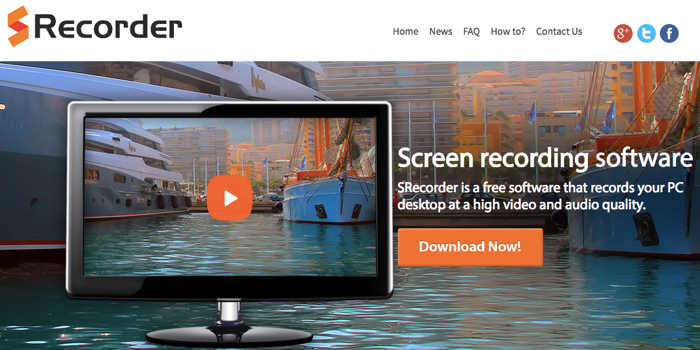 The free version of this app comes with a limitation of recording 15 min long videos, which is fine for many people.
If you want to create a tutorial video to teach something to your friends or family, this can be useful.
The only downside is, the free version adds a watermark to the video, So, I would recommend either go for the paid or pick any other from the above if you are looking to create videos for YouTube or a course. or for a presentation.
For that purpose, you can also check out the Camtasia, which is an amazingly cool app for both Windows and Mac.
The app is priced at $49.95, but it's totally worth it.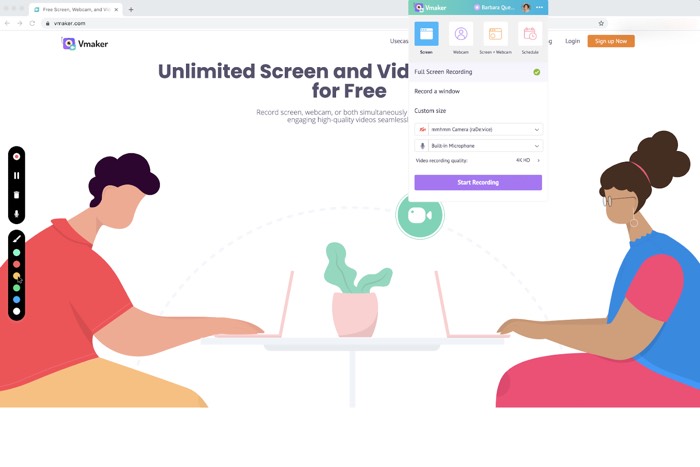 Vmaker Screen Recorder, the latest screen recording solution from the makers of Animaker Inc, allows users to record unlimited videos without any time restrictions. The best part about Vmaker is that there aren't any pesky watermarks added to the screen recording files
Vmaker screen recorder not just offers free screen recording without any restrictions but also comes with a host of features making it one of the best screen recorders that are available on the internet. Learn more about Vmaker.