Amazfit has launched two of its GTS series smartwatches in India, one is it Amazfit GTS 2 and the other one is Amafit GTS 2 Mini. I have the Amafit GTS 2 with me and I've been using it for the last few days.
So, here's my review of it. The Price is ₹12999. It has a 1.65 inch AMOLED display, built-in GPS, Calling Feature, 3GB Music storage, Activity Tracker, Workout Tracker, Sleep Monitor, Heart rate monitor, etc.
Available in two colors, with a silicone wrist band that is soft and looks pretty good as well.
The display of the Smartwatch is pretty stunning, bright enough to be visible in direct sunlight. You have a whole lot range of watch faces to choose from, it also supports always-on display but it will affect the battery, which we will talk about in the latter part of this article.
Watch the Video Review
What's in the box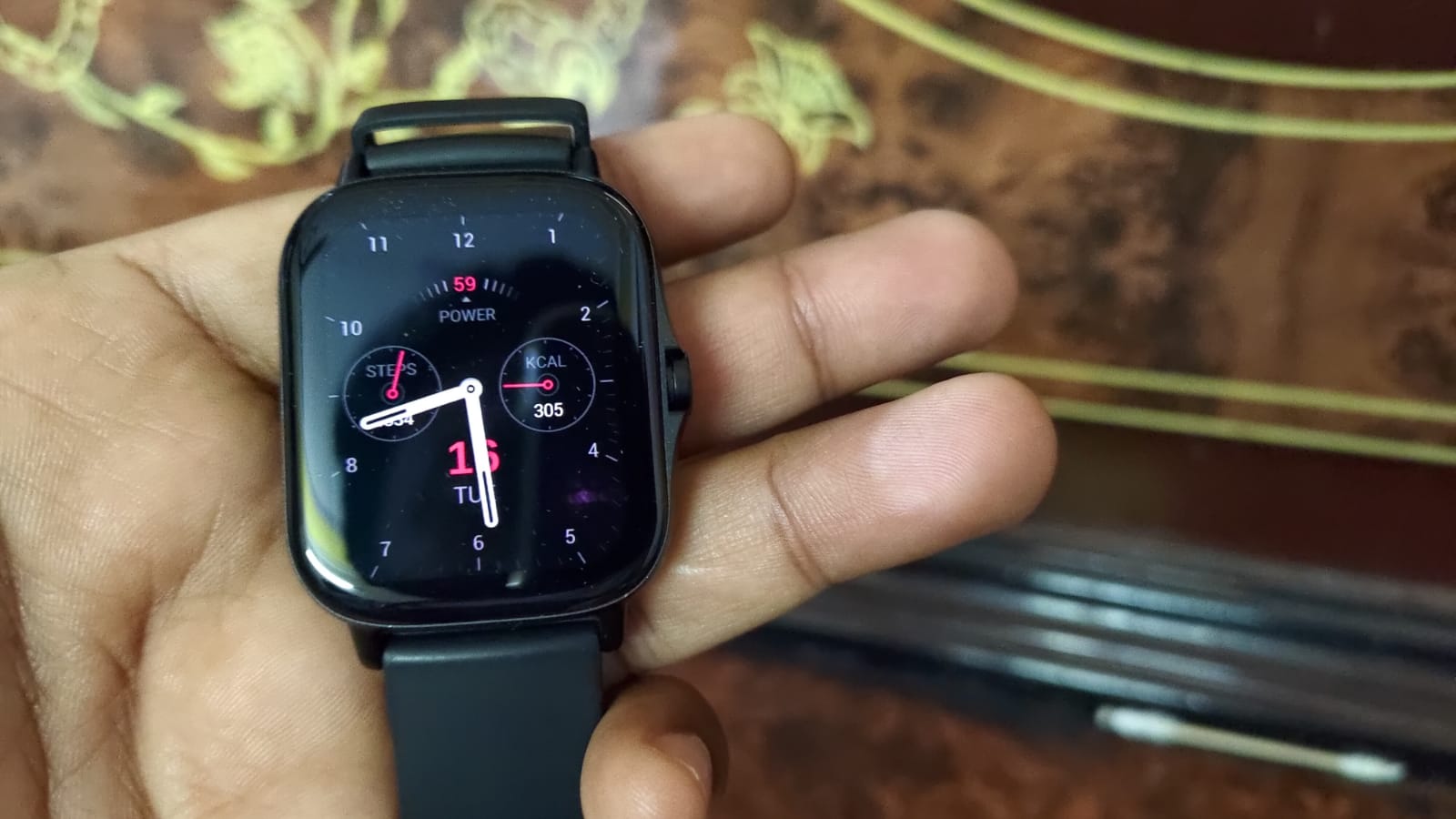 The box is pretty straightforward, you get the watch along with a charging cable, which is still USB type A, meaning you can use any of your mobile phone adaptors.
The Charger has magnets, so it is quite effortless to connect the Smartwatch with the charger. The 246mAh battery can be charged in approx 1 hour 10 minutes. and roughly gives you backup between 2 to 7 days. Depending on how many features of it you are going to use.
Binding QR Code on the Watch via Zepp App.
When you turn on the Smartwatch, you get a QR code which you have to scan from the web app which can be installed from the Play Store on the App Store for android and iPhone respectively.
Then Customize everything in the watch by going to profile. You can get app notification alerts, choose the apps you want notifications from.
You can only read the notifications, not able to reply. You can also set other things from the app. Things like Alarm, Reminder to Stand up and Walk, Heart Monitoring, etc.
Tracking Accuracy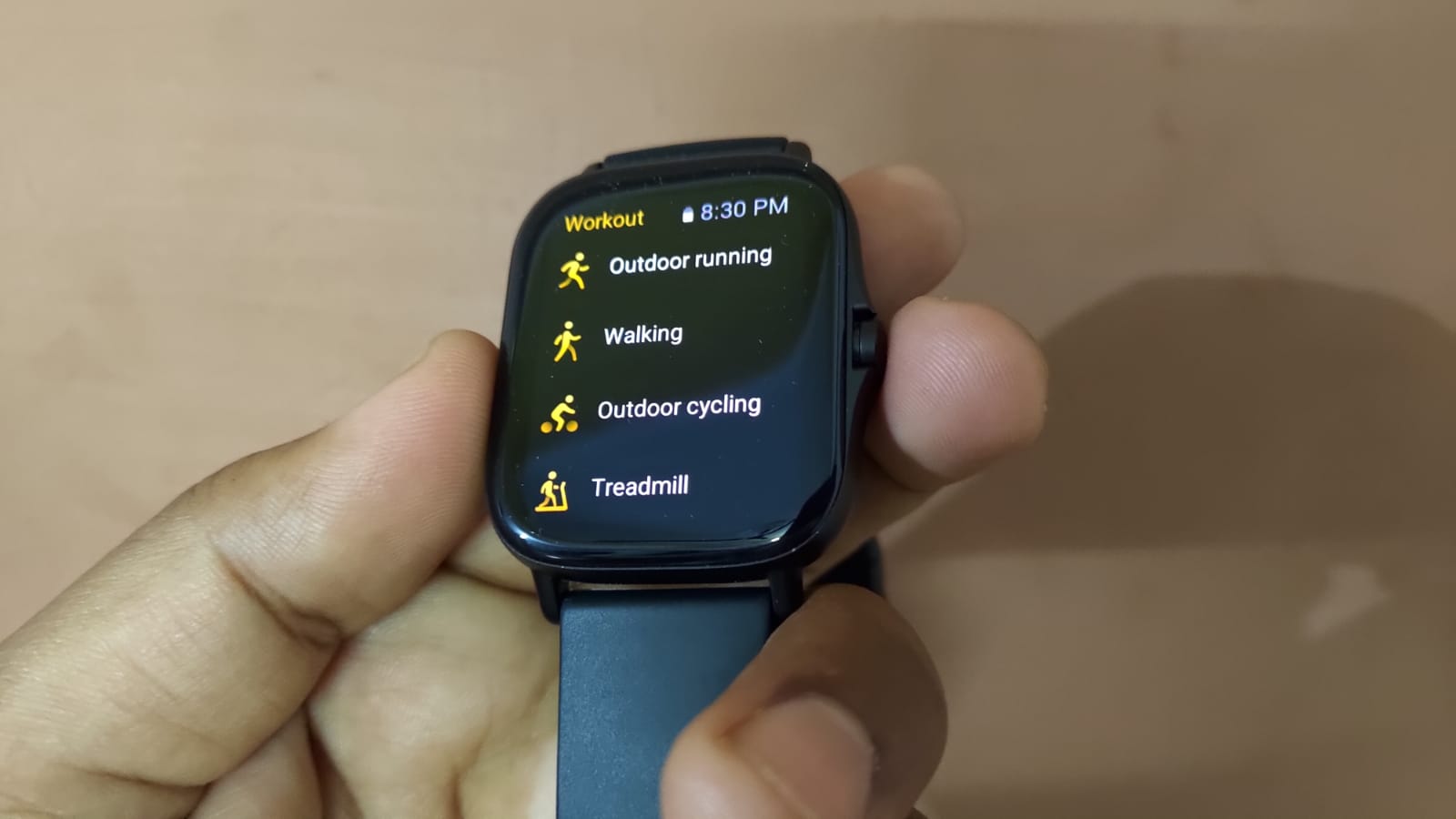 Since I have been using it for the last few days I have used it in different scenarios. I have used to track my treadmill the run, I have used it to track my cycling, and I have used it to track my walk which I rarely do. It works without any flaws.
Whenever you are outside, it is more accurate. Thanks to the built-in GPS. Although it takes a little longer than it will on your smartphone to lock in the GPS, it is still convenient to not have to reach for your smartphone.
Anyway, it is still roughly pretty close when you are running or walking on a treadmill. When you end the workout, you actually have the option to input the correct distance you ran or walked.
Sleep Tracking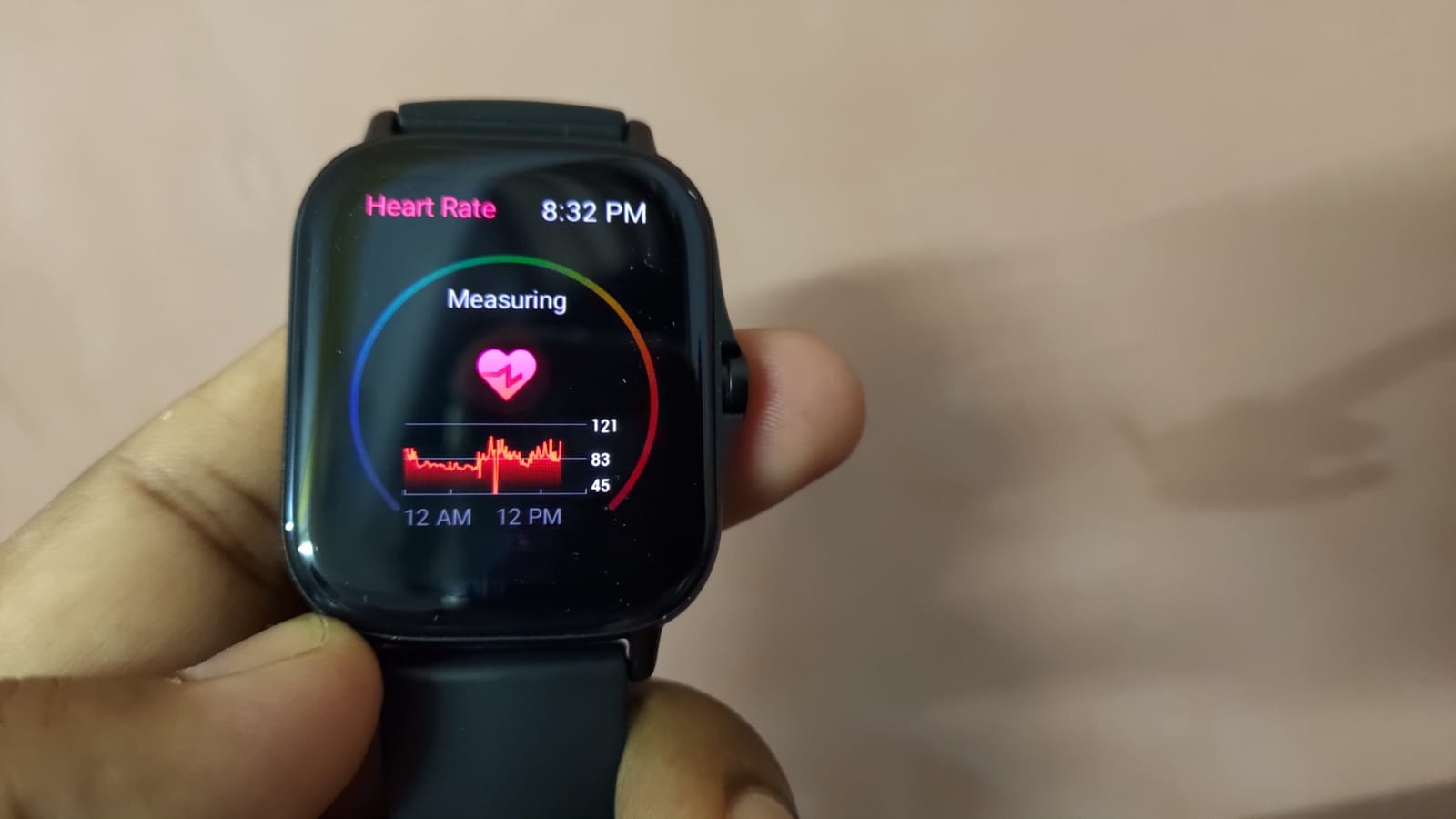 I am personally highly interested in tracking my sleep, and find the tracking to be pretty accurate,
I remember the time I go to bed and the first thing I do when I wake up is to check my smartphone and it gives me a notification about how much I slept, and the time is pretty close to what time I would have slept.
Apart from sleep tracking the smart what also tracks afternoon nap if it is longer than 20 minutes so I don't usually take naps but just to check, I had been taking neck for the last few days and I can sense it is pretty accurate although I tend to sleep for longer than I expected sometimes it goes with neon 1 hour.
It's a wonderful feeling that sleeping is part of my work.
Offline Voice Commands
Another interesting thing about this Smartwatch pays its offline voice commands. The voice commands are pretty limited but make life easy.
For example, if you have to start a workout, you simply have to say "" open workout', and then you will be able to choose from the kind of workout you want to do. Next time you can say start the previous workout and it will automatically start the workout, which is quite impressive.
Similarly, you can say open heart rate 2 to monitor your heart rate or you can say open weather. There are more voice commands that you will find in the web app 2 make the most of it.
The company also claims to be introducing Alexa assistant into the Smartwatch on a later date which will make a Smartwatch even more useful. But we will have to see how good the implementation is because Alexa on smartphones is currently not a great experience and it doesn't match the performance of Google assistant.
Battery life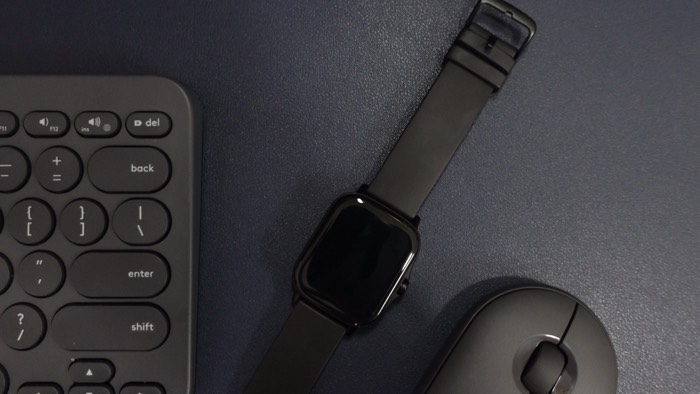 The Amazfit GTS 2 claims to give 7 days of battery life but with my usage, it discharges 20% a day. That gives you 5 days of battery backup which is decent enough. During this time I have, sleep tracker turned on, which also monitors heart rate, then I do a 30-minute workout in the morning and a 30-minute workout in the evening (a mix of treadmill and walking)
I have SMS notification and app notification from the Email app turned on, so I get around 526 notifications per day that I view on the Smartwatch. Apart from that, there are several times when I erase my wrist to watch the time.
I have turned off the always-on display, not using it for Bluetooth phone calls, and not utilizing the music player feature. I turned on the always-on display for one day and put it on schedule, which keeps it turned on for a certain period of time, in my case, it was 10 a.m. to 10 p.m. and it discharged 25% of battery in a day.
So, my guess is you will get 4 hours of passive backup if you keep the always-on display turned on for 12 hours a day. I would be not using always-on display because it is not always I have to look at the time, and raise wrist to view time works pretty accurately.
For utilizing the Bluetooth phone calls feature, you will have to connect the Smartwatch with your smartphone's Bluetooth like you connect Bluetooth earbuds or any other necessary that appears in the Bluetooth list, which will drain the battery significantly.
Amazefit GTS 2 vs Fitness Band Mi Band 3
I have been using the Mi smart band for the last 3 years, and it has been pretty useful for me to track my daily physical activity and sleep. So, I used the Amazfit GTS 2 along with the Mi band 3 for a few days to check the difference between tracking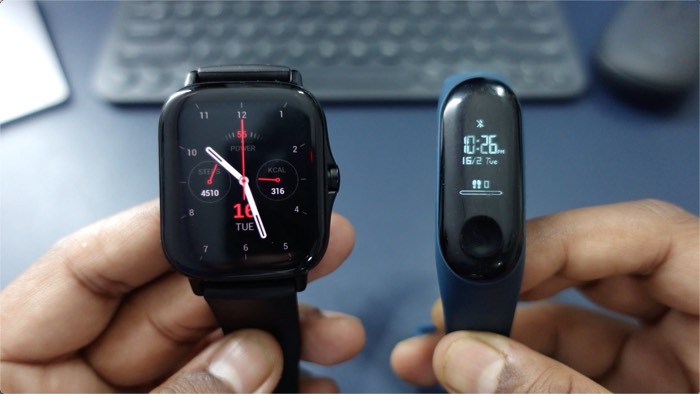 The Amazefit GTS 2 smartwatch is more accurate for steps. The Mi band has always miscounted my scooter rides as Walks or runs and added it to the steps counter. Didn't have that issue with the Amazfit GTS 2.
And I really did not think I would say it, but the Smartwatch actually does make a difference. The only thing that stopped me from getting a Smartwatch is the battery life because the smart bands can last for more than a fortnight without a charge.
But the amount of information you can view on a bigger screen makes up for it. I mean, I love that it's colorful, looks more premium, works as a standalone gadget.
There is no need for a smartphone to start tracking a workout, you can read messages without scrolling.
But obviously, there is a difference in the pricing as well. Pretty much every smart band available in the market is available under Rs 3000, whereas you pay Rs 13000 forAmazfit GTS 2.
Maybe you don't need all the features GTS 2 has to offer, and you still want to utilize a bigger screen colorful screen with the ability to workout without the need of a smartphone, you can get the other version the Amazfit GTS 2 Mini which is available at a far lesser price of Rs 7000.
Surely, it doesn't have the Bluetooth phone call feature, it doesn't have the 3GB music storage, it doesn't have Offline Voice Command, and it's a smaller watch with a 1.5-inch AMOLED display, but pretty much every other feature is the same.
The extra Rs 6000 you will pay for Amazfit GTS 2 will be for small conveniences that you may or may not use.