It's hard to deny that artificial intelligence (AI), once a thing you only read about in sci-fi books, is changing the way the world works. It is a powerful technology that has merits in almost every business sector, including graphic design. It has the most significant impact on logo design.
The goal isn't to replace graphic designers but to give them and businesses with small budgets a tool that saves them time and effort. Designers profit from the ability to create more innovative work with less effort. They can also utilize artificial intelligence to incorporate the most recent trends and software features into their designs.
That all sounds great, but nothing is as perfect as it sounds. What are the pros and cons of using AI in graphic design, and what are some of the best AI-driven logo makers?
AI Logo Design: How It Works
Businesses may create a logo by simply inputting their company name and selecting from a library of pre-designed templates. However, depending on the logo maker, you may need to answer a few questions to make the logo more industry-specific.
The downside to almost all AI logo makers is the lack of uniqueness. They use templates, meaning some version of your logo will pop up with many brand names. The more you pay to use the logo maker, the more unique the design.
On its face, this is not that different from what a human graphic designer does. Many work with several basic templates and then customize them for the brand. The template is meant to give them an idea of what you want from your logo, and they build on that. A human designer will work with you and give you more input during the design process, though. That is not something you will get from an AI program.
If having an innovative logo isn't a priority for your brand, an AI designer is easy to use and will give you fast results. You also have just enough input on the design to make it personal for your brand. It won't be very polished, though; you can usually tell when a logo is made via an AI program.
There is also the possibility of copyright issues with an AI logo maker. The competition might see your logo, copy it, and register it. At that point, you will have to find a new logo or face a lawsuit.
Still, if you need something fast and have a tight budget, an AI logo maker might be just the thing. There are plenty out there to choose from, too. Here are five worth considering.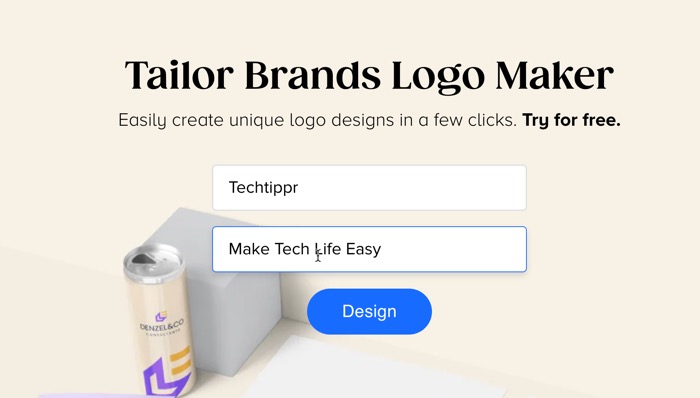 Tailor Brands offers a subscription-based design service that provides many AI-driven tools, including a logo maker. They also build websites and social media tools like banners and ads and tidbits that you can use for print items like promotional cups or brochures.
It features the typical step-by-step AI-powered "wizard" that walks you through the creation process. You have the option to create a logo with type on it or add icons and symbols. Each choice you make helps to personalize the logo creation process.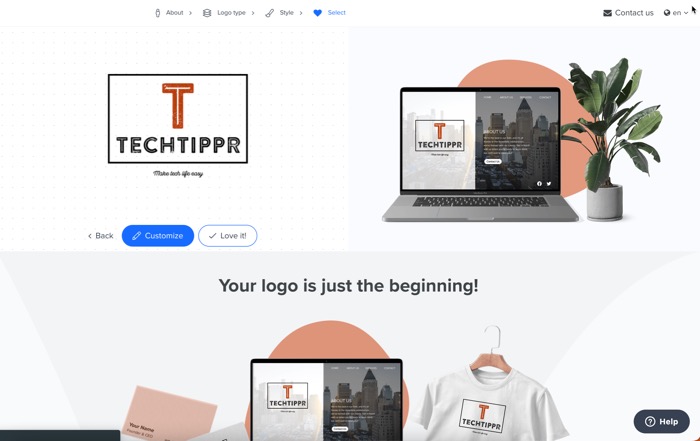 The lower-cost plans force you to choose from their library of graphics. If you opt for a standard or higher plan, you can upload your graphics to use on the logo, customizing it even further.
The cons to using this service are there are no humans for customer support. And, since it is a subscription service, they will auto bill you, which means you don't just pay for the logo and move on. You can expect to pay anywhere from $10 to $50 or more a month, depending on your plan.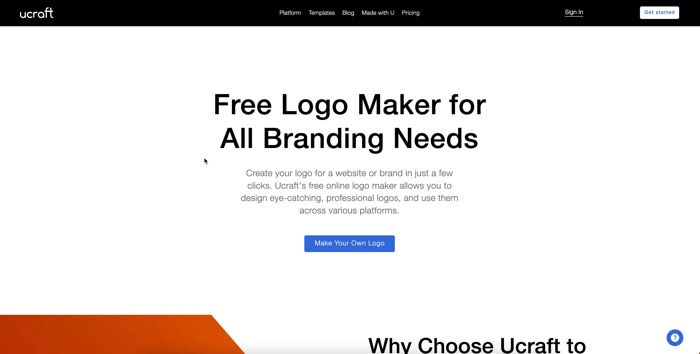 Ucraft offers a free logo-making service and a variety of paid options for small businesses, such as a drag-and-drop website builder. The best thing about this product is the price. They advertise it as free, and it is indeed free to use.
It will cost you nothing to create a crisp and simple logo for your brand. What you won't get is something you can trademark. You choose from an extensive catalog of icons, fonts, and colors. But they are the same things you see just about everywhere – basic clipart.
The process is easy to follow and doesn't take much time. Once you complete the design you want, you can choose the free downloadable PNG file that will work online or pay to get a high-resolution SVG file for printing. The price of the SVG is a one-time charge of $7.
The good news is you can edit your logo using Photoshop or another image edited and make it more personalized and unique. Use the Ucraft platform to get you started and then finish it up on your own to design something you can trademark.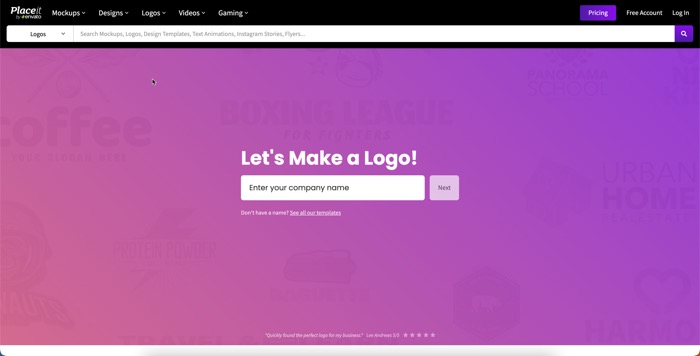 Logomaster.ai is a paid service that offers a logo maker that is user-friendly and fast. Like the other products, it uses templates to help you find a logo design that will work for your business. There are three prices available, depending on what you want.
The basic package, which is $25, offers normal resolution files, and you can choose between a white or transparent background. Unfortunately, once you make your purchase, you can not go back to the platform and make changes.
The premium package, at $75, gives you access to high-resolution logo files and a custom background color. You also get resizeable SVG files for printing. You can go back and make changes to your design as needed.
The highest priced level is $125 and offers everything you get in the premium plan plus up to five logo variations. At this level, you will also get social media assets, mockup images, and a professional watermark.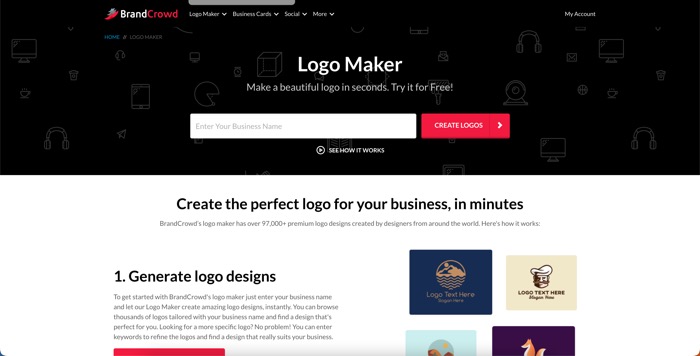 BrandCrowd logo maker offers a straightforward approach to logo design. You choose the basic shape of your logo and a few preset design elements, then customize the colors and fonts. Most designs are very similar, so there is a limited selection. But, the finished product looks polished. You also have the option to put your new logo on a business card or social media assets. They offer high-resolution files suitable for screen or print.
They offer a subscription-based pricing service, and the pricing varies based on the design you use. On average, you may pay from $9 to $15 a month, or you can choose an annual plan ranging from $36 to $60. Even if you cancel, you still keep your logo design.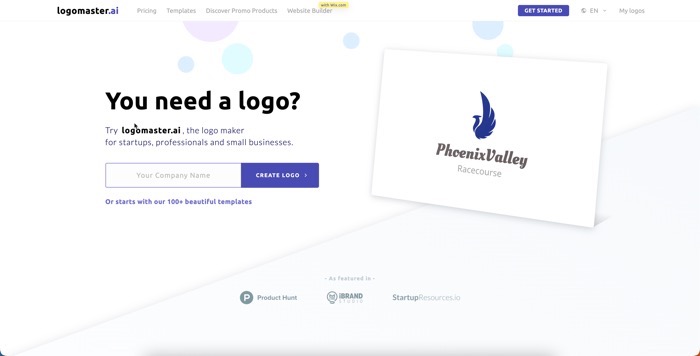 Of all the logo makers online, Placeit gets the lowest user reviews. It can be challenging to maneuver, and the site can be glitchy. They have plenty to offer, though, including some free templates. They also have video templates and animated logos and give you PNG, PDF, and MP4 files. All total, they claim to have nearly 8,000 templates to offer.
The paid logo services are subscription-based and cost around $14.95 a month or $89.69 a year. You can cancel anytime.
An AI-driven logo maker can do the work for you for a nominal price or at least give you some ideas to get you started.